The Little Girl Who Doesn't Age..with pics
When Howard and Melanie Greenberg brought their little girl home from the hospital 20 years ago this month, little did they know they were bring home a little girl that would soon become...a medical wonder.
Brooke Greenberg, of Baltimore, seemed just like any other baby until about the age of 6 months and then some things just didn't seem right but neither the parents or the doctor could put their finger on it.
By age 5 Brooke had stopped growing and had the body of a 2 year old and the mind of a 1 year old. She had had a major stroke by age 5, which left no damage and one day when she was 4 years old she just went to sleep and didn't wake up for 14 days. She was hospitalized and found to have a brain tumor and the parents were given no hope and began preparing for her funeral. But in 14 days she just woke up wide awake and making all the cooing and giggling noises of a toddler and after examination, the doctors found that the tumor had just miraculously vanished with no additional side affects.
Today at age 20, Brooke weighs 16 pounds and is 30 inches tall. She rides in a stroller just like most 2 year olds...has the brain of a 9 month old and the bone density of a 10 year old. Doctors say nothing about her is consistent...one part of her body is this old and other parts are that of another age.
I saw the story on Nightline last night and took notes and they said she is the only person in the world like this AND that they don't even have a name for it because she has no real symptoms..they just call it Syndrome X...all blood work and tests come back without any sign of disease...but researching online for more information, I found that there are 2 more cases in the United States and 1 in Australia...the man in Australia is up to the body of a 10 year old but he is 44 I think it said...
Brooke has 3 sisters, now 16, 22. and 24 and when asked what the parents think would become of Brooke if she outlives her parents...they said the sisters would see to her..that there is just a love there that can't be described.
They go out very little and don't like leaving her with a sitter to do fun things...so they mainly just stay at home. When someone approaches Melanie when she's out with Brooke in a stroller, she said she used to tell the real age when asked...but that led to too many questions with people that she didn't even know...so she usually just says 18 months or 24 months and leaves it at that.
Melanie says it's been like having a 2 year old for 20 years....OH my GOODNESS....and that they just take one day at a time and try not to think too far ahead...
They said their biggest challenge is that she can get deathly sick in an instant...unlike any other child they've ever seen....like the day she had the stroke and the day she went to sleep and was diagnosed with the brain tumor and slept for 14 days....
Brooke has been given growth hormone and other treatments but none has made a difference in any way. And she has no specific medical problem that can be found except that she just does not age.
This is the opposite of Progeria (sp?) where the child ages rapidly and by 10 years old...looks like they're 90.....Brooke has the baby face and body of a toddler...cute as a button and full of energy.
Melanie said that some of Brooke's clothes are 10 and 12 years old because she just doesn't do anything to wear them out and she never grows larger.
This was just one of the most amazing stories I've ever seen...I've often watched the TV specials on kids with Progeria...and thought "how horrifically sad"...but to NOT age..like Brooke, is very sad too....Doctors are hoping that Brooke holds the secret to the fountain of youth...how absolutely ridiculous....She has all kinds of things that aren't normal about her in many different ways...
It was just a really REALLY heart warming story and the parents of this little girl are to be commended beyond measure.....
I was also going to talk about fraudulent foods this morning...but I'm way late so we'll leave that for another time....but did you know there's a 60% increase in fraudulent foods....AND companies are allowed to put things IN our foods and not put those 'things' on the labels....They said on Nightline that black pepper....teas in bags and loose...spices....and other dry things like that are mixed with ground bark and other things and in some teas...they found a mixture of just common grasses...They held up a bottle of Real Lemon...but blurred it out...and said that even though it SAYS it contains 100% real lemon juice....it only contains 10%....I AM LIVID ABOUT THIS!!! If there's one thing I canNOT tolerate....it's lying and deception.....makes me want to grow everything we eat ....goodness gracious...but we'll talk about that another time...
I mentioned yesterday that someone wants to talk about making our houses homey again...and then a couple more readers messaged and said they love it when we talk about that even though we often rehash things and how motivating it is....and they seem to get a new spurt of energy when we talk about it they said....hahahahahahaha Ok we'll try to do that tomorrow...I DO have some good stuff on that subject...I hope it's kind of new....hahaha
Peace and love from the canyon...I love you all gobs and thanks so much...for stopping by..This has been a bird's eye view of the katydid and until next time....you are loved....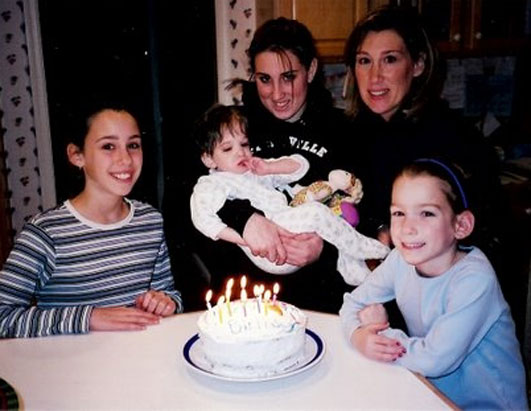 This is Brooke and her mom and sisters a few years ago on her 16th birthday and that's her in the arms of her sister...Brooke is now 20 years old but still looks just like this...She was on Nightline WITH her parents last night....