I want to share a few anti aging home facial ideas with you this morning that will absolutely and without a shadow of a doubt – give you dramatic results in 10-20 minutes with that very first home facial – and that's just a fact – and I don't care WHO ya are or how bad your skin is!!!  🙂
As a holistic health and wellness advocate for over 40 years – our pharmacy is mainly in our kitchen.  But now I don't limit my obsessions to just the inside of the body either – I'm just about as obsessed with the outside – and that has nothing to do with makeup or self tanning lotions or fancy or expensive hair styles or foo foo – or anything of the kind.
Our skin doesn't have to shout out how old we are!  Just 10 minutes a day can turn back the clock 10 years or more. YES IT CAN!!!
Now we're not going into collagen or elastin here.  None of that really matters in the kitchen anyway – does it?   We just need to know how to work magic on our face, neck and hands and see how many people we can fool.
One Of My Grandest Compliments
Probably one of the grandest compliments I've ever received was 2 years ago on the Sunday after my birthday.  I had put in my birthday offering – and Bro Jake asked if I cared to share how old I was and I said I had just turned 68.  A man came up to me after church and said "I just have to say I couldn't believe it when you said you were 68 – I thought you had probably just turned about 50."  Now I don't know what that man had had for breakfast that morning – but that was just crazy right there.  ME???  Just turning FIFTY???
Well – that was so long ago – I can't even REMEMBER my 50th birthday.   But what a grand compliment that was!  Now I don't share that to sound snooty or egotistical AT ALL.  I don't wear a stitch of makeup – and I don't like hair that looks like you just got up out of a beauty shop chair – where every hair is in place and sprayed with lacquer.  Mine most usually looks like I just stepped out of a wind tunnel – but this is the real me.   And let's don't even talk about my old clothes – I am NOT a clothes shopper.  If I've got something that's still without stains or holes – I'm good to go – anywhere – and I don't give it a second thought.   But you can rest assured you're doing 'something' right – when you look over at your old geezer on occasion and he's already looking at you and smiling.  Of course he could be thinking "Ah HA!!!  I've just thought of a way to get her to drink the Koolaid!"   🙂
The REAL Birth Of My Anti Aging Skin Care Journey – Was In About 1990
Probably one of the most fun and memorable times I've had with Kim – was when she was about 16 and her dad was on evenings and I guess the boys were out working at their current teenage jobs.  Kim and I were watching OPRAH – because it was going to be about natural skin care that day and we both wanted to see it.  Oprah had Riquette Hofstein on and she was a natural skin care fanatic too – and she was sharing recipes for exfoliants and moisturizers that she made in her own kitchen and used them herself and often.
Kim and I were so impressed with Riquette – that as soon as Oprah went off we headed to Big John's grocery for fresh strawberries, lemons, yogurt, and a few other select fruits and veggies that Riquette used in her concoctions.  We came home – got out the blender and we were off on our natural skin rejuvenation journey.  By the time the boys and Geezer got home from their individual work places – Kim and I were exhausted from our evening of multiple facials but our skin was glowing until we didn't even need lights in the house.  🙂 And I've been a huge fan of home facials every since.   Now Riquette's book is an amazing and fun read – and Kim will put the amazon link to that old book – right here when she can get to it – so be sure and check back.  Her book was updated in 2004 so I'm guessing I need to get that updated book on the way to my own library too.
But enough storytelling – let's cut to the chase on home facials today.  Now all of these recipes are simple and use very common ingredients – many of which you already have in your kitchen.   AND they will all give you a dramatic improvement the very first time you do them.
Anti Aging:  Things That Age Our Skin
We all know better than to smoke, drink alcohol or even sun bathe – but people do it anyway.  But just those 3 things wreck havoc on our skin and are about as aging as things get.
SO FORGET ALL OF THAT – Let's hit the kitchen and let's turn back the CLOCK!!!
Anti Aging Home Facial – Cleanse and Exfoliate
You must always start with a clean face!   And I wouldn't even consider buying those expensive skin brushes or exfoliators BECAUSE there isn't a better exfoliator on the market – better than those little thin white wash cloths that come in a package of about 18 at your Dollar General store for about $4 for the whole package.   And I've even just looked on amazon because I prefer amazon shopping and have it come to our door – but they're actually higher on amazon.  AND don't go out and buy or even use – expensive soft wash cloths.  YOU NEED the cheap – rough – thin wash clothes I've mentioned above.
Wet that cloth under the hottest running water your hands will stand and wring it out just a bit and scrub your face like you're scrubbing tar off of a tar baby.  🙂  Now don't damage your face, of course.  Be reasonable.  But none of this panty waste 'wiping' with that hot, wet cloth.  YOU ARE EXFOLIATING!  🙂   Do that 2 or 3 times.
This is the FIRST thing I do each morning – about 3 a.m.  But I'll often do it again just before I step in the shower in the evening – and use sea salt or even baking soda on my hot, wet cloth – but PLEASE DO NOT scrub very hard at all if you use anything ON that wet cloth.  Then I just rinse in the shower.
SO exfoliate FIRST!!!
THEN – I usually put on just a dab of Coconut Oil (and right now I'm using the NOW brand and it's really good too) or Vitamin E Cream (if you don't trust my judgment on this or anything else we recommend – always read the amazon reviews – this stuff is amazing and CHEAP)
OR I'll often mix just a dab of coconut oil with my Vitamin E cream.   And that's it – I'm good to go … or at least I DO – ready or not – here I come!
My Favorite Home Facial Recipe
My favorite home facial is the exfoliating scrub and then I do what I call the Egg White Facial.  I just crack an egg and putt the egg white on my face.  Now I don't get out the electric mixer and whip it or do anything crazy.  We stay busy in Round Knob Canyon – so I'm not one for a lot of unnecessary chores – I just crack open the egg and stand over the sink and dip my fingers in that egg shell and put it on my face and toss the rest of the egg in the trash.  Doing it that way may not make you feel like Queen For A Day – but it gets the job done and you have the same results.
Let the egg white dry on your face for about 10 minutes and you can even fan it dry if you're in a hurry – I do that often.  And rinse with warm water and then cold water and then if I do anything at all – I put on a little coconut oil or Vitamin E Cream or both.
GOOD FOOD EXFOLIATORS
Any of these fruits, veggies and other common foods are good to exfoliate, tighten or moisturize.
Mashed ripe banana, strawberries, sea salt, baking soda, lemon, apple cider vinegar, avacado, sour cream, yogurt, whole milk, honey, REAL Mayo (meaning do not use Lite)  fresh pineapple, fresh papaya, plain old white rice water, crushed fresh tomato, turmeric, raw pureed potato or even a potato slice, raw pureed carrot and I could go on and on – but goodness – how many do we NEED?   ANY of these will give you dramatic results with the first use and in about 10 minutes and you can mix or match as you please.  That's the way "I" do it.
Now that raw potato, the lemon and apple cider vinegar are good to bleach age spots – but it takes using them daily and may take a week or so.  I've bleached my own on my face – many times – but then I get extra busy and let the routine go and they come back.  BUT THIS WORKS!!!  ALWAYS do the exfoliating scrub first – so these magical foods can sink in and do their thing.
The rice water is easy and can be kept in the frig for a week or so.  Just boil white rice – give the rice to your husband with a little milk and sugar and he'll think he died and went to Heaven and you put the cooled/drained rice water on your face and put the remainder in the frig for later.
ALSO – the facial massage you're getting with your scrub and concoctions – even slightly – will increase blood circulation and tighten facial muscles and tissues and that can be a very good thing in itself.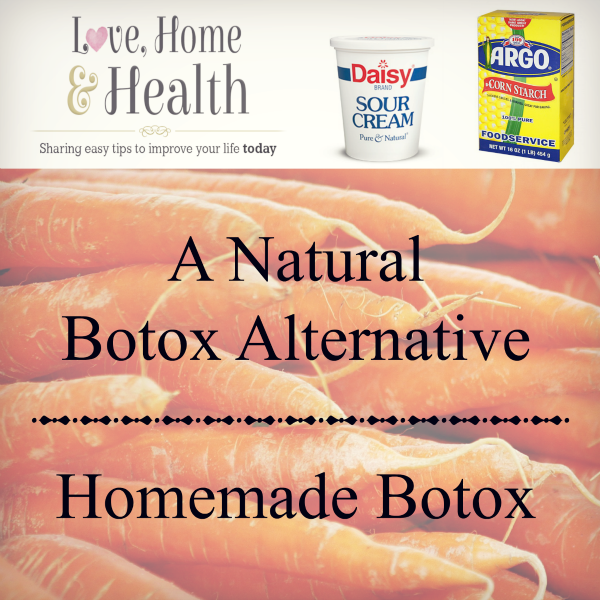 Homemade Botox In A Bowl –
Now this is just as good as real Botox – from your kitchen – although this takes doing it 3 days in a row.  But the results are AMAZING!!!  AND there are no needles – 
2 fresh carrots
1 tbsp corn starch
1 tbsp sour cream
In a blender – puree your carrot shavings.  Boil 1/2 cup water and set it off burner – add the corn starch and sour cream – let cool and let the magic begin.  Put it on your clean/exfoliated face – and let it dry for 20 minutes.  Do this 3 nights in a row and it will give you the same results as real Botox.  No needles – no surgery –  no expense – just you and a couple ingredients in your own kitchen.  
Home facials give DRAMATIC results – using only items you already have on hand.    And listen – your husband may like a home facial TOO.   Geezer loves it when I experiment on him.  🙂  Now he isn't concerned with his skin tone or wrinkles – he just loves the attention …
If you give any of these home facial recipes a try – check back in with us and let us know how they worked for you.  If I didn't swear by them – I certainly wouldn't be sharing 🙂  THEY ALL WORK LIKE MAGIC!!!
(Visited 82 times, 1 visits today)