I want to talk to you today about a SUPER skin care product that is so good – once you use it you'll never want to be without it!  Now it is nothing like those creams you see advertised on television – that promise a miraculous change in just '2 weeks'.  THIS one – will really DO what we're telling you it will do and YOU WILL SEE an improvement within minutes of the first use.
 I bought my first jar of Royal Bee Skin Healing Cream from Robert Broadway at a flea market booth in Florida in April of 2013.   I've raved about this cream so much I often get emails and questions about it.  I've given a gallon of it away in those little clear 2 oz containers with lids and I've bought many jars of it myself and so have many of my friends … IN FACT some of my friends have bought directly from Robert and he's had so many follow up sales from these ladies – that ever now and then he just sends me a jar of Royal Bee Skin Healing Cream.   Now that's not sales hype – that is GOSPEL   🙂
Royal Bee Skin Healing Cream
I've said many times that I'm just not much on wearing makeup.  I usually have on a little eyeliner – but if I even add just lipstick – sometimes I feel like I've over done it.   But I LOVE a good skin care product and I loved the 1st jar SO much that we went all the way across the state of Florida to Robert's NEXT flea market and I bought 6 more jars on our way home that first year of buying it!
---
I LOVE the stuff and hope to never be without it again,
I was glad to find I could buy Royal Bee Skin Healing Cream on Amazon!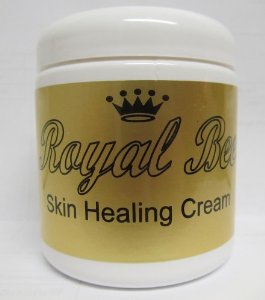 ---
IF USED REGULARLY it will make a big difference in wrinkles.
It will also fade away liver and age spots, heal blemishes of all kinds and just work miracles on your skin.
I had one friend tell me her husband noticed the first time she put it on her face – and asked what she had done differently.
Royal Bee Skin Healing Cream Review
The nursing home had tried 2 over the counter creams and one prescription cream on a rash my mother in law had on her hands.
They did not work – so they made her an appointment with a big dermatologist up the line.
I had asked several times if I could bring in this cream – but they said anything she used – had to be doctor ordered and now the doctor was wanting to send her to this specialist.
FINALLY when they were unable to heal her hands in spite of sending her to this well known dermatologists – they agreed to call the doctor and see if she could use my cream.
"ABSOLUTELY" Dr Patel said.  "Her daughter in law is a Holistic QUACK – but she knows what she's doing."
SO I took in a small sampler jar – just to give it a try – and GUESS WHAT?
There was improvement within the hour!   YES THERE WAS!!!
Royal Bee Skin Healing Cream And Grandma's Nurse's Healing
Grandma's head nurse has always been so good to her – and I wanted to give her a little something – so I gave her a full jar of this cream.  She was excited to try it because she said she has had blemishes on her face since she was about 15.  She was now in her 50's.
SO this nurse took the cream home and on day 3 after that – she stopped me as I was going in the nursing home and said
"KAY – LOOK AT MY FACE!!!  I've been using that cream twice a day for 3 days and my blemishes are almost ALL – GONE!!!"  She said "My skin hasn't been this clear since I was a teenager."
It is just a miraculous cream – that's all there is to say about it!
You will see and feel a difference after just ONE use of this cream.
You don't have to wait 2 weeks to 'see' a difference like with many other creams … or 6 weeks.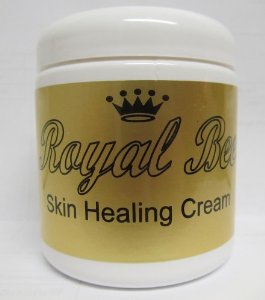 You will see and feel a big difference after just the first use … immediately.
I love it so much that even as big of a tightwad as I am I order several jars at a time.
If you are healing an old wound or blemish, please use just a tab and rub it in good about 5 times a day.  You will not believe how good this skin cream is.
Peace and Love and thanks so much, for stopping by!
Looking for more skin care tips, tricks and recipes? –> Skin Care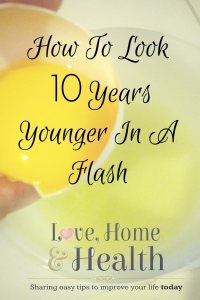 (Visited 1,286 times, 1 visits today)