Would you like to bring your Christmas tree to life with vintage memories?   Since the passing of all but one of our parents and our kids grown and with their own homes – I've found Christmas the last many years – very hard.  As I'd decorate our tree each year – I always knew to keep a box of Kleenex handy – because I knew I was going to need them.
I knew deep within my heart though – that there had to still be magic in Christmas – even for us seniors.  I mean – I may be 70 now – but I'm still the same hopeless romantic I was 50 years ago.  Probably even more so NOW – because I know and cherish more than just the presence of those butterflies and weak knees.
Christmas is just such a magical time.  A time for more love – more romance – more giving and caring.  It just all seems to come more natural at Christmas.  And what a shame that is – because those things should come natural to us – every single day of our lives.
Life itself – is precious and priceless – and we should want to experience all the love and joy that we can – AND we should want to GIVE all the love and joy that we can.
SO it was really a puzzle to me – when as I drew closer and closer to my senior years – I seemed to pull more and more away from the magic of Christmas.
THEN – doing some blog work on Pinterest one day – I got sidetracked as I often do – and ran across a Vintage Memory Christmas tree.   It had photo's of the couple from decades ago and even old love letters – placed in just the right places – all over that tree.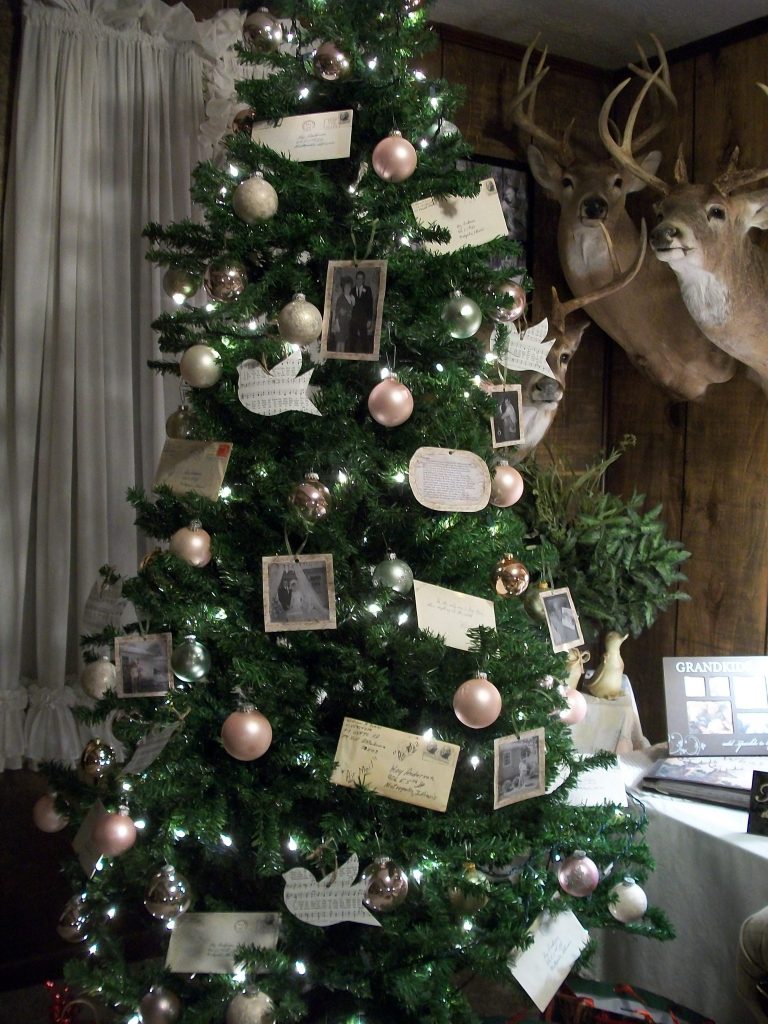 THAT is going to be our new tree – I thought to myself.  SO I got out some of the very vintage love letters that Billy had sent me when he was in the service in the 1960's.  And I copied some old photo's from way back then – and I distressed those photo's and glued them to scrapbook paper and I picked the antique white paper that looked like a written letter.  And WALLA – an absolutely breathtaking beautiful Christmas tree that I cherish.  I also added paper hearts that I had cut out of that same paper.  And I made a few of my frig angels that I just absolutely LOVE to make and would love to find an outlet for – but instead of magnets on these – I put ribbons to hang them on the tree.  And I have quite a few old song books here at the house and I cut some song birds out of some of those pages.
They say "A dream is a wish your heart makes!"
When I was a little girl growing up – and all the other little girls in school were talking about all the things they wanted to be when they grew up – like 'nurse' and 'school teacher' – all I ever wanted to be was a wife, mom and homemaker.
That 'was' the wish my heart made all through the years. Wife, mom, homemaker – that was my dream job!   And I still just absolutely love my job and  love and adore my boss  🙂  so I knew this tree was going to be the turning point for me.   To ME?   This is the Christmas tree that signifies what my dreams were made of.  🙂
Let's take a quick peek though – into the branches and nooks and crannies of this very unusual Christmas tree.    What ARE some of those little surprises that look so good from a distance?
Love Letters in the Tree
Is that letter REAL?  Well YES!!!  It IS!!! They ALL are real and are the very original letters.  Billy wrote me 2 or 3 letters a day the whole 2 years he was in the service.   I'd stand out on the sidewalk in front of our home on East 5th Street in Metropolis and I'd watch for that mailman to turn the corner just a block away.  Then I'd take off running and meet him and get my letters.  🙂   It really is true – absence DOES make the heart grow fonder.  🙂  And that particular letter is dated "May, 1966"
Hopefully if you want to make this tree – you have some old love letters.  If not – I guess you could 'make some' love letter envelopes and smudge them up with some eye shadow powder or  something  to look old. 🙂
Vintage Photos In the Tree
And are those photo's really old?  Well – YES – they ARE!!!  🙂  Some of those photo's are 53 years old – but I made copies from the original photos.   And to make those vintage framed photo's I just took the scrapbook paper from Hobby lobby – copied, cut and layed the photo's on that paper and I left about 1/2 inch around each photo as I was filling up those pages of paper.  And I smudged them with my Tim Holtz dry distress ink in walnut – but you could use brown powdered eye shadow.  Just smudge the whole thing – photo and frame and make some places a little more distressed than others.
Hearts and Angels in the Tree
The hearts and angels in the tree were all made with the same scrapbook paper from Hobby Lobby and they have that same paper all the time.  I love that particular paper and have used it for many things.  I just free hand cut some hearts in different sizes – punched the hole with my paper punch and added the ribbon to tie it on the tree.
The angels are a bit more detailed and I may do a DIY just on those angels very soon.  I LOVE making these angels and pretty much everybody in Massac County has one because I've been giving them away for years – and usually I put frig magnets on the back – but this time I added a ribbon hanger to put several on the tree.  The dress is cut from the same scrapbook paper – the heads are the small wooden circles in the unfinished wood dept in Hobby Lobby.  I use ribbon, embroidery thread – sometimes tiny metal hearts – sometimes I'll add a little crocheted rick rack or just different things to frill them up.  LOVE LOVE LOVE my little angels.  And each one has a 'tag' hung by the thread – that says "Friendship Angel" or Guardian Angel and I've even done some "Peace Angels"
I had also collected some magnolia cones and leaves a couple weeks ago to do some decor pieces for our front and back porch – but after we got the call that my surgery was in a few days – I didn't have time to do that – SO I just added some of my magnolia cones and leaves to our tree.
SO that's about it.  Adding these vintage things to our old tree – added an additional $3 MAYBE to the cost of my decorations this year – if even that.  VERY simple to do this – and the rewards  have been out of this world.  LOVE our Vintage LOVE Tree.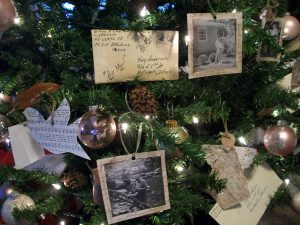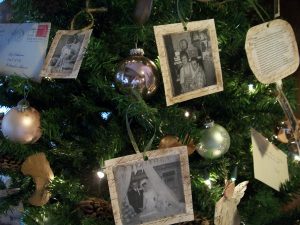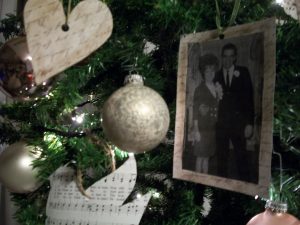 Growing older is just part of life.   And to make all of our life as close to perfect as it can be – we just have to learn to 'live life at it's fullest' at whatever age we are now.  And where "we" are now – is still deeply in love and continuing to make memories – and just that 2 week glimpse into our past – because of the way we did our tree this year – has brought us even closer.
We all know the magic of Christmas isn't in the decorations or presents – but it's in His presence.   But we should never get too grown up to enjoy the magic of Christmas and to search the skies on Christmas Eve.
Peace and lots of love – from me to all of you …
(Visited 68 times, 1 visits today)