This is My Daily Journal and today is Tuesday, February 6, 2018 and as I promised a few days ago – I wanted to tell you a little about the gifts/cards Geezer used to give me for Valentine's Day.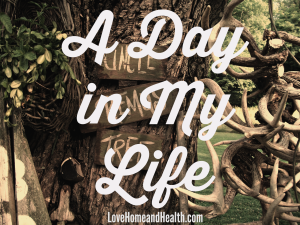 Most all of us have seen the husbands in the card aisle of Walmart on Valentine's Day or just the day before – Or even at our local drug store.  And I'm sure many of you locals have seen my old Geezer there – in years past.
He'd come prancing in on Valentine's Day like he was James Bond and had just single handedly taken down the biggest mafia ring this side of Detroit – and he'd be all rared back with a big box of candy in one hand and a big card in the other and hand them to me with that big priceless smile.
I was usually in the kitchen – because he was usually coming in from work – and I always tried to have the table set when he got home and ready to put the hot food on the table – because he didn't want the evening meal at 5 or 6pm – he wanted it when he got home from work – so the whole family could have supper early and wind down together … SO before he retired – we always did that.
Billy always went all out on Valentine Cards.  I'd get the biggest and the most beautiful and romantic cards you ever saw.  But on this particular day – the day of my last big beautiful Valentine Card  :8)  I opened it and read it while he stood there and it was all full of mush and fairy tales … lol
It was a store bought card – all shiny and fluffy from Humma's Drug Store – and I'm sure it was probably one of the last one's they had left – because I know good and well he had picked it up on his way home from work that day … lol  And it talked about my breath taking beauty and how perfect I was – it said something to the effect of "Your eyes how they twinkle and your dimples – how merry. And I said "Billy – did you really even read this card before you got it?  Because this sounds like you're talking about a beauty queen and Santa Claus – THIS is not ME!
He started laughing and said "Well they ALL talk like that – and isn't it the thought that counts?  I said "It IS the thought that counts – but this card cost you $5.95 and it's full of baloney – now next year – just make me a card on a simple piece of paper and say something like "Even though your hair always looks like you just stepped out of a wind tunnel – and you move like the Roadrunner – and jabber like a magpie – and you burn the toast – and your chocolate pies are always too thin  – I just wanted to reassure you – that I love you in spite of yourself and I always will!"  🙂  THAT'S what I want to hear and read – the TRUTH.    He said "OK – I can do that!"
We had many laughs over that last card – but he didn't forget – and the next year he came in with a card he had bought – and he didn't make it – but he had gone shopping early to find a card that really fit – and this one was a good one – it said "The thing about you is – you're fun! You make me laugh and laugh a lot.  You make me feel more alive  and okay – you also make me a little crazy sometimes with your goofiness. But I also know that we have a connection that goes beyond anything I or anyone else could ever explain."  And it goes on and on – but in a truthful way –
I LOVED that CARD – and it's stands on display in the spare bedroom upstairs!!!
I'm NOT perfect – HE's not perfect – NOBODY IS PERFECT!   So let's get REAL this Valentine's Day!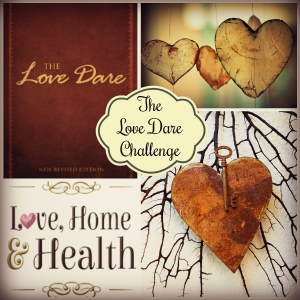 But what I'm trying to get at here IS – we have 8 days till Valentine's Day – DON'T fall for commercial MARKETING and a bunch of phony baloney – let's put on our thinking caps – and make that day special – but do it – in a way that really fits who we all are as couples.
Plan a pallet picnic in front of the television – OR with no television in front of the fireplace if you have one.
Have a candle light supper at the kitchen table – even if you're having bologna sandwiches!
Weather permitting – have a homemade sign waiting for your husband in your drive way – and another homemade sign or card at the door.   Put a homemade card on his steering wheel so he finds it that morning as he's leaving for work.  Put a note or homemade card in his lunch box.
Plan a scavenger hunt – and leave notes taking him from one location – even in your home or yard – to another.
One Valentine's Day – the weather was extremely nice and I planned a twilight picnic in the Secret Garden – it was heavenly!!!
Good grief – there are so many things – and I've done all of the above and tons – tons more.  SO MUCH SO – that if Geezer ever leaves me and his complaint is boredom – I will immediately have him declared mentally incompetent … lol
My Daily Journal:  Let's Do A LOVE DARE For Valentine's Day
A year or so ago I was doing a study on the book Love Dare and it's a book that teaches unconditional love.  It says that LOVE is something we promise so quickly and freely before and at the wedding – but then we rarely continue that practice in real life 'after' the new begins to wear off.
"The Love Dare is a 40 day challenge to husbands and wives to understand and practice – unconditional love.  And that is whether your marriage is hanging by a thread or healthy and strong."
The Love Dare is just a challenge every couple needs to take on.  And if you will just do even a quick study of this very thin and readable book – it will change your life.  I got my first book from amazon – and then bought a few to give away …
I found a used copy of Love Dare when we went on the 400 mile yard sale last summer – for 25 cents – and this particular copy had been owned by a woman trying to restore her own marriage.  I KNEW that – because she had written notes – all through the book.  It was amazing to read what she had written – and it was a lot – and how she was seeing where the real problem in her marriage – was HER.
Page after page I read her notes – as the light bulb moments began to come on for her.
She was quick tempered – by her own account.  She was impatient and expected way too much from a busy husband working many over time shifts.  He'd come home after a 12 hour day to find a home in disarray – no supper even in the planning stages – and ask what SHE had been doing all day – She'd immediately take offense – and then the poo poo would hit the fan.  Now after studying Love Dare – she realizes – he was right!   I thought of her many times after reading her notes – and wondered if her marriage had improved.
SOMETIMES – we're pointing our fingers at the reason for so many of our problems – when really – all we need to do is go look in the bathroom mirror.
SO my challenge for you – between now and Valentine's Day IS – Start working to restore the relationship you're in right now.  If it's bad – make it good.  If it's already pretty good – make it BETTER!
What are 3 changes you'd like to see in your relationship?  And whatever they ARE – YOU make those changes from YOU end.  🙂
To tell you the truth – I don't know what we'll be doing for Valentine's Day AND I haven't even planned what I will be doing for Geezer myself.  Valentine's Day falls on prayer meeting night this year – and on top of that – it's business meeting night and we're working on church growth – and you know me – I always have an opinion on everything – so I'd hate to miss business meeting.  But we'll see …
But you can bet your boots I'll come up with SOMETHING – that doesn't cost much of anything – and he will be tucking away that memory in his overflowing memory bank after the fact …
Well – that's it for today – I don't know what we'll talk about tomorrow – I'm so full of stories I could write a book that you'd have to pull in a little red wagon  🙂  Life is definitely never dull – in Round Knob Canyon.  We've had 2 more coyotes – just in the last 4 days – trying to get to Lucy Lou (my pet chicken) on her bedtime perch on top of that old cabinet on the back porch – and then there's this – that and the other thing – so it's always something.
But the thing about Round Knob Canyon IS – whatever is going on – whether it's scary or worrisome – good or bad – it's being handled by a team of two – that has 'working together' down to a science.
I'll share another page out of one of my junk book journals below –
Production for my etsy shop is going slow – with Geezer in his recliner during these cold and bitter days – and wanting me on my love seat beside him so we can gab – but I made a TON of headway yesterday while he was in the workshop for an hour – cracking more of his walnuts that we gathered last fall – YES!!! We still do things like gather walnuts – pecans – rocks and more   🙂
Peace and lots of love – coming to you from Round Knob Canyon –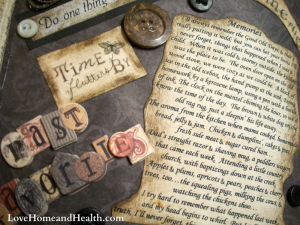 Junk Book Journal page –
These books are priceless – you start first – by making your own book cover – and then you make each page personally – by coffee dying the paper – baking it in the oven – OR even making your OWN PAPER by soaking different forms of different kinds of paper (newspaper, copy paper, scrapbook paper – etc) in warm water over night and then blending it in the blender and pouring it out very thinly on a cookie sheet to 'dry' … LOVE LOVE LOVE – coffee dyed homemade paper –
Photos of my progress – daily – right here – 🙂
Read more journals and Grandma's Remedies for the Soul Here!
(Visited 171 times, 1 visits today)