This is My Daily Journal and today is Friday, February 9, 2018 and we're inching our way towards Valentine's Day! YES!!!  So today I want to tell you a very special and very true – vintage love story – and this one too – will send chills down your spine.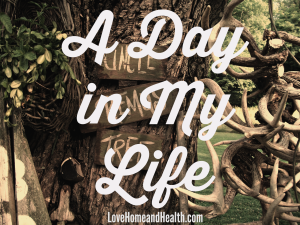 As I've said – I've been a homemaker for all of our 51+ years together except for the 7 years just before Geezer retired.  The kids were all in their own homes by 1996 and Geezer still had 7 years till retirement and I wanted to try my hand at working out in the real world for just a bit.  SO the local Hobby Lobby was opening – and I went over to apply.
I went to work the week before we opened to help stock – and then I was put on the front lines as head cashier – and a little later as backup bookkeeper one day a week so the 'bookkeeper' could have a day off – because in the beginning – Hobby Lobby was open – 7 days a week.
SO as head cashier – I was always the first cashier there each morning until about 10am – when a couple others would come in.
I learned very quickly – what an impact – a good cashier could have on customers.  Because even from day one – I saw people come in that store that were NOT there for crafting supplies 0r fun stuff – but many were there for other and much more serious things – and I wanted to be a kind of light for them if I could BE –
Now I didn't need to work – financially.  We've never been spenders – and we're super at budgeting and have always lived within our means – well until I took on this "Save the world" mode – that has gotten me in some trouble with this old geezer a bit over the last year.
But I just wanted to try my hand at working outside home for a bit.
I'd pray every single day on my way to work – "Lord – As people come in today that just need a lift – please send them to my register – and then – give me the right words to say – to lift them in some small way."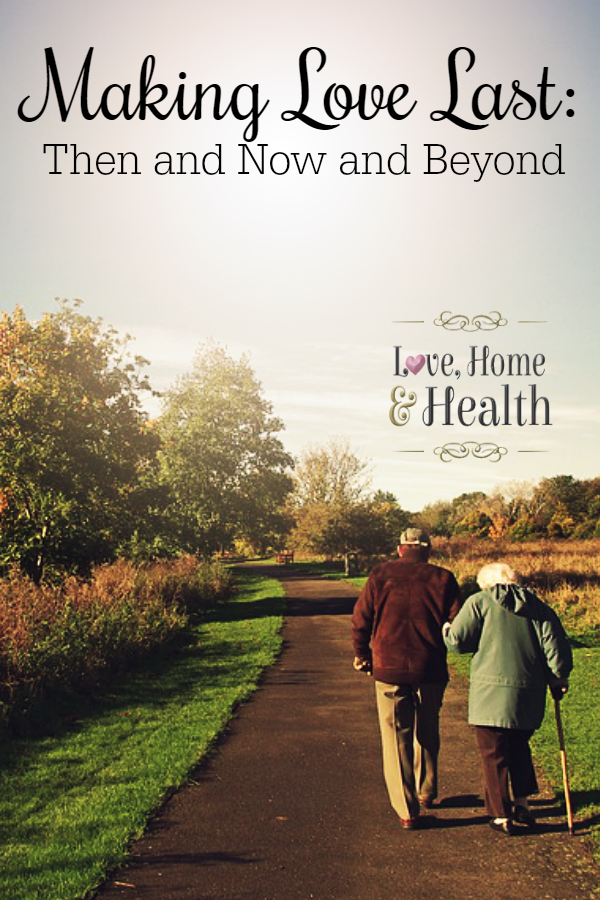 One Monday morning – just after 9am – the store was still very quiet with very few shoppers – and I noticed this very elderly couple – who appeared to be in their mid to late 80's – inching their way towards my cash register – in an almost empty store.
He had on an old suit that looked to be 50 years old   🙂 and an old hat like men used to wear to church in the olden days – and she had on an old print dress with a coat over that and a head scarf  🙂 and he had his arm in hers –
My FIRST thought was – "WHAT a PHOTO that would make!!! I'd give anything for a camera right now!"
As they approached my register – the old man was fussing at the old woman because she was buying 3 cards of buttons for $1 when she only needed the one card.
I could see tears beginning to fill her eyes – as he was on his rant because she was spending a whole dollar – when 33 cents would do – and my heart was breaking for this old woman.
I don't know why in the world I did what I did – but I just stood there and looked at them both for a minute and I said  "WHAT in the WORLD is WRONG here?"  And the old man said "Aawww she's buying 3 cards of buttons just because they're on sale and she only needs – one card!"  I stood there a minute – feeling my long nosy nose begin to grow across the counter towards them  – and I said "How long have you guys been married?"  And the old geezer said "SIXTY THREEEE YEARS!"  Like it had been the longest and hardest 63 years of anyone's life EVER.
SO I reached across my counter and put my hand on the old man's shoulder and turned him towards his wife and I put my hand on the wife's shoulder and turned her towards the old geezer – and I said "Now you two look into each others eyes."  And they did – but she had tears in 'her' eyes – and I said to the old man "If you will look into your wife's eyes – you will see – deep down inside – the same little girl you married – all those 63 years ago."  "And yes – she's aged – but hey – so have YOU – that's LIFE – we all age if we're lucky – but that same little girl that you said all those sweet words to so very long ago to make her want to be your wife – is still deep down inside of there – and you are fussing at her over 66 cents?"
I could see the hint of tears begin to form in 'his' eyes as he looked at his wife – and he turned to me – didn't say another word – but paid for the buttons – took her sack – put his arm around her shoulder this time – and they waddled out the door – all snuggled close.
By now – tears were streaming down MY face and I just said to myself – standing there in a still almost empty store – THANK YOU LORD – for this job – and for your blessings on me."
Young love is grand – there's no getting around that – all those butterflies and weak knees and that pounding heart  – oh my goodness – but VINTAGE LOVE?  A love that has spanned the decades and survived?  There's just nothing in this old world like it.
Peace and lots of love – coming to you from Round Knob Canyon …
I lost control of my day yesterday and didn't get new photo's taken – but here's a quick peek at some of my papers – before baking and after coffee dying and baking … The first pic is ready to cut or tear and use – the 2nd pic has papers that are prepared with images and quotes but not coffee dipped and baked yet.  I LOVE doing these – just wish retired life wasn't so 'busy'  🙂  Junk Journals coming soon – REALLY – lol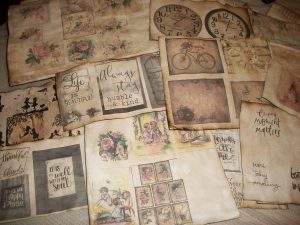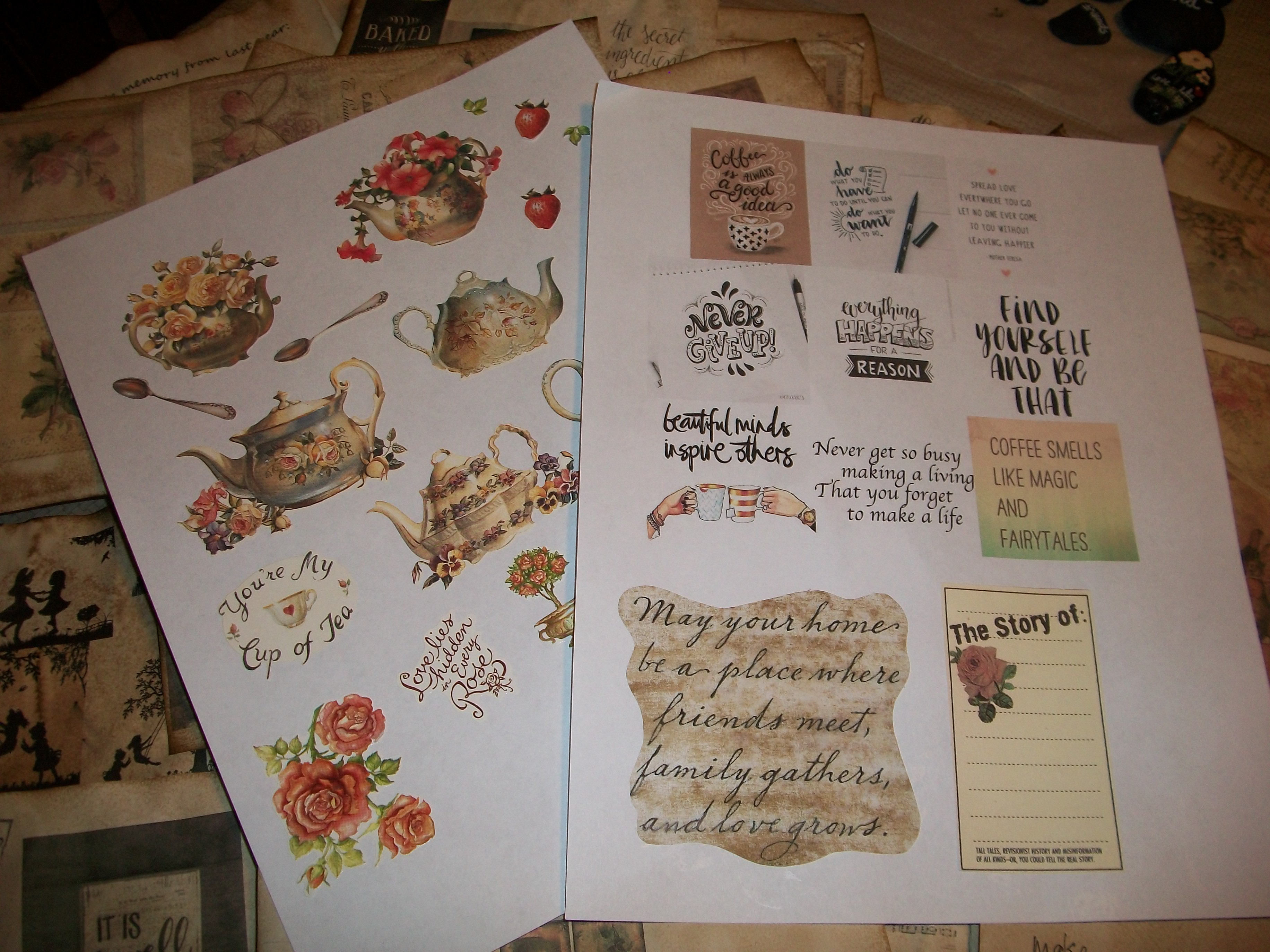 (Visited 374 times, 1 visits today)