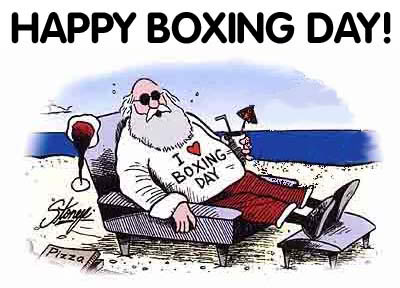 We are once again to my favorite day of the year – December 26 – Boxing Day!   But let's take a step back and peek in at the memories of yesterday.
In spite of being the kind of Scrooge I am at Christmas – yesterday was a pretty good day – in spite of the family worries that we seem to be smothered with these days.
Santa Brought Breville Juice Fountains to All
The kids all got juicers this year – and I opted for the Breville Juice Fountain 200Xl.  That thing is just unbeatable in efficiency and speed of juicing and clean up – and I was so thrilled to give them all one.  And then of course – they got a little homemade pamphlet with juicing remedies and recipes and other tidbits.  And their annual Bad Days Bags –
Kim made her famous Meringue Cookies.   I don't know how many she made total – but I'm telling you the truth – I could have easily eaten that whole batch in one setting.  She makes the most delicious cookies EVER.  She also made her dad one of his favorites – her Cherry Dump cake.
Grandma was especially verbal yesterday … lol  and we had a really good time with her.  We just had many laughs in spite of our worries and it was a really good day.  I've suggested we start the New Year off right – with another gathering in the canyon on New Years Day – and if we get to do that – I have a very unique idea up my sleeve –   More on that later – if it comes about.
A Family Disney World Trip in 2017?  Could it Really HAPPEN???
I also made a promise that 2017 would see our entire family in Disney World – altogether at one time – for those willing to accept that challenge.  SO we'll see if we can pull THAT off.  🙂   I may have to rent our church mini bus –  and take Bro Jake and Leetta with us to get to use the bus – but we'll see how these plans go.
My Favorite Day of the Year – December 26 – Boxing Day!   SO Let's RELAX and REWIND!
But that was then and this is now – and today is December 26th in the Canyon and round the world and my favorite day of the year since 2003.
Today is also BOXING Day.  And do you know what BOXING Day is?  It's celebrated in several countries like Canada and Australia and a few others -and Boxing Day is just a day of rest and relaxation with close family.  On Boxing Day – we're to do no shopping for sales or returning anything.  We're to do no cleaning and not much cooking.  It's just a day of relaxing and savoring the moments together and Lord knows I'm all for togetherness.
So what ever your day held for you and yours yesterday – today is the beginning of a brand new day.  Let's re-coop and re-group!
And I'm going to get off here and do just that right now.  SO Peace and lots of love from me to all of you!
(Visited 96 times, 1 visits today)