My Daily Journal – Friday Morning – May 12, 2017
#journal
#fridaymorning
#quotes
#inspiration
#motivation
#bethechange
#love
#home
#health
I'm coming to you From My Happy Place To Yours today and I hope your day is going great so far! 
I've always said our home is my hobby.  And it really is "My Happy Place."   There's just nothing I'd rather be doing than just foo fooing around the house – cleaning or cooking or doing one of the gazillion things a homemaker does – if she does her job well.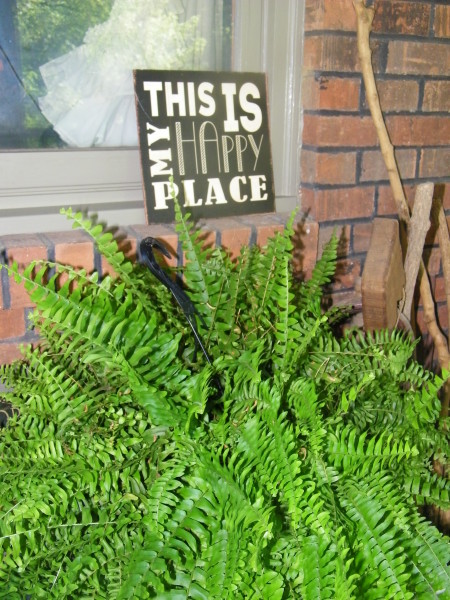 But it's always something in Round Knob Canyon – and very often it starts out in one of the other "Comer Homes" – but the buck stops 'here' on this bunch of worries.
It's been a crazy year so far. It's been one mishap after the other – and it's like we're fighting daily to keep our heads above water – and so far – we're still afloat. 🙂
After the couple days of Kim being in the hospital and being so bad – and then within 2 hours of her getting out – I was battling my first asthma attack in almost 30 years and one of my worst –
I re-coop from that to some degree – only to get a reminder call last Monday that my appointment for my physical was the next morning. Well WHO KNEW??? Not this old girl – I've been swamped with spring cleaning, cooking, gardening, the blog, mercy missions and more and didn't have a clue it was almost time for my physical.
SO I go to Patel – tell him I'm good except I can't knock the after effects of the Asthma attack – and he gives me a Decadron shot and steroids for 3 days.
Within no time of taking my first Prednisone – I was insanely itching like you wouldn't believe – but had been in the garden all day and just assumed I had gotten into some poison ivy or something and just needed a shower. But no – that shower brought NO relief and I was up all night clawing and drawing blood .. oh UGH!!!
Fast forward to morning and I'm still insanely itching – but I'm my normal rushed self with a to do list longer than I am tall – so I down another Prednisone and head to the gardens. Night falls on day 2 and I have now clawed myself to pieces and look like I've been in a chicken fight with a bunch of mean roosters.
About 10 p.m. last night – my lips started getting numb and my heart was now racing – and it dawned on me – I AM IN DAY TWO of a reaction to Prednisone and I just took another one at 5 p.m. – according to directions on my bottle.
Well great – I've stayed at a Holiday Inn once – but still a rocket scientist I'm not – and my mind just didn't connect the dots. SO I at 10 p. m. I started downing lemon water to flush – flush – flush and this morning my itch is gone bye bye – and GOOD RIDDANCE!!!
Patel's office had called earlier in the afternoon yesterday to let me know that I wasn't as super healthy as I thought I was at my physical and my sugar was 203 and my potassium was plummeting. Well great!!!
She said Patel knows you don't want to add another pill – but he said you really need to be on insulin. I said "No – I'm a quack and I'll heal myself and see him in August to prove it AGAIN."
This happened to Billy and me both 2 years ago. My sugar was 275 and his was 250 – but we got on the healing diet and in 8 weeks we were back around 90 for our sugar count – which was SUPER.
And we've really done great and had great check ups since – but you know – things happen. I had just given a shower for a friend at church and drank a gallon of that ice cream punch myself – just 3 days before. Who KNEW someone was going to draw my blood and test it for sugar in just a couple days? Not ME!!!
Nurse Teresa had told me at my physical on Tuesday – that she had been watching my facebook page for my cutting garden photo's – and I said "Well you can take a break – because the seed isn't even sown yet." 🙁
I had started very early and was so proud of myself for being so organized – but then the rains came and my pounds of seed was washed to neighboring fields, woods and homes … You're welcome
SO NOW – I've re-ordered pounds more and it's all here again and I'm about to start over – if me and these rains can get our heads together and cooperate.
I'm getting back on the daily juicing starting today. BECAUSE that just keeps a body strong and healthy and your blood work numbers all good and we just have to take time for it. BECAUSE those prescription MEDS – can KILL ya 🙁
I sometimes let myself get so discouraged with things like this – but then I remind myself how many mega thousands of people would be thrilled to trade problems with me in a heart beat.
I try to stay positive and cheerful no matter what. And I try to remember little things – like the teakettle that is always up to it's neck in hot water – but that old teakettle can still sing a pretty song – can't it? The higher and hotter the water – the louder it whistle's dixie.
SO I get up every day and with the Lord's help – I just take one set back after the other and thank the Lord – that I only have the problems I have –
I hope you all have a super duper – grand and groovy – zippity doo dah day – and hey – it may be gloomy and cool and a little wet – but it could be SO SO SO much worse!!!
Let's all go out there and make this one of the best – gloomy and rainy days – we've ever had!!! 🙂
(Visited 31 times, 1 visits today)