It's day 11 of our Get Healthy: 31 Day Challenge and I'm still here – how about you?  🙂   I'm not setting any records with weight loss.  I'm down 3 pounds and holding steady there – but no miracles yet.
HOWEVER Geezer is still down with that foot – and I'm cooking and baking for him to the extreme daily and while HE is as happy as a pig in a mud poke – that isn't helping ME and my 31 day challenge any – BECAUSE I have to taste everything I give him you know  🙂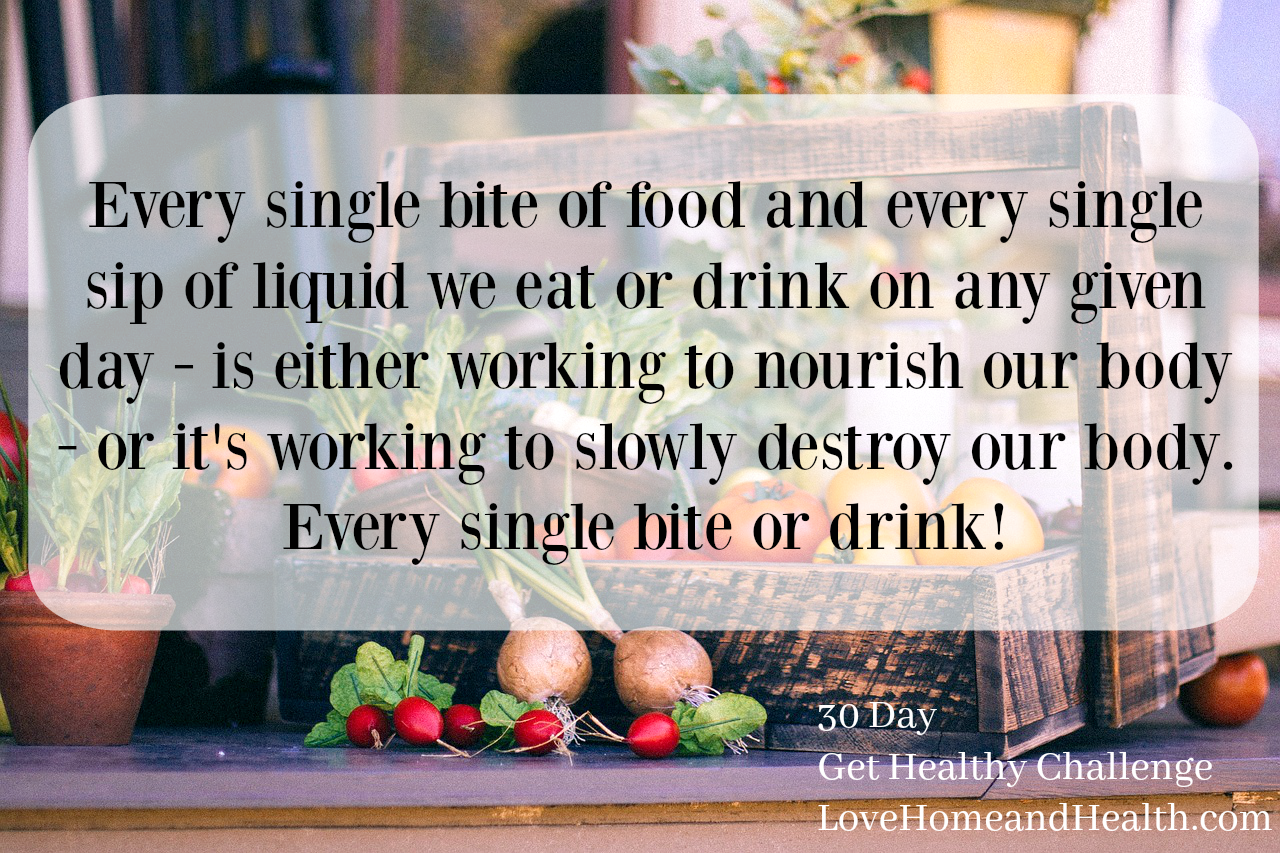 Get Healthy Challenge – How's It Going?
Well for ME?  I can see a definite difference in the puffiness in my face and that's major to me.  I've said many times – "My face is so puffy and my eyes so squinty I look like I'm Chinese."   SO there's a good improvement there.  Not enough to make me stop traffic – but that isn't even a possibility any way – so I'll take what I've got – be glad I have this much and try to do better.
The puffiness has gone down with very little weight loss – because I'm working on my adrenals.  And adrenal exhaustion can wreck havoc with any old body.  
Get Healthy:  Adrenal Exhaustion – How To Know If You Have It
You probably have adrenal exhaustion if you're under excess stress – meaning more than a person should be under on any given day.  And you're probably having adrenal issues if you are an excessive thinker – ME ME ME … or no attention span … or can't tolerate disorder.
You probably have adrenal issues if you're the type of person that has a long nose and is always trying to solve everybody else's problems – WHY ARE THE ADRENAL EXPERTS POINTING FINGERS AT ME???
You probably have adrenal problems if your blood pressure spikes fairly often and without warning.  If you have blood sugar issues (YOU WILL NOT BELIEVE how often I almost pass out in WALMART – because just the smell of that chicken in the deli – coupled with the aroma from the bakery – makes my sugar drop SO LOW!!!
If you have sleep problems  :-0 or leg cramps – brain fog – thinning hair – if you crave carbs and salty foods.  If you have heartburn more than is expected of a person or if you have a little problem with your temper.  Now that's the ONLY thing I don't have – lol   I just do not get mad – I get hurt – but not mad.  You can stab me in the back today and twist that knife out the wazoo – but if tomorrow I found I have survived and hear you need food – I'll be the first one knocking on your door with a big bag of staples and goodies and probably even some back issues of the Encourager Newsletter.
Adrenals CAN keep you from losing AND make you feel like poo poo every single day.  SO it's crucial to get those adrenals back in shape.
Get Healthy:  Quick Fix For Adrenal Exhaustion
And the quickest way to do that is to have the juice of 1 lemon in a glass of water each morning and evening – and add a good sized pinch of sea salt to each glass.  It helps even more if you'd add 1 tbsp apple cider vinegar to those glasses.  That has worked wonders for me in just 11 short days.
Now there is a diet that's good for the adrenals.  And supplements of course – but this lemon drink will make a HUGE difference.
Get Healthy: But NOW – BACK TO THE FAT!!!
Did you know there are about 78 MILLION adults that are overweight today – as compared to about 12 million in just 2013.  THAT IS A HUGE INCREASE in just 4 years!!!  We are killing ourselves slowly with our own kitchen forks.   
AND you're not going to lose weight on a 'buffet' type diet – meaning – you can't have it all in one day.  You must cut back your caloric intake and eat foods that will not only nourish your body – but aid you in your weight loss…
Get Healthy:  There is NO Magic Pill
We're all looking for a magic pill.  But HEY – THERE IS NONE!!!  All those diet pills that are supposed to be all natural – all contain things in them that will affect your heart rate and do it in a very dangerous way.  You could have a massive heart attack from those 'all natural diet pills'.
Now you may lose a few pounds – and friends will be coming by your coffin and saying things like "WOW doesn't he/she look nice?  What a tremendous weight loss."
WHAT???   Just eat less – eat healthy – and walk walk walk – and you can do your walking in 5 minute spurts about 4-5 times a day – just be sure you walk FAST.
Remember the test I ran the first of the week?  I just got up and walked during each TV commercial from 7pm to 10pm and my goodness – I logged almost 3 thousand extra steps that day.
Get Healthy:  Do You Need A Jump Start?
Here's a simple plan that will make you drop lots of weight in a few days to get off on a good start and then you can switch to just low carbs – protein and a little fat – the BEST combination out there for a successful weight loss and lots of energy.
Get Healthy:  31 Day Challenge – 3 Day Rapid Weight Loss –
This is JUST a 3 day Rapid Weight Loss to Jump Start Any Diet
Breakfast – the same each day.
1 boiled egg – 1/2 slice cheese – 4-5 walnut halves
First day
Lunch
1 orange
1 boiled egg
1/2 cup yogurt
Dinner
2 tomatoes
2 boiled eggs
1 cucumber or
1/2 lettuce
Second day
Lunch
1 orange
1 boiled egg
1/2 cup yogurt
Dinner
1 burger (125 g minced meat)
1 orange
1 tomato
4 crackers
1 cup of coffee or tea (without sugar)
Third day
Lunch
1 orange
1 boiled egg
1/2 cup yogurt
1 lettuce or cucumbers 2
drinks without sugar
Dinner
1 burger (125 g ground beef)
1 orange
4 crackers
1 cup of coffee or tea (without sugar)
Okie Dokie – we're over and out in Round Knob Canyon – I'm burning daylight and have tons to do.  But we'll meet right back here tomorrow morning for day 12 – Lord willin' and the creek don't rise.
(Visited 43 times, 1 visits today)