It's Day 3 of our Get Healthy, 31 Day Challenge and I'm already feeling a little lighter and a little more energetic – how about you?  Now I'm normally a very hyper person anyway.  But when I do the things that I know are good and right for my body – I can still instantly feel a difference.  I can feel an improvement in this way or that.  A lighter feel – more clear thinking and a natural 'lift'.  And who wouldn't want that?
Once we get a good steady morning routine going – this is going to be life changing for all who stick with it for just 30 days!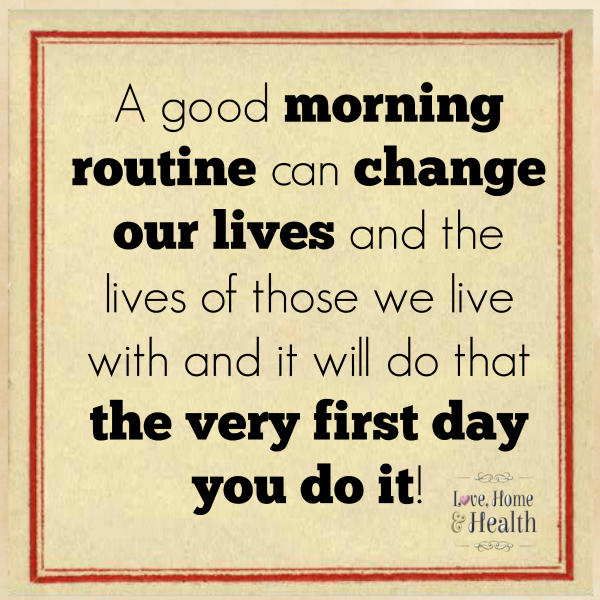 Day 1 – Recap
SO on Sunday, day 1 – we talked about how we can do a 3 day test to see just how foods are affecting our bodies.  Three days pass by in the blink of an eye unless you're a lazy couch potato.  And what you learn about the foods you eat – and how they are making you feel – that information is just worth it's weight in gold.
I hope you have DONE that test by now or are in the middle of it.  Because you really won't fully understand the impact food is having on you UNLESS you do this quick and easy 3 day test.
Day 2 – Recap
On day 2 – we talked about the value of walking.  Not just for weight loss – but to help you help yourself to build healthier arteries that will let the blood flow through – more freely.  And again – this isn't about joining a gym – who has time for that?  It's just about adding steps to your normal day and doing so at a pretty fast clip.
Just 3 little 5 minute spurts of walking around your house or up and down your driveway – should add a little over 2 thousand steps to your day.  And HEY – maybe you can work in another 5 minutes after supper.  For ME?  I take about 700 steps in 5 minutes of walking. 
I have a friend who wanted to lose 20 pounds but she didn't feel she had time to exercise.  SO in the evenings she started just getting out of her recliner and walking in front of the TV – just during each commercial.  In just 2 short months – she had lost her 20 pounds – doing just that – and she swears to me that she didn't change her diet at all.
I'll try that tonight if I don't forget – and I'll walk during each TV commercial from 7pm to 10pm – and see on my Fitbud – just how many steps that IS.  Stay tuned – and I'll let you know tomorrow.
WALKING REDUCES ARTERY PLAQUE
I've read so many times in my studies and research – that walking reduces artery plaque – SO I asked my own cardiologist about it.  He said "YES!!! It DOES!!! IF a person is consistent with it."
Just a few short years later – Geezer went for a physical and because his blood work wasn't really great – he was asked to do a stress test and he flunked.  My doctor looked at him and he said "If you were anybody else – I'd be sending you for an angiogram – but since you're married to Katy and I know how she is about health and wellness – I'm sending you home with HER instead – and I want you to do just as she says."  And he gave him strict instructions on diet and some daily walking.  On Geezer's next test – he passed with flying colors.
I think when my doctor was tooting my horn with praise about my holistic health and wellness studies – little blue birdies were flying around my head and just chirping up a storm.  I was so proud!
DID YOU KNOW – that half the people who die of a heart attack have normal cholesterol?  Most of those are just low in magnesium.  And a simple supplement could have prevented that fatal first heart attack.  
We're Not Perfect in Round Knob Canyon
But now while I'm on the subject of me being a health nut – and even of my own doctor supporting my studies – let me just say this – IF Geezer or I were to croak any time soon – DO NOT SAY to yourself and others – "Well she didn't know as much as she thought she did or that wouldn't have happened."  🙂  NO – LISTEN to me – I KNOW PLENTY  🙂  But we're just like you all – out here in Round Knob Canyon – we know what to do – but so many days – we just don't take the time to do things RIGHT.  We don't juice enough – we eat too many of the wrong foods … blah blah blah.
SO – this WORKS!!!  But only if you do it and do it consistently!!!  
Get Healthy: Day 3
Today is day 3 and all we're going to do is add a simple drink at least once a day that will help you kind of detox – and get rid of some of that poison that may be stuck in your liver and kidneys.  May be stuck my left hind leg – we ALL have poisons from our foods and drinks – stuck in our liver and kidneys – let's get that junk to moving!!!
You will need a lemon – sea salt – cucumber and parsley and a little ginger if you can manage that.  Fill your glass with 6-8 ounces of water and to that you will add one pinch of sea salt – Celtic or Himalayan.  IF you have a cucumber you can puree that and the parsley in your blender – or just eat the cucumber and dice the parsley very fine into your drink.  IF you have a JUICER – add them all to the juicer.  If you can – add 1/4 tsp of ginger – finely minced or the juice if you have a juicer.  And drink that down.
This little drink daily will not only help you detox – it will jump start your metabolism naturally and help with the absorption of other nutrients you'll be having during the day.  It will help with digestion and deter bacteria from catching hold somewhere.  It's delicious and refreshing and helps with cravings.
This simple combination will promote overall wellness and help your immune system.
FORGET THAT DANGEROUS FLU SHOT – We have 2 local friends that had STROKES on the day they had their flu shots.  Coincidence?  I don't know but it sure isn't worth the RISK!!!  TWO PEOPLE with this 'coincidence' is a LOT for the population of this small town.  Just get healthier by doing a very few – very simple things – and you will not have the flu!!!
OK – I'm feeling perkier and more energized – how about YOU?  AND in 2 days I've lost 2 pounds.  Now that 2 pounds is fluid from leaving off the half gallon of milk a day … 🙂  but at least I'm moving in the right direction.
I'll meet you right back here in the morning – Lord willing and the creek don't rise.  Let's DO this!!!
(Visited 62 times, 1 visits today)