My Daily Journal: Friday – December 30, 2016
Hanna The Hoarder Has Passed Away –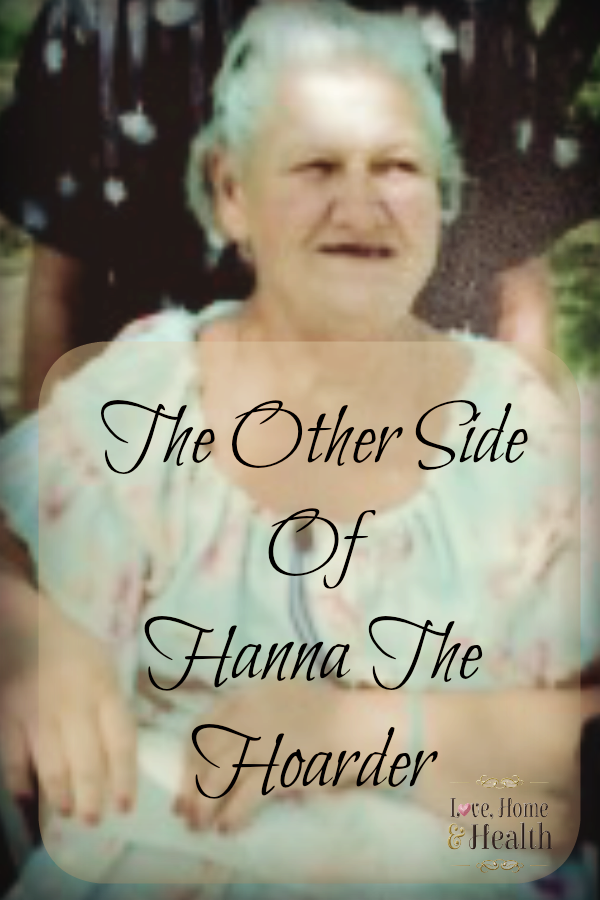 I've just received word from Hanna's daughter – that Hanna passed away this afternoon after suffering a heart attack a couple weeks ago.  At the time of her heart attack – she was still living on Simpson Blacktop.   A few years ago – she became known as the chicken lady when the Hoarders TV show did her story of how she lived in a shack with chickens.  But there was so much more to Hanna – that most folks ever knew.   She actually had a heart of gold, really.  And wanted for herself and her own family – the same things most of us want – love, respect, togetherness.
Kim and I got to really know Hanna after she was on the Hoarder's TV Show a few years ago –
Many people ridiculed Hanna – because of the way she lived with animals and the horrific living conditions she lived in – but something about seeing her on that show just touched me in a different way –
I couldn't eat for thinking about her sitting on that bucket and eating out of that old plate with chickens all around her. And I'd snuggle in our bed under layers of covers every night after seeing her on the TV show and think of her in that shack with no heat in the dead of winter.
I thought about her for about a week after the show and I realized I just had to meet her and get to know her – and see if I could help her – and I did.
Hanna The Hoarder:  The Letter That Started It All
I wrote her a letter – she quickly replied and invited Kim and I to come and meet her and see how she was cleaning her house up after the TV show.
We made several trips to Hanna's – always taking gifts and lots of food. We even took her bouquets out of my gardens. She was always so thrilled to see us and we'd sit and talk and laugh – We always hated to leave – because she was so interesting to talk to and so funny. And she'd always ask when we were coming back.
Kim and I ended up doing her story for my newspaper column Everybody Has a Story – and it was picked up by the Vienna Times and they actually sold out of newspapers and had to make more. That thrilled Hanna to pieces.
But although Hanna had her own problems – she still had a way of making the best of any situation.   She was 'doing' with what she had to do with – and making the most of what she had.  And she taught herself to be happy that way.
And THEN – Hanna Married Richard – UGH!!!
Marrying Richard was a desperate move – Hanna was looking for love and she had looked in the wrong place. She had met Richard in prison when she went to visit her son. And when he was released – he headed straight for Hanna – knowing how desperate she was. And boy did he pull the wool over HER eyes. We tried and tried to tell her – but she didn't want to be alone and she said he was good to her.
Richard 'seemed' nice – but he didn't care for Kim and I and he made no bones about it. He knew we could see right through him and we'd always joke on our way to Hanna's that we wondered if we were driving to our own doom.
One day as we were leaving – Richard said "Hey – I've got a hole back in that back field that's big enough to bury a car – and people in it – and it would never be found." We just turned and walked on to the car. But we never went back after that – in spite of Hanna's many pleas by phone and letter for us to come back. I told Hanna to send Richard packing – and we'd run back and forth like we had been doing – but she just couldn't do it. He eventually left her for her own daughter. Talk about a Jerry Springer situation … gads.
But I truly loved Hanna. She was a victim of her own up bringing. She grew up and duplicated the life for her own family – that she had grown up in herself – and it was nothing pretty or anything to brag about.
But Hanna truly wanted to be happy and to love and be loved – She really just wanted the same things all of us want. She just didn't have a clue how to go about getting a normal life.
That is so gut wrenchingly sad to me. And just think how many others there are out there – just like Hanna.
I was just sick when I heard she had had the heart attack and I couldn't get to Evansville – and now she's passed.
But I do know – that she knew – that she may have had a life a reality tv show could have been made around – but she knew there was 2 goofy ladies just 15 minutes south of her – that truly cared about her and wanted all the good things for her – that she wanted for herself.
It's kind of like the old saying about a Dandelion – "Some see a weed – I see a wish"  That's the way "I" felt about Hanna.
Hanna was different – that's a fact – but she will always have a little place in my heart.
Below is a note Hanna's daughter Linda put on my page about her mom.
I don't want anyone feeling sorry for us and mom wouldn't want that either. When I was a little girl I remember how mom had big gardens. We all would go out work in the garden. I'm not going to think about the bad things. All I'm going to do is focus on all of the good memories about mom.
She always worked hard at the things she did. She always made sure we kids had a warm home and food in our tummies. Yes we all worked in the garden that was as big as a huge corn field. Lol She raised our food. We did canning in the summer and she taught her kids how to never depend on others. We didn't have a lot but I could say we never went hungry and she always made our clothes. Yes there was some that we felt like they were ugly but we wore them anyway. Mom would always tell us now you need to make sure you have your church clothes out for church tomorrow. So me and my brothers and sisters would get up Sunday mornings and wait for the church bus .
She would always build cages for the rabbits and buildings for the other animals. She would go look for old buildings to tear down to get the lumber to rebuild with. We never had anything fancy but we never did without either. She would sew our clothes from under wear to the most beautiful dresses. She would go to Ben Franklin and look at the dress shirts and pants then go back home rip out the news papers and make a pattern and then cut the items out that she's going to sew that day.
She could make 2 to 3 dresses or shirts in one day. Mom taught us girls how to cross stitch. She tried to teach me how to net but I could never get the hang of it. Lol. My oldest sister did. Every time s new member came into the home all of us kids got excited about having a new brother or sister. We shared rooms but that was okay longs none of us was mad at each other lol.
Mom was always laughing and talking for hours when she was in town or anyone come over or one of her kids did something funny. She had one goofy child that made our young life more fun and his name is Calvin. He always was a funny kid. He made mom laugh almost every time. There is Jimmy he took things more peaceful and did things that always need to be done while mom was outside building things.
Then glen was always worried about mom.
Becky she always was cooking with mom. When she got older she help care for mom.
Of course here is me. I help with the younger ones. While mom did grocery shopping or had to take all the laundry to the laundry mat.
There's Kendal he always was helping me when he got older.
Now Charmin was the 2nd to the youngest of the girls so she couldn't do much but try to help others that needed the help.
Bart Jay and Willadean was the youngest one of us so they couldn't do much either but stick with big sissy. (me)

As all of us got older we took care of our mother and made sure she had what she needed. We moved on with our lives and had children so mom had 20 grandchildren and about 7 great grand babies. She even claimed the ones that she watched for others after all of her children left home.
As all we kids grew up and went our own ways moms health wasn't good. Some of the things she has told me I never knew about it. Mom lived up here in Washington  twice for a while then she wanted to go back home so I let her go back. Then my sister Becky stepped in for a while then when Becky got her own place then our brother Bart stepped in to care for mom. He made sure her bills got paid and food in the house. We all got caregiver's to go in and help mom with the things she couldn't do. I got it started up here when she was living with me the last time about 4 years ago. Then Bart, Becky and I made sure she had them down there.
Mom made me laugh and of course cry but I got over that. I took my grandson and daughter down to her place in 2014 so she could see her great grandson for the first time. He put a smile on her face every morning when we drive up. We went to her home every day for 2 weeks. She didn't want us to go back home but I needed to get back home to my husband and other children.
I kept in contact with mom at least 2 times a month it not every week.
While mom was in the hospital this last time we kids would call her room and she wouldn't answer the phone. That wasn't like mom. I talk to her nurse that had been with her from day 1 and she told me all mom wanted was to go to heaven. That's all she would talk about.
Mom I love you so much I'm going to miss calling you every week to see how your doing. I going to miss talking to you and saying mom turn down the radio so I can here you. Mom now you can rest in peace and not be in pain any more. Mom R. I. P. Love you children.
(Visited 979 times, 2 visits today)