There's an anti-aging miracle in your kitchen
There is a magical concoction – most likely already right there in your house, just waiting to be mixed together to take years off of your face in less than 10 minutes!  This is a very simple – AT HOME FACIAL – with ingredients you likely already have in your kitchen – that will take years off of your face in just 10 minutes or less.
I am a fanatic about skin care and wrinkle remedies and I created my own magic lotion from a recipe a lady gave me in Hobby Lobby one day, years ago.   And I'm going to share that with you today too.

There's just tons of priceless and free information in this post – and it will change your complexion dramatically – starting on day one.
The recipe below is just a little homemade cream I'm going to give you the recipe for.  I love home remedies and homemade concoctions so I make all kinds of remedies and skin care products right here in Round Knob Canyon.  I don't market these products – because the ingredients all come from the grocery store and any of us could run out and get them in 10 minutes for mere pennies – but most of us would already have them all in our kitchens.
SO I just do my thing right here in the Canyon kitchen and use them myself and give them to friends in gift bags.  One of my favorite things to do – is make something miraculous for pennies – right in my kitchen.  Now WHAT could be BETTER than THAT?
And then the icing on the cake for me – is having extra to give away.  I even order and keep on hand – small jars and bottles – just for this purpose.
We'll get to that secret trick that will make you look ten years younger in 10 minutes – in just a minute.  But first let me give you the recipe for the Magic Lotion that I use several times a week.
As I've said before, I have been a stay at home homemaker for most of our 50 years. But after our youngest married, I went to work at our local Hobby Lobby in 1996 and was there for the opening of the store and was put right on the front lines as head cashier.  I worked for 7 years, until my husband retired.
I saw many surprising and funny and even miraculous things during my time on that Hobby Lobby register and I sure wish I had kept a journal of them all.  But one day – a lady came through my check out line and she had all these pretty little fat glass jars and I was curious why she was buying so many little jars, so you know 'me' … I just asked her.
She said she had a simple recipe for skin care and it was so good that she literally gave it as gifts and she was about to make up a batch to have on hand to give away at a function she was going to.
The Miraculous Recipe
I have made gallons of this stuff and given it away since I got this recipe back in about 2001.
1 Bottle Baby Lotion
1 Jar Vitamin E CREAM
1 Jar Vaseline
Now the above 3 ingredients were all the lady in Hobby lobby put in her recipe and the total cost to make this is about $3.
But I'm a big promoter of Coconut Oil
so I started adding a little Coconut Oil to my own recipe – SO 1 TBSP Coconut Oil (my addition and I buy Garden of Life Extra Virgin Coconut oil
on amazon)
I always adjust my amount of each ingredient depending on how much I'm making at that particular time.
For one small batch, I put a big squirt or dollop of each on a paper plate and mash them together with a plastic fork, so when I'm done I can throw the plate and fork away.
I don't use nearly as much Vaseline –  but equal amounts of the lotion and cream.
Get everything you need right here at Amazon and have it shipped right to your door!
&
Johnson's Baby Lotion, 15 Fl. Oz

Fruit of the Earth Vitamin-E Cream 4 oz. + 4 oz. Jar

VASELINE JELLY JAR 1.75 OZ (2 PACK)

Garden of Life Extra Virgin Organic Coconut Oil — 16 fl oz

&
This is such a simple homemade cream but I love to give gift bags on occasion.  And I always put in a main gift, of course, but then I put other little odds and ends in the bag, like a good chocolate, a tiny flashlight (don't ask – I'm just a fanatic about putting mini flashlights in gift bags and I usually buy those tiny LED mini lights that are about as long as your finger)
But I'd put in my main gift of a book or video or little night lamp or whatever and then the other small items and then I've had folks call me about the gift bag and not even mention the main gift, but be calling  for the recipe of the homemade cream so they could make more.
I've made it for all the ladies at church in years past and then had 2 of the older ladies have me make more of it for them several times after I gave it to them.  One friend who reads the blog said she made it and used it and her husband noticed a change in her complexion the first time she used it and you really can.  It's that good!!!  I put it on my feet with heavy socks and if you use it after your shower or bath it will soften those old dry winter feet overnight.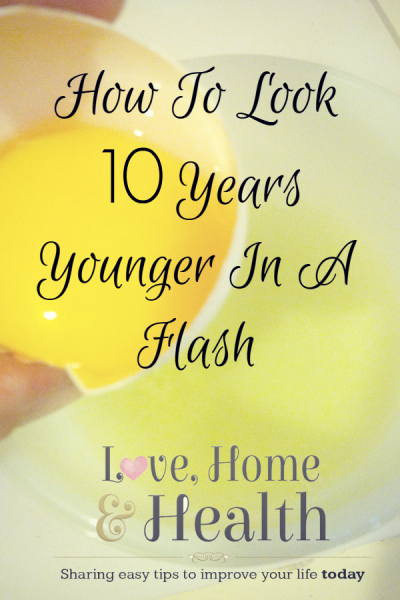 How To Look Ten Years Younger In Ten Minutes –  THIS IS IT!!!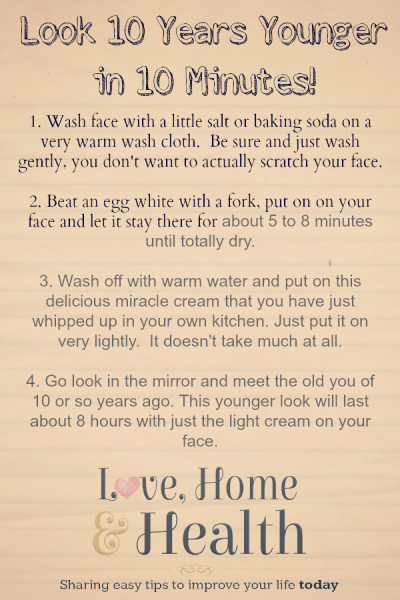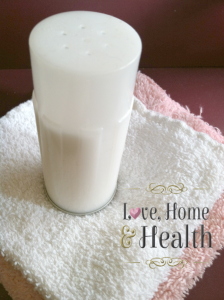 Now you may think it's impossible to look ten years younger in ten minutes.  But you really can.  It won't last forever and ever amen – but you can get through a dinner date or outing and look absolutely smashing – trust me on this and just try it!
Wash your face and use a little salt or baking soda on your very warm wash cloth.  Be sure and just wash gently, you don't want to actually scratch your face.
Then beat an egg white just quickly in a deep bowl and put on your face and let it stay there for about 5 to 8 minutes until totally dry.
Wash off with warm water and put on this delicious miracle cream that you have just whipped up for pennies in your own kitchen.  Just put it on very lightly.  It doesn't take much at all.
NOW – go look in the mirror and re-introduce yourself to the old you of 10 or so years ago.  You will find that you look 10 years younger in just 10 minutes.
This younger look will last about 8 hours with just the light cream on your face.  I have no clue how long it would last with foundation makeup … maybe longer … maybe not as long.
Try it and see for yourself and then share this blog with your friends and family!
Royal Bee Skin Healing Cream
Now I also talk often about the Royal Bee Skin Healing Cream
and I LOVE and use that too.  But that IS a commercial product.   I've always said that I'd never be without a jar of Royal Bee Skin Healing Cream – in spite of my home remedies – because there's just something special in that Royal Bee – that I have yet to be able to duplicate.  But if you use the recipe I'm giving you today – you don't even really necessarily need the Royal Bee Cream – but I  like to go the extra mile when it comes to having good skin – without makeup.   The link to buy it is at the blue click above – if you'd like to give it a try.  I've given so many samples away to local friends – just out of my jars – and they have all ordered it.  SO it's just good stuff –
UPDATE:
I've just found a new recipe for "homemade Botox in a bowl" – you make it out of 3 items in your kitchen and it's said you will see a big difference in just 3 days.  I'm making that today and will try it this week and we'll have a new blog "Homemade Botox in a Bowl"  later this week.  WATCH FOR IT!!!
UPDATE ON THIS:  I did make this concoction – it was quick and easy and anyone can make it and my goodness – I could see a dramatic difference after using it the very first time.  WE ARE ON TO SOMETHING HERE – We may be looking like our grade school SELF – if we use all of these together – LoL
Visit Our

 Skin Care 

Archives
If you're new here and would like to read more of Love, Home and Health; click here for the "New? Start Here!" page – still slightly under construction … If you found something you like, I hope you'll use the buttons below to share it with your friends and followers!
Get everything you need right here at Amazon and have it shipped right to your door!
&
Johnson's Baby Lotion, 15 Fl. Oz

Fruit of the Earth Vitamin-E Cream 4 oz. + 4 oz. Jar

VASELINE JELLY JAR 1.75 OZ (2 PACK)

Garden of Life Extra Virgin Organic Coconut Oil — 16 fl oz

&
(Visited 46,968 times, 112 visits today)