It IS a good day to have a good day! Each and everyone of us decides if we will have a good day … It's all based on how we respond and react to our day!
Ok now take a deep breath and hold it because we're going to walk through some hot coals for just a minute and then we're going to come out on the other side …
HOPEFULLY … with a huge wake up call and a brighter way to look at your day today and even the days ahead.
Yup,  there's no doubt about it.  Today is a good day, to have a good day!
I just hope it ends as good as it's starting out for most of us … shall we pray!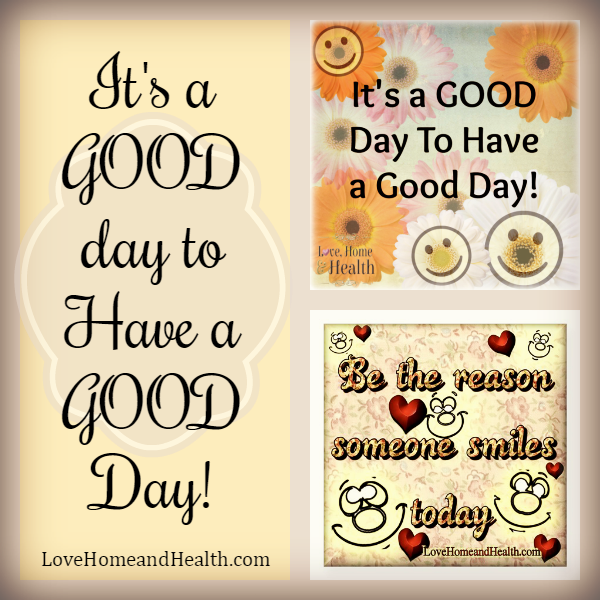 This last 3 weeks have been very trying times for even a strong Christian.
A favorite aunt and very close friend had a really bad stroke and we had to brush our toofies and jump in the car and head to St Louis to the hospital she had been airlifted to.
She's doing well and we expect a full recovery for her but then just a few days later,
I lost a very close friend unexpectedly and she was only 37.
THEN, a very favorite uncle passed away unexpectedly.  AND THEN, a very close friend was diagnosed with stage 4 cancer and sent home to be as comfortable as he can be … until …
And then the mom of one of our kids closest friends passed away unexpectedly.  And a favorite cousin only 45 years old passed away.
It's been a rough 3 weeks.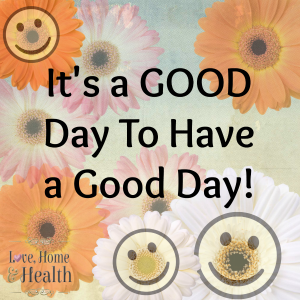 But do you know what?  Right now, right this minute … WE – you and I … are still here and as of right now, most of us feel like we have
a good day ahead of us.
Geezer and I have fun plans! And we're heading in the direction that has 80% chance of torrential rain … but we're still so excited, we can't WAIT to get there.  🙂
The gardens and all the way around the perimeter of our property has been cut back and cut down and cleaned up.  My goodness, it
looks like a post card out there right now.    We've worked hard to get things lined out, especially the geezer.
"I" think we need to all go into business together and that business needs to BE … learning to make the best of each and every situation.  And making each and every day for ourselves and others, the very best it can BE.
FORGET 140 pairs of shoes to the friend who is always shoe shopping.  I love BIRD houses TOO but I didn't even BUY one this year.   We need to learn and then remember that's it really IS the little things that make the biggest difference in our lives.  That hug for no reason.  Fixing our old geezer's favorite dish!
Thoughts for a Good Day
Leaving little notes here and there for our spouses to find.  Just little things that say "I ADORE you!"
Cause LISTEN folks…
This is the beginning of a new day.
You have been given this day to use as you will.
You can waste it or use it for good.
What you do today is important because you are
exchanging a day of your life for it.
When tomorrow comes, this day will be gone forever;
 in its place is something that you have left behind…
                  let it be something good.                   
             Author: Unknown                
Maybe it would help if we all started trying to see the world from a child's eyes.
THEY know how to live and react to so many things … a whole lot better than we do.
Mud Puddles and Dandelions
~ author unknown ~
When I look at a patch of dandelions,
I see a bunch of weeds that are going to take over my yard.
My kids see flowers for Mom
and blowing white fluff you can wish on.
When I look at an old drunk and he smiles at me,
I see a smelly, dirty person
who probably wants money and I look away.
My kids see someone smiling at them and they smile back.
When I hear music I love, I know I can't carry a tune
and don't have much rhythm so I sit self-consciously and listen.
My kids feel the beat and move to it. They sing out the words.
If they don't know them, they make up their own.
When I feel wind on my face, I brace myself against it.
I feel it messing up my hair and pulling me back when I walk.
My kids close their eyes, spread their arms and fly with it,
until they fall to the ground laughing.
When I pray, I say Thee and Thou and grant me this, give me that.
My kids say, "Hi God! Thanks for my toys and my friends.
Please keep the bad dreams away tonight.
Sorry, I don't want to go to Heaven yet.
I would miss my Mommy and Daddy."
When I see a mud puddle I step around it.
I see muddy shoes and dirty carpets.
My kids sit in it. They see dams to build,
rivers to cross and worms to play with.
I wonder if we are given children to teach or to learn from?
No wonder God loves the little children!!
"Enjoy the little things in life,
for one day you may look back and realize they were the big things."
Just a reminder about the important things in life.
I wish you mud puddles and dandelions
(Visited 4,548 times, 1 visits today)