This is My Daily Journal and today is Friday, February 2, 2018 and we're going to talk today about giving each day – a chance!
I was working on a Junk Book Journal yesterday and I ran across a quote by Mark Twain that said "Give every day the chance to become the most beautiful day of your life."  And I thought – WOW – WHAT a CONCEPT!!!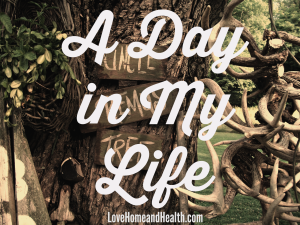 Now let's keep in mind what we talked about yesterday and a little the day before – and that's that we're into the month that is known for love – and what does love do to a life?  Love makes life worth living!  And boy does it ever!  Who ever said "Love makes the world go around" can be my neighbor any old day.
But besides just being the month that's known for love – we're also the 2nd day into the month that holds that very special day – Valentine's Day!  So we need to all be working towards that very special day – making plans now – maybe even seasoning each day between now and then – with a little special pampering – and maybe we'll talk about Valentine's Day gifts that I've received – and some of you have too – tomorrow.
But right now – looking at the quote by Mark Twain that sparked the thought for this article – Mark said "Give every day – the chance to be one of the most beautiful days in our lives."  What in the world would happen to our lives – if we did just that – each and every day?
Now we're probably not going to have a slew or probably not even a few – really great days in a row – without a few problems.  Because life just happens and it isn't always a bouquet of roses.  But you know what they say "It isn't the weight of the world that gets you down – it's how you carry that load."  
DO YOU REALIZE – that if we will work each day – to make each and every day – one of the best days of our lives – OH MY GOODNESS – we could get to the end of our days with just a gazillion – fantabulous days full of wonderful memories.
I was readying a while back – and I can't remember the actor's name – but he was in the very twilight years of his life and his body had worn down and he was in his final hours and the family had gathered around.  They said he was very weak – but coherent – and the very last words out of his mouth were "What a wonderful life I've had."  WOW !!!
But you know as well as I do what happens to our days – most days – and it isn't always pretty.
If we're a mom with small kids – we get up and if we have little ones – one is whining because he's lost a sock and another one is whining because they don't want to go to school.  One doesn't want to wear what you've laid out and you're burning the toast while trying to get everything pulled together and get them to school.
Or if you're older and your kids are grown – you get up and flip the switch in the bathroom and POW – the light bulb burns out just as you turn the light on.  Or you go to turn the coffee pot on and realize you didn't set it up yesterday morning when you cleaned up the kitchen after breakfast. So now you have a 10 minute wait for coffee so you can get your eyes open.  OR you go out the door to head to your own work place if you have one – or to run errands – and you have a dead battery or a flat tire.  Or maybe you have grown kids and even grand kids that are working and/or in college and there are so many worries there if you're a worry wart.
Maybe you have grown kids with worrisome issues – one working 70 hours a week – another battling a bit of a disability from a wreck – and another that's maybe estranged and you don't even know why.  There are just so many things – that will throw a monkey wrench in to each and every day if we'll just let it happen.  And I'm just as guilty as anyone.
SO – life can be tough!
AND – we stay so busy and so swamped with so many responsibilities – we let one day go by and we don't accomplish some things we really wanted to do.  Next thing you know – it's happened again the next day and the next.
I have a library of hundreds of super books on holistic health and wellness, self help books and so much more.  In that collection I have a few books by Barbara DeAngelis – and I loved her thought process in the books I have.
One is called Real Moments – and that book made such an impact on me – that I bought several just to give away.
There's a quote in her book Real Moments and it says:  "First I was dying to finish high school and start college. And then I was dying to finish college and start working. And then I was dying to marry and have children. And then I was dying for my children to grow old enough for school so I could return to work. And then I was dying to retire. And now, I am dying – and suddenly I realize – I forgot to take time to live.
Now if that quote isn't a light bulb moment for most of us – I just don't even know what to tell ya.
HOWEVER – we've been given a heads up by old Mark Twain – and we're on the right track now teacher!!!  🙂
Let's start today – to make each day just a little special in some small way.
I know our days are all filled with responsibilities and worries – and no one knows that more than me.  But let's start today – to find some little something – every single day – to make that day one of the most beautiful days – of our lives.
Peace and lots of love – coming to you from Round Knob Canyon …
Below is a quick peek into one of my own Junk Book Journals and this one is "The Good Luck Kitchen Witch" – it's a totally homemade book filled with old time remedies, recipes, fun folklore and more.  And for those who are not familiar with junk book journals – you start – by making your own BOOK from scratch  🙂  But now – this is not at all related to witch craft in any way – It's patterned after the old Good Luck Kitchen Witch that most of our moms had hanging in their kitchens in the 1950's and 60's.  It's all very wholesome – inspirational and just for fun.  A sorta/kinda/duplicate – coming soon to my etsy shop.
ALSO – if you missed yesterdays journal – here's that link – http://www.lovehomeandhealth.com/daily-journal-february-1-2018/
Well and it isn't clickable and Kim's not available right now – but you can click on "HOME" above and find where we started the daily journal postings on January 30th.
Read more journals and Grandma's Remedies for the Soul Here!
(Visited 837 times, 1 visits today)