This is My Daily Journal – and today is Wednesday – January 31, 2018 – which means tomorrow – is the first day of February and we all know February is the month of LOVE.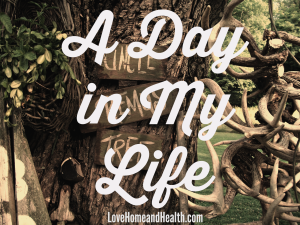 SO – let's say for many of us – life is just coasting along in an average fashion.  Nothing super special in our lives right now – but nothing drastically wrong either.
Is 'average' ok with you?  Well it isn't ok with ME for my life!  And I have a whole month ahead of me to raise my standard of daily living and perk it up a notch.  Sounds good to me – how bout to you?
According to my dictionary that sets beside me at this desk 24/7 – it says that 'average' is acceptable, common, nothing special but nothing bad.  Well I don't want my life or my life with Geezer to just be acceptable or nothing special – do you want that for yourself or for your own family?  I would think not.
Now that's OK – especially since it says 'nothing especially bad' – but HEY – we have a whole month ahead of us devoted to LOVE – and how can we let a month like that – be 'average'?
Let's just make it a point to start each day out on the right foot – from the minute we step out of the bed.  And listen moms and wives – we generally are the first one's up – so WE generally set the mood for the whole house hold from the very minute we come in contact with our spouse or our family.
Someone was asking me for marital advice a year or so ago and how it is that Geezer and I seem so content and compatible after half a century.  I said "Well not to sound arrogant – but I set the mood for our day – every day – because the first thing I do when Geezer comes through that bedroom door – every single morning for the last 51 years – is throw up my hands or do something goofy and say "GOOOOOOOOOOOOOOOOOOD morning!!!"   Geezer – as sleepy eyed as he always is – will give me that smile or sometimes a chuckle or he'll wave or say "Mornin' you crazy old woman."   – and his day is off to a good start.
He's been retired for 14 years now – so we're together 24/7 – but even now – and as recent as yesterday – he'll stop his work day in the shop for a bit and come to the back door and say "Let's take 5."  And we'll just sit and gab about the price of rice in China or any number of goofy things for a few minutes and then we're both back to work on our separate projects.
I did the same when the kids were at home.  And on our way to and from school – there was no fussing – or even quiet in our car.  On the way – we'd usually sing or somebody would tell a quick story – and on the way home – each would talk about their day.  In the 20 years our kids were in school – even living in the country – I let the oldest ride the school bus ONE time.
I decided before the first one even went to Kindergarten – that our kids were much too precious to hand them over to someone else and ride a school bus and I was a full time homemaker and this was just my responsibility – to get them to and from school – happy and safe.  And I did that – except that one time Kevin wanted to ride the bus – and I let him – and he never asked again .. lol
It's my belief – that each day should START with a tidy home and a good attitude.  And as wives and moms – I'm just as sorry to tell you this as I can be – but that is OUR responsibility.
Give small compliments to those you live with.  Oh my GOODNESS – I used to put notes in the kids lunch boxes and goofy things – to perk up their day in the MIDDLE of their school day.
I did the same for Geezer in his lunch box and he said his lunch box was so popular with the guys – that he'd often have to LOOK for it at lunch – because different ones would have to go look to see what I put in there. Now it was nothing personal – it was fun stuff – like one day I put a mini tape player in there and a little monkey – and when he pushed the button – the monkey talked to him in a goofy voice.
I'd get notes from his friends in his lunch box when I'd clean it out at night and the notes would say "Do you happen to have a sister that's single?"  LoL   YUP I sure DID – but they are much more refined and proper than me .. I think they dropped me on my head in the delivery room.  But HEY – it's made for a super happy life with a wonderful geezer and 3 kids I would absolutely lay down my life for.
SO – Make your family feel LOVED!!!  I think you'll find that it's really true – what goes around – comes around.
Plan you TODAY – YESTERDAY!   I can't tell you how important that is.  When we got that emergency call in the middle of the night a few nights ago – I didn't have to look for something to put on – I have had an emergency outfit laid out and ready to just jump in – every night of the world for DECADES … And that one little chore is in my daily evening routine – right before I hit the shower.  And do you know WHY?  Cause I used to be a BROWNIE Scout – and they taught us to always be prepared   🙂
I also make a list and put it on the kitchen table – as soon as I clean the kitchen from supper – of what I need to do the next day – and I prioritize that list.
And listen – make mealtime SPECIAL – even if it's fried bologna sandwiches.  Even a bologna sandwich is special by candle light  🙂
OH my goodness – I could go on and on – but Kim made me a list and it's posted below – so check that list out and see what I've missed here.
Start tomorrow – to make your FEBRUARY as special and full of precious and priceless moments – as you can.
Many of us will have some bad days thrown in there – many of us will breeze through the whole month.  But whatever we do – we need to make each and every day just as special for ourselves AND for those we live with – as we possibly can.
Peace and just tons of love – coming to you from Round Knob Canyon
Read more journals and Grandma's Remedies for the Soul Here!
(Visited 411 times, 1 visits today)