Moving on now – let's take 30 days and dramatically improve on our skin tone – our wrinkles – our whole body.  Let's refresh our skin from top to bottom.  Natural Skin Care at Home: Turn Back The Clock in 30 Days – let's DO this!!! We've had our 31 day Get Healthy Challenge – and I've made some huge improvements myself – how about you?   And you can read my wrap up on that – that was posted just yesterday – of the improvements I've made myself physically and I hope you saw some improvements too – if you followed along.
NOW – let's see how far we can turn back the clock on our skin – in just 30 days.   Won't this be FUN???  Let's do a Natural Skin Care at Home: Turn Back The Clock in 30 Days" – and let's do this all during the month of November.  I'm turning 71 in just a few days – and what better time than now – to turn back the clock.  🙂
Why pay mega bucks and wait weeks or months to see dramatic improvement when you can get very quick results with natural skin care at home?
Natural Skin Care at Home:  I'm Not A Fan Of Lots of FOO FOO
Now I know I'm the odd ball in the bunch – but I just don't care for make up and cologne's and that kinda thing.  I tried them when I was a teenager and it just wasn't a good fit for me.  And my old Geezer says makeup is superficial and cologne is stinky – lol  SO – I'm good to go just the way I am and as long as he's happy with this look – I am too.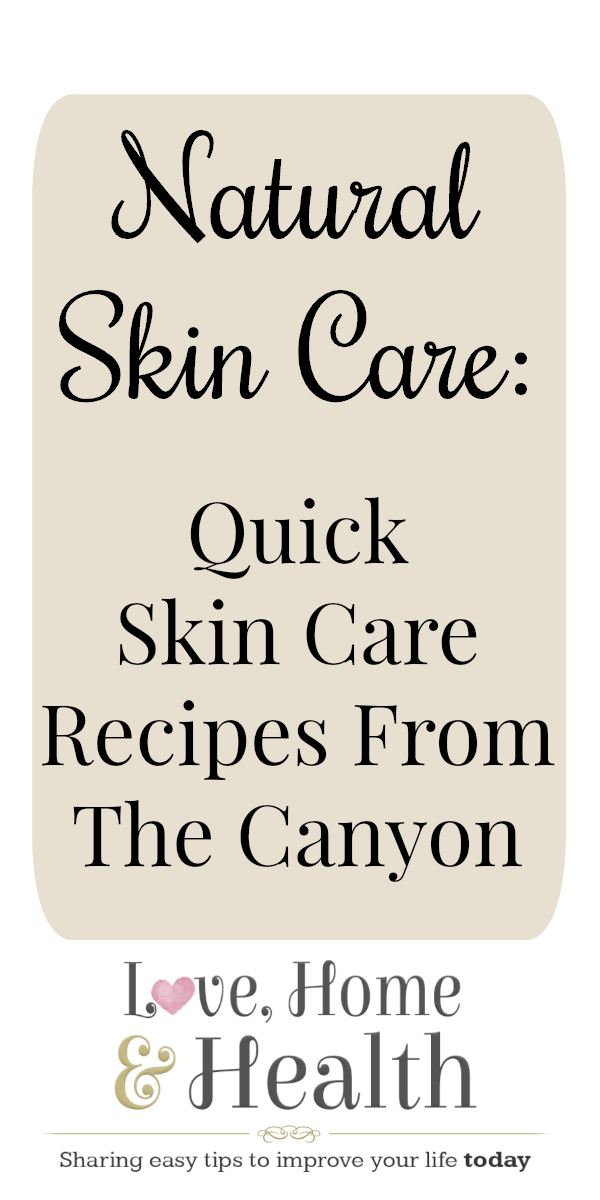 HOWEVER – to pull that off successfully – I do need good skin – a good complexion – and just as blemish and wrinkle free as I can get myself.
There was a time when I just wouldn't be caught dead without eyeliner – but since my eye surgery on that muscle in December of 2016 – for some reason – even eyeliner is uncomfortable putting on.  So I often even run without eyeliner.
I've tried doing just a touch of lipstick to make up for my 'nothing' look – but I often forget to even do that.  I'm used to just going around pretty much as Katy the old wallflower – and I'm ok with that. Take me or leave me …
Face Lifts?  Botox?   NOT a Good IDEA
Now we could go the Dolly Parton/Joan Rivers/Kenny Rogers route – but what they have shown us is that it sometimes backfires and we either look like we've been caught in a horrific wind tunnel OR we have our jaws stuffed with marshmallows.  SO I for sure – don't recommend face lifts or real Botox.
HOMEMADE BOTOX From Your KITCHEN
But now there's a homemade Botox in my natural skin care line – that you can make in your kitchen and I swear to my soul – if you're consistent for just 3 days – YOU WILL see a dramatic improvement.   I wrote an article on making homemade botox and I'll put the link at the bottom of this post.
I'm afraid that this spring and summer – with all the gardening and helping Geezer with all the birdhouses, the chicken coop, and Little Free Library projects and more – and then the rock painting craze hit our county in late June and I became addicted to THAT.  And then of course there's all the daily cooking and cleaning and laundry – well my GOODNESS – I'm afraid I've just let my skin go – and it's time now to TURN BACK THE CLOCK!!!
We can begin this 30 day project by starting the homemade botox today if possible and doing that 3 days in a row and then just doing a good whole body exfoliate when we do our evening shower or bath tonight.
Be sure and do the exfoliate scrub early today if you can – before you do your regular daily facial routine – whether it's just moisturizer or makeup or whatever.
I mentioned in an earlier blog that I highly recommend the thin/cheap wash cloths at Dollar General and they're about $4 for 18 or so in a package.  I buy the white and I use one of those as soon as I hit the bathroom first thing each morning.  I get that running water as hot as I can stand it and I really scrub with that little white cloth.  It's kind of abrasive in itself and that's why I like them.  So you do have to be careful.  But I get that cloth very wet with hot water and scrub and exfoliate my face and then I rinse that cloth and get it really hot again and hold it to my face.  It's amazing what just that one simple step will do for your complexion.
I've been very slack in using my Royal Bee Skin Healing Cream
– but it's good if you have age spots you want to get rid of and I sure do have a few – so I'm going to get back on it and try not to miss one day this month.
I've also ordered the Egyptian Magic Cream
to use at night – and that's all natural too – so I'm thinking with all the exfoliating and hydrating and all these magical creams I can have Geezer proposing again by Thanksgiving.  🙂
Heads UP – Natural Skin Care at Home:  Turn Back The Clock in 30 Days
So today is just a heads up – to let you know about one of the things we're going to be focusing on this month so you can get any supplies ready that you may need.  The wash cloths – corn starch – sour cream if you want to start the 3 day Homemade Botox right away. 🙂  This isn't Rocket Science folks – but this will WORK LIKE MAGIC!!!  I give you my word and you can stake your life on my word!  But now we do have to follow through and be consistent if we expect to see results.
I'm also going to start today and try to juice for 30 days without fail.  I'll also be doing some of the home facials in the early morning or late evening hours.  Geezer likes me to give him facials too – so I may do some experimenting on him – YES I will absolutely DO that!  He's in for a treat and he'll LOVE it.
Ok – gotta wind it down – it's going to be breaking day in 2 hours and I want to make some hay before the sun comes up.  Click here for the Homemade Botox Recipe and if you will do this for 3 days YOU WILL SEE DRAMATIC RESULTS in 3 days.  Be sure and do the Exfoliating Hot Cloth wash – before you do this each time – you will have even more dramatic results …
AND if I can get with Kim in the next couple days – we'll even do a before and after photo – and I'll use myself and maybe see if I can't even get Aunt Margie to volunteer.  She's always wanting to try a little of this and a little of that of my recipes – so let's see what 30 DAYS in a row can do for both of us.
OK 30 Days to a younger looking US – using homemade natural skin care recipes!!! Let's DO this!!!
Peace and lots of love – from me to all of you.
(Visited 191 times, 1 visits today)