We're talking today about a book I have and love and that I just realized was written by a close friend who lives just 30 minutes from us.  It's called The New Ultimate Guide to the Perfect Word and I've used this book so many times for so many things and when I realized that Linda had written it – I just had to do a review for you.
If I was to list all the books I have similar to this – I'd almost have to write a blog just for that. I can't even begin to say enough good things about this book. Whether you just want to have a book handy to find just the perfect word, quote or poem for this or that – or you do journaling, scrapbooking or more – this really is
the Ultimate Guide to the Perfect Word
for any and every occasion.
Crammed full of some of the best and even most unique quotes you will find anywhere in one spot – this book is almost priceless.
You'll also find longer quotes and poems that are just perfect for that special page or occasion.
I just can't recommend
Linda's books
highly enough. You just can't go wrong – because this book – is just right!!!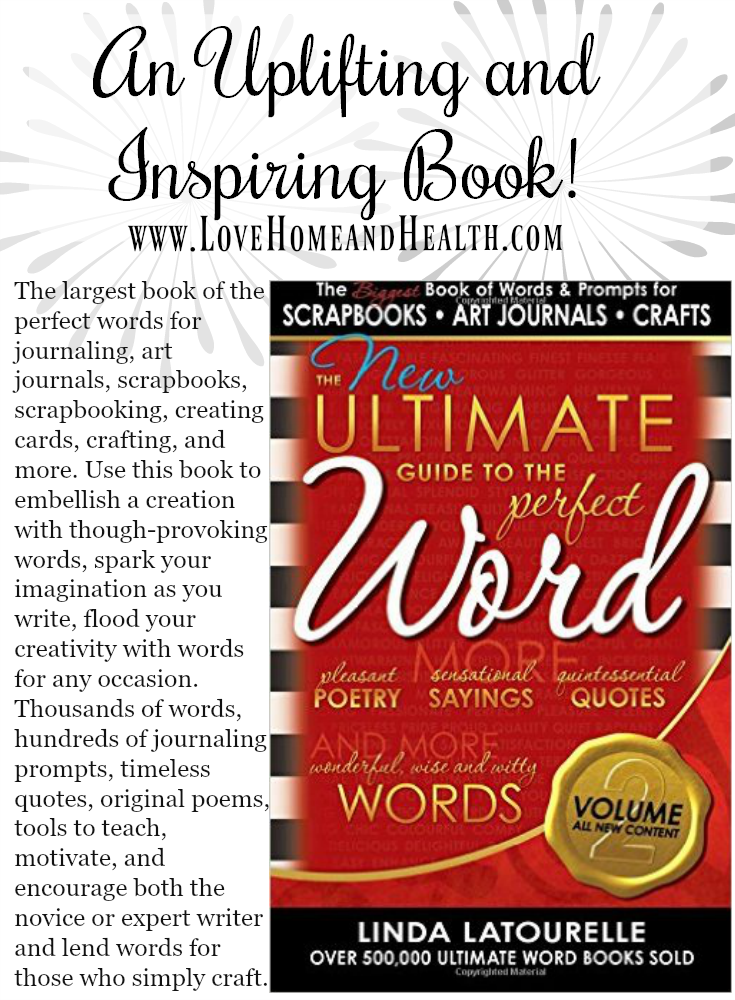 Get New Ultimate Guide to the Perfect Word on Amazon Now
and Have it Delivered Right to Your Door!
&
The New Ultimate Guide to the Perfect Word – Volume 2 (The Ultimate Guide to the Perfect Word)

At 398 pages, it's the largest book of quotes and such that I have found anywhere.  And if you have this one book – you just don't even really need a lot of the others.
It's not only loaded with words, quotes and poems – it holds hundreds of journaling prompts – along with tools that will teach, motivate and encourage all writers regardless of their expertise.
We all know how those of us with a creative mind can just see an object, photo or even quote and our mind just starts spinning with ideas and imagination.  Well – just imagine how it would be to have a book like this right at your fingertips?
I'm a book collector with hundreds of books in my bookshelves and I love self help books the best.  Books of motivation and inspiration are my favorite kind of book – THIS is a book of inspiration beyond your wildest imagination.
I hope you'll
buy it now on amazon
!  It's just waiting for you to tag it and have it rushing to your own home!
(Visited 92 times, 1 visits today)