I'm sharing a quick and easy breakfast casserole fit for a King this morning.   I was doing some research very early this morning and got sidetracked and ran across the facebook page of Dr Josh Axe of Nashville, Tennessee.   Scrolling through his news feed – just to see how HE ticks on the subject of natural health and wellness – I ran across this recipe he had posted and it just looked too good not to try it right then.  SO I left my desk – went into the kitchen – and in 10 minutes I had this in the oven.
Now some folks were commenting on his facebook page that this couldn't possibly be a quick and easy recipe – and were really kind of rude about it. But I'm a great grandma who cooks mainly from scratch – so it really didn't look like a big deal to ME and it wasn't.  It literally took me about 10 minutes to get it in the oven.  And that was from buttering my baking dish – to sprinkling on the Panko.  But now I didn't take a minute to go check facebook and tell folks what I was doing.  And I didn't take a couple minutes to do this or a couple minutes to do that.  I was making a breakfast casserole for Billy and I just went in the kitchen and knocked it out and put it in the oven.
This is absolutely delicious and here's the recipe and then I'll show you the process with photo's.
Diced Sweet Potato's 
Diced onion
Fresh Jalapeno's – sliced
Diced tomato
Diced spinach
American Cheese, Cheddar Cheese and 6 Italian Cheese
Eggs
Parsley chopped
Panko
canned milk
Butter, salt, pepper, cayenne
Now I didn't put amounts because I don't measure and I judge according to the recipe and amount I am making of something.   SO for this small casserole – I melted about 1 tbsp butter in a small baking dish and sliced up 1 small sweet potato in the bottom.  I then added the diced onion, jalapeno, tomato and the spinach.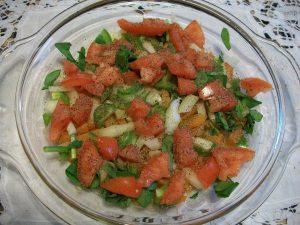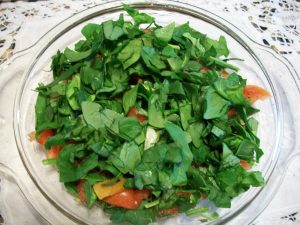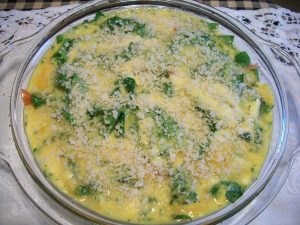 In a separate bowl I added 5 eggs for this particular casserole, the broken bits of cheeses, the chopped parsley, salt, pepper, cayenne, about 1/2 cup or less or canned milk.  I beat the eggs with all the other ingredients and poured it over the veggies in the baking dish and topped that with a little Panko and black pepper.  And baked it in a 325 oven for about 1 hour.
This is absolutely delicious – but I would leave off the sliced sweet potato's next time.   Now Billy LOVED the sweet bite of the sweet potato's.  He doesn't get that much sugar – and when anyone mentions sugar – he yells "SIGN ME UP!!!"  🙂   But it really didn't need the sweet potato's.  Now Idaho or Red potato's may be been fine and I'm sure they would have added super flavor.  And I could have easily eaten this whole breakfast casserole myself and I'm really not that big of an eater.  I'm a nibble eater – but this was DELICIOUS!!!  AND the good thing about it IS – you can adjust the contents to fit what you have in your own freezer, cabinets and frig.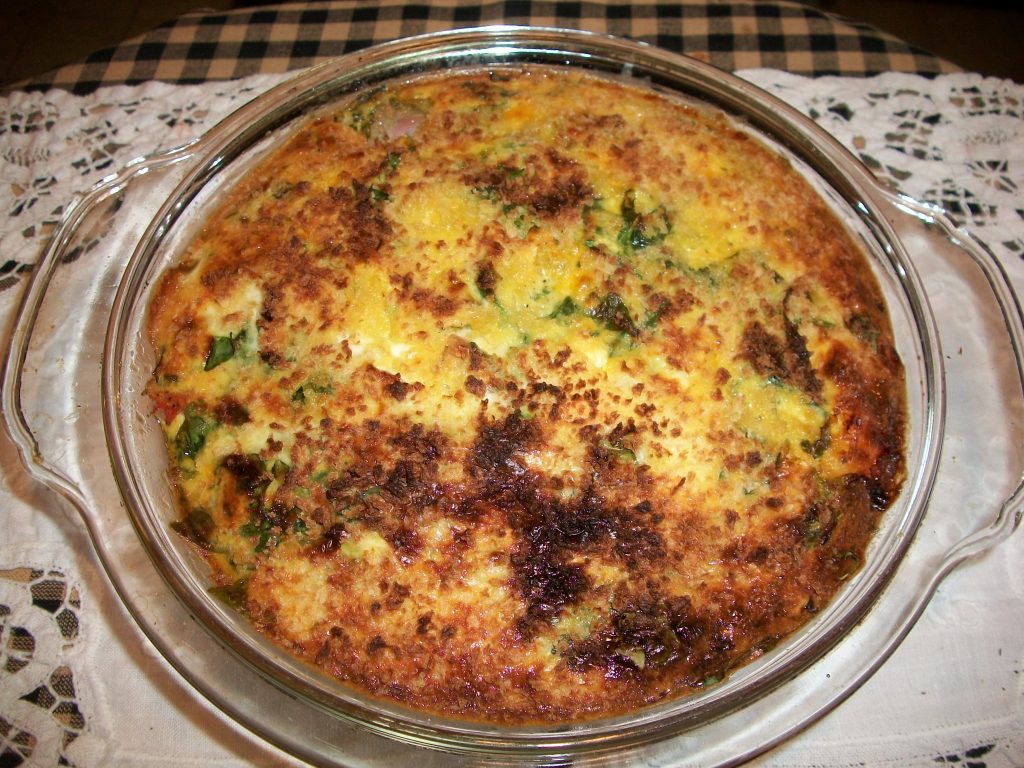 (Visited 117 times, 1 visits today)