This week marks our 50th wedding anniversary – And oh my goodness – thru the years with Geezer – what a life we've had.   They say a dream is a wish your heart makes.  And that miracles happen for those who believe.  I can't begin to describe the life I've had.  From a plain little bashful wallflower preacher's kid named Kay Anderson – to becoming "The Katydid" and married to Billy Ray Comer and mom to the Comer Kids.   Life has been amazingly wonderful.   Ups and downs – yes – we all have those.  When I think back over my memories thru the years it just almost takes my breath away.
We have no big plans for this anniversary.  We had tentatively made plans months ago for a trip – but just as life often gets in the way of many things – it's happened for us for our anniversary week and we feel we really need to be close to home a lot more than we need to be far away.  Maybe we can use those plans 'later' – we'll see … shall we pray.  But IT'S OK – because do you know what?  While we have worries that will keep us close to home – we still have each other and our health and we'll have a wonderful day – close to the canyon and be so absolutely thankful that we have that.
Rogers and Hammerstein wrote a song and it said "Some enchanted evening, you will see a stranger from across a crowded room and then you'll just know – that's the one.  The song says "Who can explain it, who can tell you why? Fools give you reasons, wise men never try.  But once you find that special person – fly to their side and make them your own and never ever let them go."  Those things pretty much sum up – the story of The Old Geezer and The Goofy Katydid!
It All Started With A Red Sweater
It all started one afternoon in about 1962.  I was in Home Ec class at the old MCHS on Catherine Street in Metropolis and one of the girls in our class came in (we'll call her girl #2)  wearing a red sweater.  It just so happened, that sweater belonged to Billy Ray Comer – the current dream boat of Massac County – and it had been given to him by girl #1 in that class – and she was his 'kind of steady girl friend' over the previous couple years.
A small argument started over girl #2 wearing the sweater that girl #1 had given Billy.  One thing led to another and the next thing we all knew – they were in a catfight to end all cat fights over Billy Comer and his red sweater.
I said to my friend sitting beside me – WHO is this Billy COMER they're fighting over?  She said "I'll show him to you in the hall later."
Some Enchanted Evening – You Will See A Stranger
The next day we were walking down the hall together and Jill said "That's Billy Comer right there."  As I looked at him across the hall as we passed each other and our eyes met – – – at least for me – some kind of magic just "happened" right then.  And no it was NOT "love at first sight" – because I don't believe in love at first sight.  But there was just something there that even "I" can't explain.  I just felt like I knew him or had some kind of mysterious connection to him.   I didn't say anything to my friend – because people have always thought I was kind of eccentric anyway … lol  SO I just kept that little secret to myself – about the magical moment I had just experienced.
Problem was – at that time – I was a very bashful young girl and had always been very shy and quiet and I'd have rather eaten a frog than have to talk to a boy – but I felt a connection to him that just made me feel warm.  Now I know that's as crazy as a nine dollar bill – but this is what happened.  Even my own doctor – tells me and Billy both – all the time – there's just something different about Kay he will say.  He says I never even ever get a cold or the flu – and that I always come down with weird things we can't explain. LoL – YUP that's ME!  🙂    SO – this was possibly the beginning – of my weird and totally unexplainable life.
After that 'sighting' I couldn't get Billy Comer off my mind.  I was also a preacher's kid and my preacher/daddy was very strict – and I had already been told I would absolutely not date anyone until I was out of high school – so don't even ask.  LoL   SO – I knew – this very handsome and young – ladies man –  was not going to be in my immediate future.  But I'm a dreamer and a planner and I'm always looking ahead – and I didn't let that squelch my dream of the life that could lie ahead for me and Billy Ray Comer.  SO that Saturday when mom made her weekly jaunt to JC Penney's – I went with her and bought a mustard seed necklace.   Even as a little girl – I already had the kind of faith that would move mountains and knew it – and I was about to prove it to the world.  🙂
Confiding My Plan To Daddy and Mom
I confided in daddy and mom about my plan to 'pray' Billy into my life and daddy had a serious sit down and talk – session with me – to explain that 'sometimes' – these prayers don't pan out like we hope they will and that I should be prepared for that … lol  What he was saying to me WAS – "Oh you sweet little thing – you're a bashful wall flower and I've already checked into this Billy Comer and he's a ladies man and has dated almost every little girl in Massac County.  He's not going to give YOU a second glance.  LoL
Time went on – as time is prone to do – and I wore my mustard seed necklace 24/7.  I'd hold that little clear ball with the mustard seed in it and I'd pray and talk to God and I'd tell him how much I would appreciate it – if he would just 'give me Billy Comer'  LoL   YES!!!  I REALLY DID THAT!!! .. lol  The thing about me and prayer – I've never been real sure how high those fancy prayers GO – so I like to talk to God – just like I'd talk to YOU.
The Night Of The Miracle Encounter
One night – on October 16th, 1964 – 2 years after I had first noticed him and started praying – and after I had graduated in May from High School – I was sitting in the porch swing and Billy just stopped and asked me to go to the movies that next night.  He was only there for a very few minutes – and said he'd pick me up at 7pm the next night.
I said yes to his invitation and kept very calm – but when he left – I ran screaming into the kitchen where mom and daddy were having coffee and I said "BILLY COMER JUST STOPPED AND ASKED ME OUT ON A DATE!!!!!"     You could have thrown a soft ball down my daddy – The Rev Don Anderson's throat – his mouth was open that wide."  LoL  YES!!!   The old fire and brimstone preacher that had been preaching for decades about faith and prayer – was shocked beyond belief – at the miracle his little girl had just pulled off and he didn't know what to say.
TOOK me 2 years to pull off that miracle and in that 2 years I never once tried to contact him or even say "Hi" when I'd see him where he worked at Bill's Market in the produce section – but God works according to his own timing – and we got the job done.   🙂
Although Billy had been known as the local 'ladies man' through high school and beyond and had dated almost every pretty little girl in Massac County – we had the most wholesome courtship there ever was – and one that would rival Frankie and Annette  🙂   Never once – in the 2 1/2 yrs we dated – did he try to make a move on me.  LoL   There was no intimacy before marriage and it wasn't even hinted of.  And yet – with the power of prayer and my faith and my little mustard seed charm – I reeled in the most handsome and eligible bachelor in the tri state area.  🙂
He was the first to say "I love you" and we have been stuck together like cement since the day we officially met.   God is so good!!!
Our first date was to the movies to see Spencer's Mountain  🙂   And it's unreal how much we are so different – yet so much alike.   He grew up the son of a motorcycle dealer – I grew up the daughter of a fire and brimstone Baptist preacher.
He's told the story so many times about being born in the back of a Harley shop – that one day – many years ago – I said "If you don't stop telling that story – I'm going to start following it with how I was born behind the pulpit."  🙂
We finish each other's sentences – we know what each other is thinking and what we're about to say before we say it.   We are both homebodies and both love a very reclusive life.  We go out once in a blue moon – but would really just as soon have a simple meal at home.  Our home is our hobby – inside and out!  We love tinkering about and gardening in season.  We love a very simple life.  Even after 50 years – I still do all the little things I did in the beginning.  I leave him goofy and love notes in his truck, in the workshop, smiley faces in the commode – lol   I make him his favorite meals and desserts all the time to surprise him.  He brings me pig nuts and sticks and things from the woods – because he knows I love things of nature.  We still have date nights through the week – every week and those nights are usually shared with Columbo or the Mentalist – and we can still do those things – because we invested in buying the seasons of both because we love them so much.  With those shows – we've got our crime  🙂 our comedy and  still our laid back – warm and fuzzy. 🙂   And we both still talk about each other to other people – so much – that I'm sure people are just absolutely sick and tired of hearing our stories.   We are so blessed.
Most of you know this story and the story from beginning to now –  of what I call my storybook life in LaLa Land – but this same story and life – is within the grasp of most everyone.  I prayed in and created this life we live.  I pray about our life daily – still.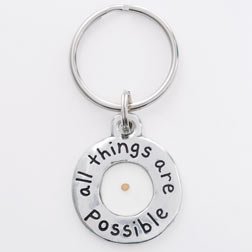 In the last several years – I've started carrying a mustard seed charm again.  Bro Chris, one of the men from our church reads some of my blogs on occasion and had run across my mustard seed stories and one Sunday morning he came to me and gave me a mustard seed charm.  He said every time he saw them in LifeWay – he thought of me and my mustard seed faith/charm stories.  I carry that with me every where to this day – and will often hold that mustard seed charm and pray over something or someone.   After these several years of being with me at all times – that old mustard seed charm is beginning to show signs of wear and tear – but you know what they say "The older the violin – the sweeter the music."  SO I feel both me AND that old mustard seed charm – can still pack quite a wallop and we're sticking together.  🙂
It really is true – it doesn't matter what you have acquired in life – or where you go – it's who you have beside you – to both walk in the sunshine and weather the storms of life.
My life has been blessed beyond measure – because of 2 little teenage girls – fighting over an old red sweater in home ec class.   Kim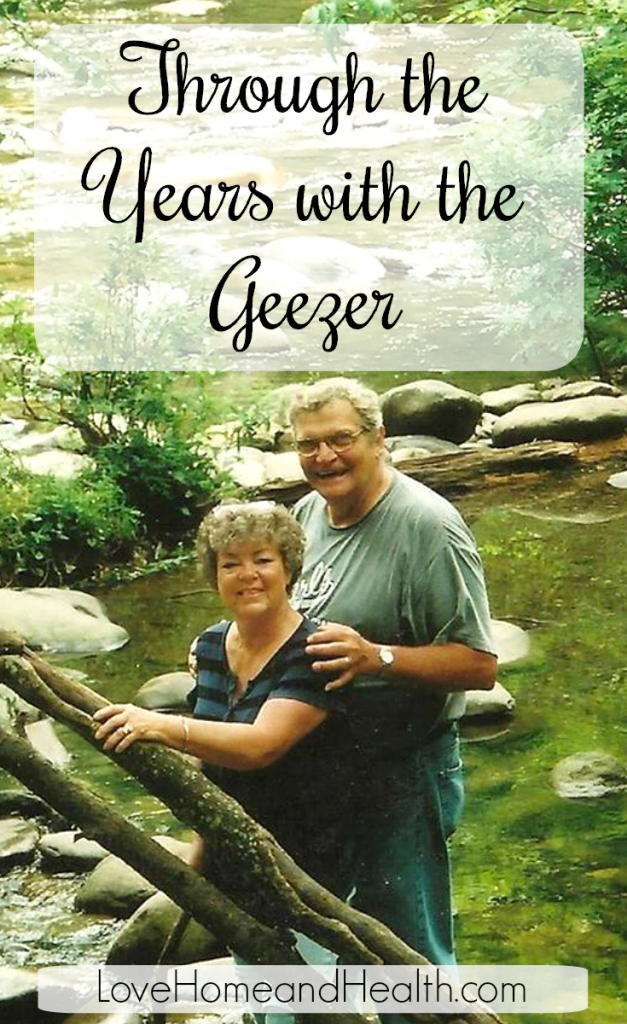 has that red sweater now in her treasures.  Maybe we should write a book on it  or see if we can hang it in the Smithsonian Institute.  🙂   But you know – even that cat fight that started it all – was probably planned out by God – because as Kim is always saying "Everything happens for a reason."
Miracles happen for those who believe – and I sure believe in miracles …
Some Enchanted Evening
Some enchanted evening you may see a stranger
You may see a stranger across a crowded room
And somehow you know, you know even then
That somewhere you'll see her again and again
Some enchanted evening, someone may be laughing
You may hear her laughing across a crowded room
And night after night, as strange as it seems
The sound of her laughter will sing in your dreams
Who can explain it, who can tell you why
Fools give you reasons, wise men never try
Some enchanted evening, when you find your true love
When you feel her call you across a crowded room
Then fly to her side and make her your own
Or all through your life you may dream all alone
Once you have found her, never let her go
Once you have found her, never let her go
Songwriters: OSCAR HAMMERSTEIN II, R. RODGERS
New to Love, Home and Health? Start Here!
(Visited 378 times, 1 visits today)