My Daily Journal: Tuesday Morning – October 17, 2017
#lovestory #vintagelove #anniversaries #love #relationships
Today is the anniversary of our first date way back in 1964. We went to the movies to see Spencer's Mountain – and that date – was the culmination of a prayer that I had prayed for 2 years – and during that 2 years this old Geezer didn't even know I existed.
I had seen him in the halls of MCHS and asked a friend who he was – because when our eyes met as we passed in the hall – it was just like something magical happened for me. Like I had known him all my life and needed to make sure I SPENT the rest of my life WITH him.
Now that wasn't "love at first sight" – I don't believe in that. But there was just 'something' that made me feel connected to him – that I can't even explain.
Now that magic obviously didn't happen for Geezer – because he kept moving – his eyes panning every other little girl he passed – as he walked on down the hall. Because he was a ladies man and he knew it and he was looking for his next date … lol
But he had just made eye contact with the little wildflower of a preachers kid – with faith that can move mountains and I was only a Sophomore and wasn't allowed to date until I was out of high school any way – I was also very bashful way back then and couldn't even spell flirt – much less know how to do it –
SO I just went to Penny's department store with mom that next Saturday and bought myself a mustard seed necklace and wore that thing 24/7 and started praying that the Lord would send Geezer into my life to have and to hold – till death we do part.
We've had our ups and downs and any couple that says they've never had them is lying. Life can be tough at times – sick kids – too much month left over at the end of the money – There's an endless list of troubles in a couple's life time.
But this old Geezer – OH my GOODNESS –
Even 3 years ago when I broke my leg and was flat on my back for almost 13 weeks – He did almost everything for me – because I was so so sick and to this day we don't know why that broken leg made me so physically sick. Spiking BP – dehydration – nausea like you would not believe – and I lost 24 pounds in 13 weeks. Trips to the ER when I was so sick he'd almost have to carry me to the car…
He slept on the couch right beside me for 5 of those weeks – because our bed is very high with extra mattresses and I couldn't get up there – and besides I was dealing with extreme dizziness.
I'd get so sick and he'd hustle me off to the bathroom and he'd pull up a chair and sit right there and hold my hand while I was on the commode.
Now a newly wed may do that – but a husband that will do that after almost 50 years? That's GOLD!!!
I could go on and on with this story today – but I won't 
🙂 – You're welcome 
🙂
I just hope and pray that at least a good portion of you know the love that I've known for over 50 years – because it's priceless.
We've loved the world away thru the years for over 53 years now –
I am SO blessed – – –
I hope you'll take a minute and read the quote below about what love really is …
When you fall in love –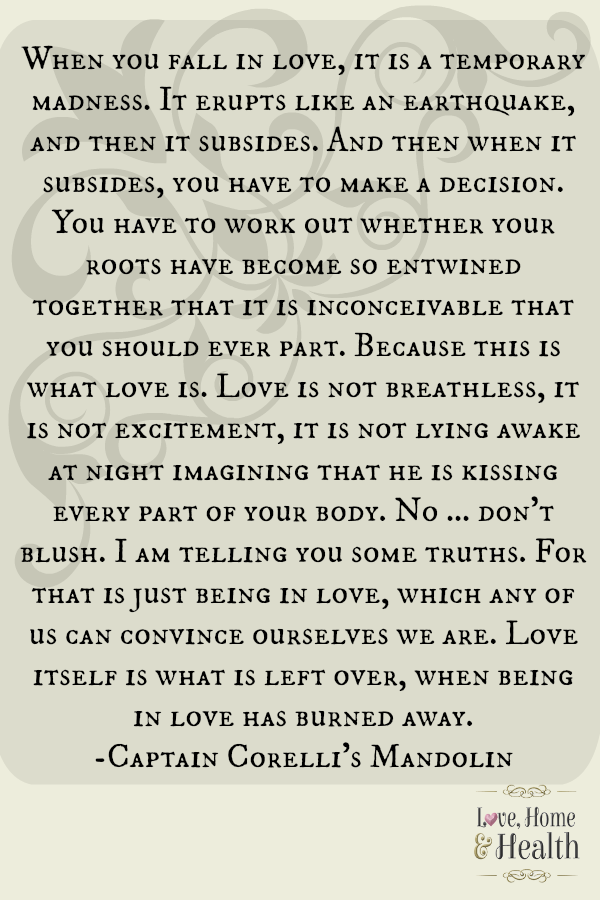 (Visited 31 times, 1 visits today)