Are you feeling overwhelmed by clutter?  Is your home overflowing with clutter?  Are you feeling overwhelmed by stuff? Do you need to do to get your house in order?
 Feeling Overwhelmed By Clutter
You are not alone.   Most people are feeling overwhelmed by clutter, and feel like their homes are too messy or cluttered.
Sometimes our homes are so out-of-control, it's impossible to know where to start.
The good news is that any work you do to declutter your home will benefit you and your family. Any work at all.
So, don't feel like you have to take two weeks off of work to declutter your home. 
If you're deliberate and consistent, you can declutter your entire home by working at it a little bit each day!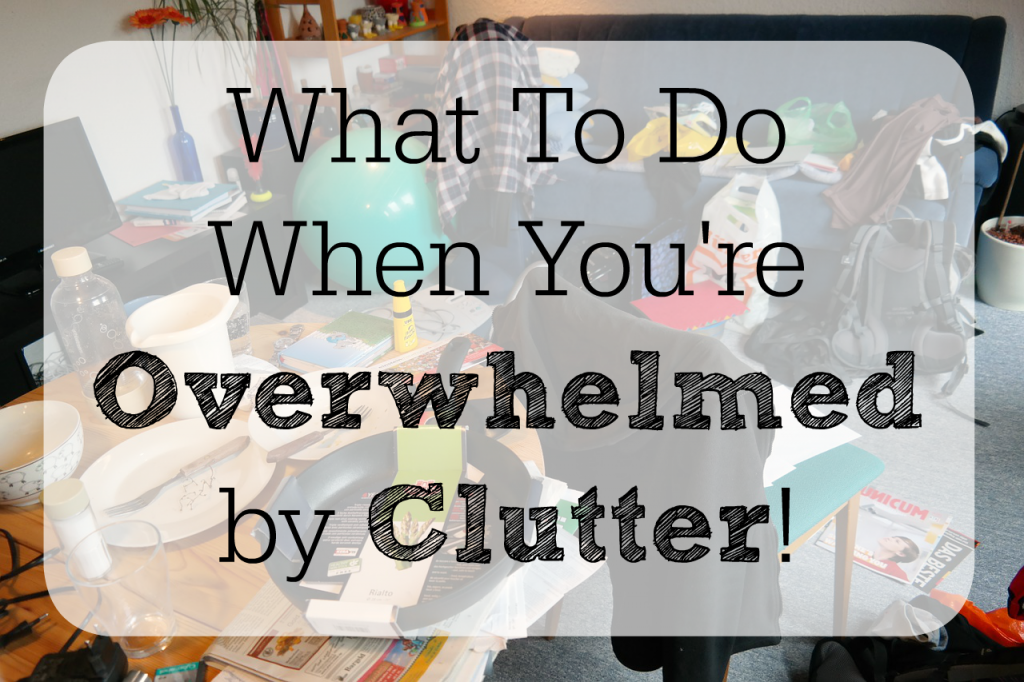 Feeling Overwhelmed by Clutter?
7 Tips to Help You Start Decluttering Your Home
Start small. Choose a small area of your home, and spend 15 minutes decluttering it. Don't take out any more than you can put away within the 15-minute period. When I started decluttering my own home, I started with my sock drawer. It was easy and manageable.
Get rid of trash first. As you start to declutter, throw out the trash around your house first. This makes it easier to see the other things you want to declutter, and it gives you an easy win in the beginning of your decluttering journey.
Be prepared. Each time you start a 15-minute decluttering session, be armed with a garbage bag, and a box or bag for the items you want to donate. It's also nice to have a glass of water to sip on as you work. If you have everything you need for the task, you'll be able to focus for 15 minutes.
Don't be discouraged if you don't finish. Remember, any work you do to declutter your home will benefit you and your family. After your 15 minutes of decluttering are up, you can take a break and continue, or you can return to the same area the next day and pick up where you left off.
Focus on progress, not perfection. You are creating a real, calming space for yourself. Don't feel like your home needs to look like something you'd see on Pinterest. If you consistently work on decluttering each day, you will be making slow and steady progress towards your goal of a less-cluttered home.
Schedule your decluttering time. I have small children, so I do a lot of my 15-minute decluttering sessions early in the morning before they wake up. This way I'm not overwhelmed by clutter, or stressed about when the decluttering will get done. Try to declutter at the same time each day so it becomes a habit.
Remember that decluttering is a constant process. There will always be clutter to manage and get rid of. Keep that in mind, and make decluttering part of your daily routine.
What decluttering project would you like to start with in your home? Please let us know in the comments!
This was a guest post by our blogging friend Kate Marie of The Beautiful Useful Project …
Sidetracked Sisters Books on Amazon
(Visited 169,369 times, 40 visits today)