Love, Home and Health is a lifestyle blog.  You'll find us sharing our thoughts and knowledge on our passions right here.  A few of those passions  are – 
Health
, Home Remedies,
Homemaking
and Housekeeping and 
Improving Relationships
.
One of the most unique and interesting facts about us is that  Love, Home and Health  is operated by a mother-daughter blog team.  TALK ABOUT A GENERATION GAP!
But we're very close and share pretty much the same values – so what one of us isn't knowledgeable enough in – the other one can usually fill that gap.
Senior writer and researcher for the blog is Kay. (pictured below – right)  All "backend" work – such as editing, graphics and most technical duties – is done by Kim, the senior VA. (pictured below – left)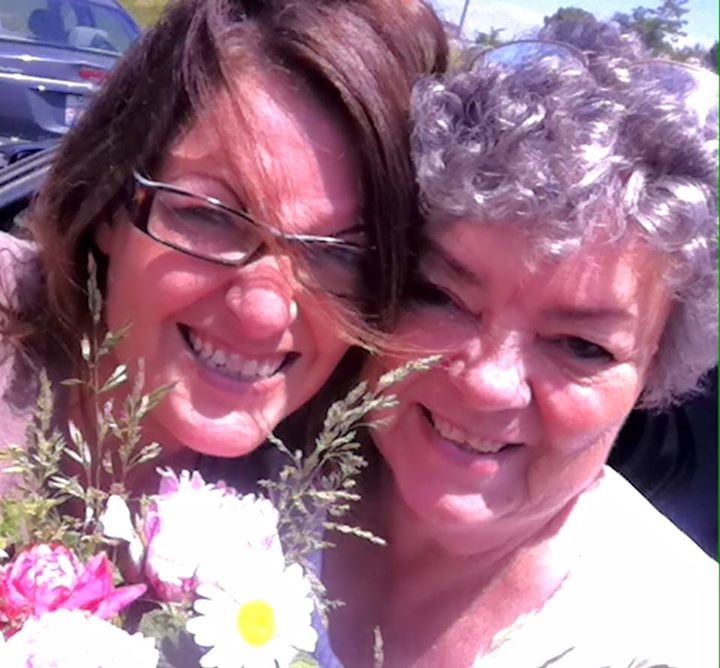 Mother's Day at Weaver Creek – 2015
---
But just for today – let us tell you just a bit about us!
About Kay
Hi All – I'm Kay Comer – Christian, wife, mom, grandma, great grandma, researcher, writer, blogger, holistic health advocate since 1977 and volunteer in a dozen different arena's.
I was born with a passion for learning and sharing that is just as strong today as it was when I came into this old world and Dr Decker whacked me on my little bottom right there in the delivery room of the old Fisher Hospital and I looked at him and said "Well WHAT was THAT about? You don't even KNOW me yet"
I've been as thick as 2 peas in a pod with the same old geezer for well over 50 years – still laughing and having fun together!  That – coupled with my love of homemaking and keeping our home tidy and warm and fuzzy.  As well as my almost 40 years of studying Holistic Health and Wellness and home remedies –  are the main reasons I love talking and sharing about ways to improve our – Love, Home and Health.
While I love writiing and researching and connecting with all of YOU – I just want you to know – this blog could not even BE – without my daughter and senior VA – Kim Jackson.  SHE is the brains behind the blog and the one that keeps me out of trouble and keeps this blog running smoothly.
---
About Kim
I'm Kim Comer Jackson – Thinker, Photographer, Blogger, Marketing Nazi & Empress.
 I too have a passion for writing, storytelling and sharing in many ways.  I go NO WHERE without my camera – because there are unique photo opportunities absolutely everywhere.
I'm also known as a master doodler … and more on that in one of the blogs!
I live in
Metropolis
. the hometown of myself & Superman with my love & inspiration, Evan & our cats Shazbot & ShaNaNa.
That's about it about us!   But what about YOU?   What's your passion?  What do you want to read about?  Do you need help or input on this or that?
Our MapLoco below is no where near accurate.  We get hundreds and thousands of pageviews a day to Love, Home and Health.  We've had the map turned off for about the last 2 years.  But I LOVE looking at the map now and then and seeing who's reading and from where and often times – just seeing a location – I can guess pretty closely who may be reading – because some of you message me on a regular basis through facebook messenger and you tell me what's going on in your lives.  You send me photo's of your families and gardens and we often chat for a bit.  I LOVE that.   But we're re-activating the map again soon and it's always interesting to look at .     tiahref="http://m.maploco.com/details/b772f8zn"><img style="border:0px;" src="http://www.maploco.comavmap/s/4070723.png" alt="Locations of Site Visitors" title="Locations of Site Visitors"/></a>
(Visited 632 times, 1 visits today)