History of the Fat Flush Soup Diet
The Fat Flush Soup diet craze was launched by Ann Louise Gittleman's 2002 book The Fat Flush Plan.
Many Fat Flush books have followed; including the Fat Flush Cookbook, the Fat Flush Journal and Shopping Guide and finally in 2012 – a big old Fat Flush Bundle!
The Fat Flush Plan was designed to "melts fat from hips, waist, and thighs in just two weeks" and "re-shape your body while detoxifying your system".
Benefits of the Fat Flush Soup Diet
Some of the primary benefits of the Fat Flush Plan are:
it gets rid of bloat
supports the liver
cleans up the lymph
and helps to eliminate the appearance of cellulite.
Gittleman also suggests tweaking the recipe for what ails you at the time!
For example – she suggests for Adrenal Fatigue to add ½ teaspoon pink Himalayan sea salt and also add 4 to 5 cups of escarole and spinach for extra rich magnesium content.
And it works well and very fast – because you are leaving off the foods and drinks that are causing your bloating and fluid retention.  And you're replenishing your body with things that will nourish your cells.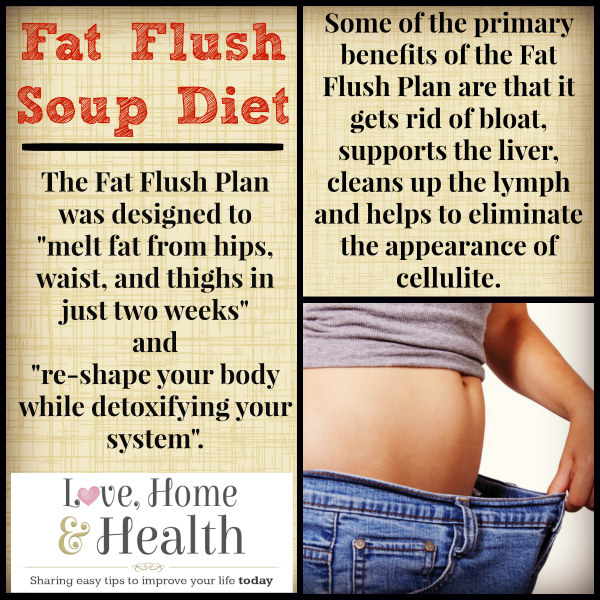 Fat Flush Soup Diet Recipe
Ingredients
2 tsp. Olive Oil
1 1/4 lbs. of lean ground turkey
(or chicken)
1 medium Onion
(chopped)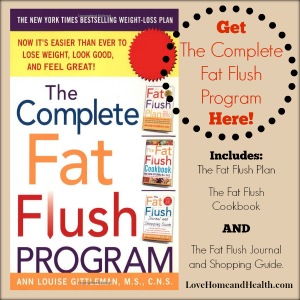 1 Bell Pepper
(seeded and chopped)
4 cloves of Garlic
(chopped)
1 (14oz) can of crushed tomatoes
1 (32 oz) bottle of reduced sodium spicy tomato juice
1 Tbs. fresh lemon juice
1 (14 oz) can rinsed and drained black beans (navy or pinto can also be used)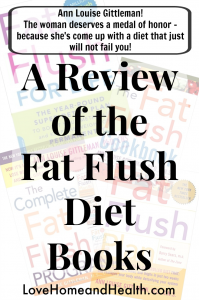 1 Tbs. Ground Cumin
1/2 tsp. cayenne pepper (or to taste)
1/2 cup fresh cilantro (chopped)
Directions
1.  Heat olive oil and brown ground turkey/poultry.  Drain and set aside.
2.  Saute onion, garlic and peppers until soft (about 5 minutes).
3.  Stir in all remaining ingredients (except cilantro) and cover and simmer for 20 minutes.
4.  Stir in cilantro and cover and simmer for 10 minutes longer.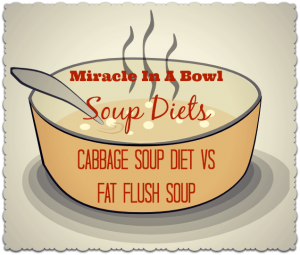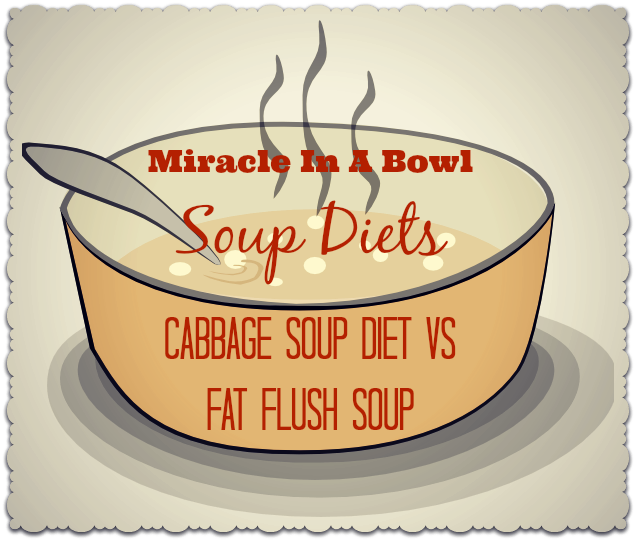 Several have emailed me to see if I have a link to Dr Oz and his ideas on the Fat Flush Soup Diet.   I don't have that link and quite frankly – don't put a lot of faith in most things Dr Oz says.  He has a habit of jumping on the bandwagon of every popular diet that comes along – just to boost his ratings.  AND I've heard him say many things that I know for a fact – to be not accurate.
So not only do I not watch Dr Oz – I don't read anything he has to say any longer.
WHEN IN DOUBT – on ANYTHING you read or hear – DO YOUR OWN RESEARCH!
Explore the Fat Flush Series below!
Try Amazon Prime 30-Day Free Trial
(Visited 18,337 times, 1 visits today)