We're back on the Get Healthy: 31 Day Challenge today and I'm thinking about giving the Standard Keto Diet my best shot this week.  I invite you to consider it to – because it's a good one – for rapid weight loss AND it will just make you feel better in general.
Just one week of this kind of dieting will give you a really good jump start to follow any diet you choose to follow.
If you had asked Grandma for a remedy for excess fat back in the old days – she would have said "Well just eat less, honey child. It's that simple."  But no – for many of us – it really isn't that simple.  Because each of our bodies reacts differently to different foods and diets.
The Get Healthy: 31 Day Challenge hit a bump in the road late on Thursday and early Friday morning of last week – when – after x-rays by our family doctor – we found that Geezer's 'bursitis' that I had been treating naturally for over a week – was actually a slight fracture.
SO THAT knocked us for a loop – and I missed my Friday post – and I had to take a step back and re-assess my world and our next course of action.  But we've got that healing now in the works – it always works much faster when you're treating the right thing. :8)  AND I'm back to my 31 day Get Healthy Challenge!
Now the foods and snacks in the charts below – are nothing set in stone – but they'll give you a general idea.  And not there isn't a lot of food or variety on here – but you're not going on vacation – you're going on a simple weight loss project to see how you can do.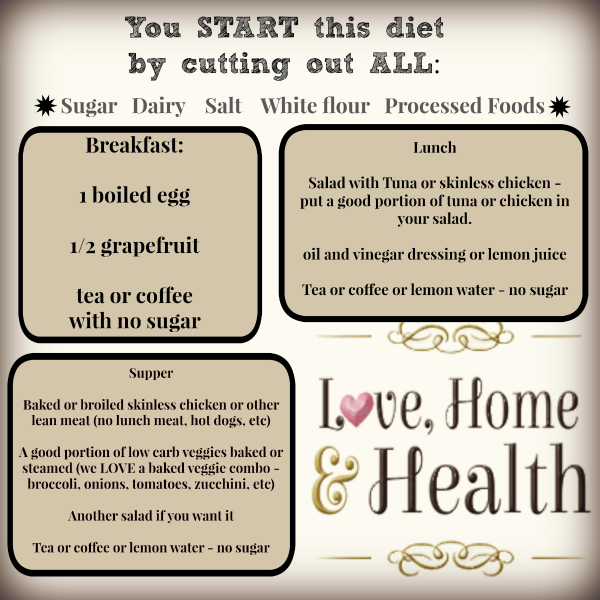 Standard Keto Diet
I'd love to give the Keto Diet a whirl.   And what the Keto Diet IS – is just very clean eating.  It's very low carbs – very lean/clean protein – and some good fat to keep your cravings down.
The average ratio that I've found in my research is that the best version is 75% fat – 20% protein and 5% carbs.
We are to base most of our meals on the following for the best chance of success:
Meat – fish – eggs – butter – nuts – healthy oils – avacados – and low carb veggies. 
We are to AVOID – sugars – grains – legumes – rice – potatoes – candy – fruit juices – AND even most fruits.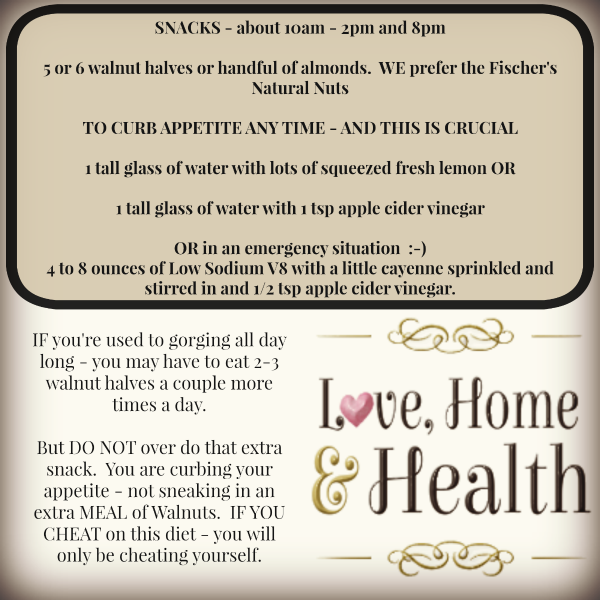 Keto Diet – Health Benefits
The Keto Diet – also referred to as the Ketogenics Diet – is said to help with diabetes, cancer, epilepsy, Alzheimers, Parkinsons and more.  SO who would be so brazen as to knock this diet before they tried it?
It reminds me of the ages old Atkins Diet – and we all know of many who lost a ton of weight on that particular diet.
SO I'm going to give this my best shot for a few days and see what happens.  I hope you'll join me and I'll keep you posted on my own progress.
I don't like diets any more than the next person – but if we want to drop a few pounds or a LOT of pounds – this sounds like a very good and simple solution.  I actually know quite a few that have dropped mega pounds on this very diet and THAT is what made me decide to give this a try.
We're on day 9 and we're moving right along.  I AM feeling lighter and even a little more energetic than my normal hyper self – and good clean eating will do the same for you.
Lord willin' and the creek don't rise – we'll meet right back here in the morning for day 10 of our Get Healthy: 31 Day Challenge.
(Visited 55 times, 1 visits today)