Healthy Energy Snacks
We're talking about healthy snacks – easy to grab on the go today.  Specifically healthy energy snacks!  A healthy snack needs to be low in carbohydrates, with a little fiber and a bit of good fat and protein.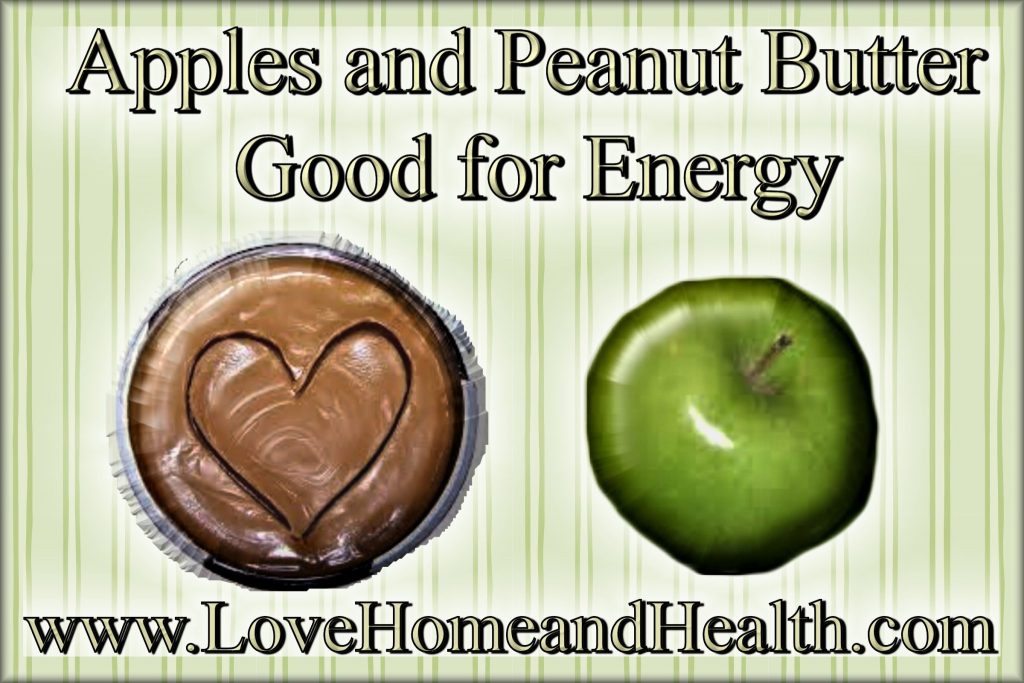 Favorite Healthy Snacks
One of my favorite healthy snacks is sliced apples and just a little peanut butter.  Now to be the healthiest it needs to be natural peanut butter … but to tell you the truth "I" don't like just natural peanut butter.  I used to have to make that by the gallons at Golden Carrot and it's just too flat and dry for my taste. But just a little Jif Peanut Butter … and we like the creamy … spread really thin on sliced apples is just out of this world.  Kim said she and Evan really like the Jif Natural Creamy 
… I prefer an apple with just a slight sweetness to it but I've read many times that the Granny Smith apple is just about the healthiest of all apples and it's just a little too tart for me.
Peanut Butter – Health Benefits
Peanut butter is loaded with protein and will make you feel full longer.  It has the good fats, fiber, potassium which is so good for energy and heart.  It helps regulate cholesterol.  It has Vitamin E and B3, iron and magnesium and it actually contains Resveratrol which is that miraculous ingredient in grape juice.  And Resveratrol is said to help the heart and arteries tremendously and ward off bad bacteria and inflammation.  Peanut butter is said to have more antioxidants than apples or carrots … so WOW!
Apples – Health Benefits
And apples … well we all know about apples.  They're said to be anti cancer and will lower our cholesterol and keep our blood sugar level.  It's said they can prevent Alzheimer's and help with diabetes and even detoxify the liver. So thinly sliced apples with just a thinly spread layer of peanut butter on them can be not only healthy, but give you energy instead of zap you of it.  AND give you many health benefits to boot.
We could talk forever about healthy snacks that give us energy instead of zap it.  But that's it for today. If you don't have your own healthy snacks board on Pinterest, I hope you'll start one … and you can follow mine here …
Just remember, we've got to stop living to eat … which most of us love to DO … and start eating to live.  But not just eat to live, we want to live long healthy lives but also keep our bodies strong in the process.
We do love it when you share and pin the posts, please feel free to do so with the buttons at the bottom … Peace and love from the canyon.  I love you all gobs and thanks SO MUCH for stopping by!
Visit our Love, Home and Health Amazon Store,
we've devoted an entire section to Healthy Snacks – Easy to Grab on the Go!
Read more of the Love, Home and Health series on Health Snacks here!
If you're new here and would like to read more of Love, Home and Health; click here for the "New? Start Here!" page – still slightly under re-construction … If you find something you like, I hope you'll use the buttons below to share it with your friends and followers!
(Visited 315 times, 1 visits today)