This is My Daily Journal and today is Monday – February 12, 2018 and we have just 2 days till Valentine's Day!  :-0  Do YOU know what YOU'RE going to do for YOUR spouse for Valentine's Day?   It doesn't have to be anything big at all.  In FACT – a simple homemade card – can often mean more than the most expensive gift – depending on the recipient  🙂
We've done things as simple as a pallet picnic with favorite foods – and we've roasted hot dogs in the fireplace – and we've even had a couple of very romantic picnics in the secret garden late in the evening since we've been 'on our own'.  😉  The sky's the limit really – if you put on your thinking cap.
But I'm ready and waiting.  Valentine's Day is one of my very favorite holidays and it's almost here once again.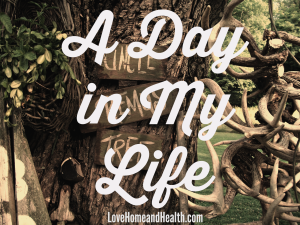 In FACT I'm so crazy about Valentine's Day – that I've collected vintage valentine's from the 1950's for 2 decades – and I'll share a few photo's below – There's just nothing even today – to compare to the vintage valentine's of the 1950's.  Those chubby cheeked kids with the big eye – and turnips that could talk – and the big yellow ducks and big red hearts – and so much more.  The creativity of that era – OH MY!!!
If you're my age or in the vicinity – you remember those valentines.  And how we'd decorate a paper sack for school and the teacher would line all those sacks in a row – somewhere in our classroom – oh my GOODNESS.
It was so much fun – and then there was the anticipation of wondering what kind of valentine we'd get from this one and that one – 🙂
I'm swamped beyond measure already this morning – trying my BEST to have one of my junk book journals ready for Kim to video by the end of the week – SO – let's just go on to my photo's for today – and I'll try to be a little more inspiring tomorrow – ok?  🙂  Now some of these valentine's are in big frames in our laundry/exercise room and others are in a big vintage scrapbook – I LOVE these Valentine's – and there are tons more frames and filled scrapbook pages – but I just wanted to give you a quick peek …
Peace and lots and lots of love – coming to you this Valentine's Day week – from Round Knob Canyon –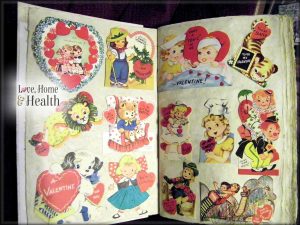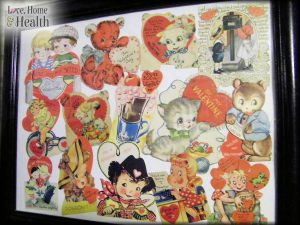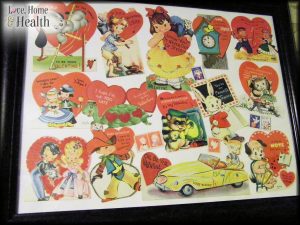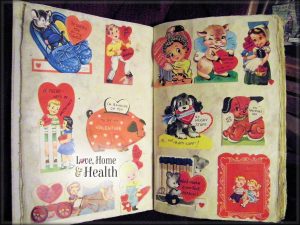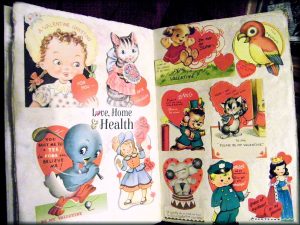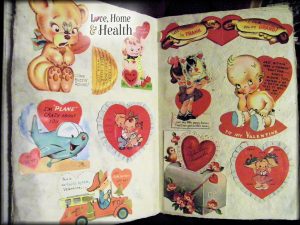 (Visited 275 times, 1 visits today)