When it rains – look for the rainbows – when it's dark, look for the stars.  I LOVE quotes – don't you?  We're talking about "looking on the bright side of life today.  And a quote can say so much in so few words.  We are surrounded with positive quotes in this old canyon.  And those that know me well – know I can't even say "pass the gravy, please" without a big long explanation of why I want the gravy, how good I know the gravy is going to be, what ingredients are possibly IN the gravy and who all makes the best gravy from my own recollections thru the years and OH GEEZ – so much more.

I could talk forever about that gravy.
The Acquired Art of Being Wordy
I didn't used to be so wordy.  I was actually a very quiet and bashful child and teen – and then I met the Geezer and
that rascal can weave a long 25 minute story about how the leaves pepper down in the woods on a morning deer hunt.
So while this wordy trait didn't originally come natural to me – I've learned the lesson well.
This short quote speaks volumes too.
"When it rains, look for the rainbows and when it's dark, look for the stars."
We talk so much about health and wellness – but when my mom had colon cancer – her very own doctor told me – attitude was half the battle.
SO – what does 'that' mean?  It means "Attitude is Everything!"  In absolutely everything we do and face.
It isn't the load that's going to break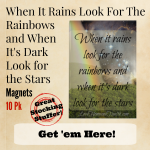 us down – it's how we carry that load that's most important.
And that simple one line quote is just telling us that no matter what kind of storm is going on in our lives – we'll weather that storm a lot better if we'll just try to look for the brighter side of it.
When it Rains Look for Rainbows – When it's Dark Look for Stars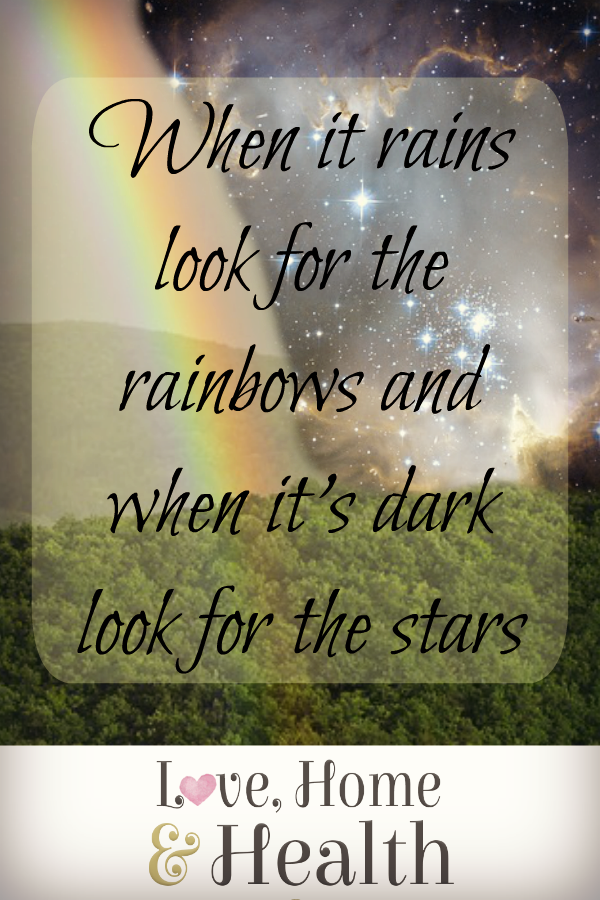 (Visited 4,738 times, 8 visits today)