I'm getting many emails and facebook messages wanting to know if I had a list of apprentices of Solomon Wickey.  I have a short one and will share – although I can't necessarily vouch for any of them.  But let's get right down to brass tacks.
I'm sure you've heard by now that Amish healer Solomon Wickey passed away in the night last Sunday night.  I had an email from someone that said they followed my blog because I occasionally write about Solomon and they said they lived near him.   I knew he had been in ill health for a while and kept wondering to myself just why he couldn't heal himself.   But I was finally told he passed because of complications that resulted from a brush fire where he had done irreparable damage to his lungs.
Many are wanting to know if there will be someone take over Solomon's practice.   I have no idea if there will be anyone in his immediate area – but I do know he had many study under him over the last couple of decades.  Keep in mind though – that Solomon felt he was chosen by God to heal the sick.  He would pray over people that came to him – on top of all the other things he did.  I doubt that many – if any – of those listed below could be considered "faith healers."
The first to come to mind is DAVID – and that's all he's known as  🙂  David was the one I would contact when I had someone wanting an appointment with Solomon.  David was the one that over saw most of Solomon's appointments and other things.  David also studied under him for 12 years and he is now traveling parts of the country doing his own healing sessions.  You can contact DAVID through his facebook page – You can private message DAVID or post to him and tag him and he will answer you back fairly quickly.  https://www.facebook.com/David-174834132615663/
Donna Perkinsons is another apprentice of Solomons to come to mind.  She has a real passion for healing and getting to the bottom of illnesses just like Solomon did and has always been interested in holistic health and wellness.  After Solomon healed Donna's husband after conventional doctors couldn't – Donna decided it was time to learn what she could from Solomon if he would teach her.  SO she approached him and he was more than willing to put his time into teaching her if she would put all she had into learning.  Solomon taught Donna …what Solomon
called "The release method" of healing and
that's a little woo woo for me to try to explain but it worked for Solomon to help him bring about his miracles so it's ok with ME.  I've heard Donna is extremely good and accurate and if "I" was needing anyone for this type of natural healing – I'd definitely go to Donna.  She's located in North Vernon, Indiana and that's about an hour south of Indianapolis.

Someone else who knew Solomon and his family personally through going to him themselves has also been emailing me and has sent me a list of people who have studied under him and who will be following in his footsteps.
I've already had several emails  from people looking for an alternative natural healer since Solomon is no longer with us.
SO I was going to post this next week and research each of these but I'm just going to go ahead and post it and YOU can research. I plan to research several of them and I'm asking that anyone reading this blog that goes TO any of these people who studied under Solomon to please let me know how it went with their appointments with any of these other people.  I'll keep YOU posted as "I" hear back – if I do.

So here's the list – it is NOT an endorsement of any kind of any of these people.  I know nothing really about any of them but I sure wouldn't hesitate to look into one or two of them if I needed this kind of assistance.  If YOU try one of these personally – we'd LOVE to know your thoughts on their efficiency, accuracy, etc.
Solomon Wickey Apprentices
Contact Information as of August 2013
Grabill, Indiana
Sam Schwartz (Solomon's son-in-law and trained by him)
Contact by mail … include SASE
15931 Rupert Road – Grabill, IN 46741

Gas City, Indiana
Jill Mast, C.H., PDMT
(765) 677-0070 – Natural Wellness
http://naturalwellness1.com

Madison, Indiana
Gigi Straub, LPN
(812) 273-8991 – Complementary Health Therapeutic Massage
https://www.facebook.com/pages/Complementary-Health-Therapeutic- Massage/128214863856011

Noblesville, Indiana
Katherine Lehman, ND, CNHP, DTR
(317) 773-5286 – Rivers Edge Natural Health
http://www.riversedgenaturalhealth.net/index.html


North Vernon, Indiana
Donna Perkinson – The Herbal Solution (on facebook) for her days and times she's open and for other helpful information.
189 E Hwy 3 and 7        –         phone 812-200-9592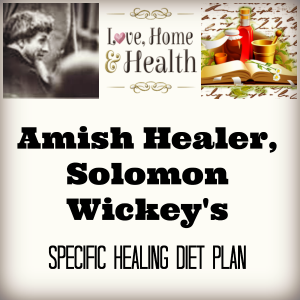 Clemmons, North Carolina
Bill Burnham, NES Practitioner
(336) 778-1950 – Integrative Life Solutions
http://www.integrativelifesolutions.com/NESTherapy.html
If you're new here and would like to read more of Love, Home and Health; click here for the "New? Start Here!" page – still slightly under re-construction … If you find something you like, I hope you'll use the buttons below to share it with your friends and followers!
(Visited 4,113 times, 1 visits today)