Garden of Life Coconut Oil – it's almost a miracle in a jar!  Now there are many coconut oils out there and many of them are good.  But I've really come to love and trust the Garden of Life brand – and I absolutely LOVE their Extra Virgin Coconut Oil and I've used many other brands but found this one to be the best by far.
Extra Virgin Coconut Oil really is – almost a miracle in a jar and there's a reason for that and that reason IS – because it just works wonders in so many situations.
Garden of Life Coconut Oil Uses
There are just so many health benefits to Coconut Oil!  It can help with memory problems and is  being used more and more with Alzheimer patients – because of its miraculous ability to restore dementia to a certain degree.  And isn't restoring it even a little bit – better than none at all?  Two tsps of coconut oil a day are being used for this experiment.  SO I'd think 2 tsps a day – taken internally in any way we want to take it – would be good for all of us – wouldn't you?
It has been known to help people prone to seizures.
It will reduce your cholesterol and will help your sugar cravings and help you drop weight faster.  And I could go on and on –
Just about any coconut oil is better than none – but here at our house -we'll use only Garden of Life Extra Virgin Coconut Oil.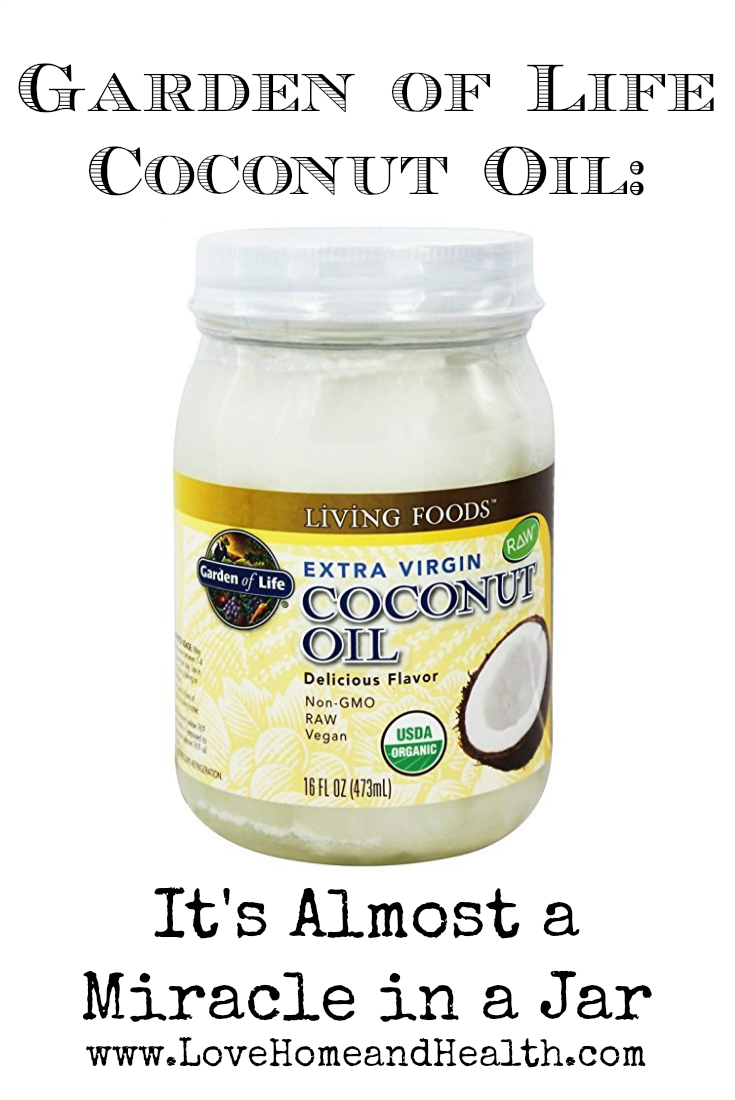 ---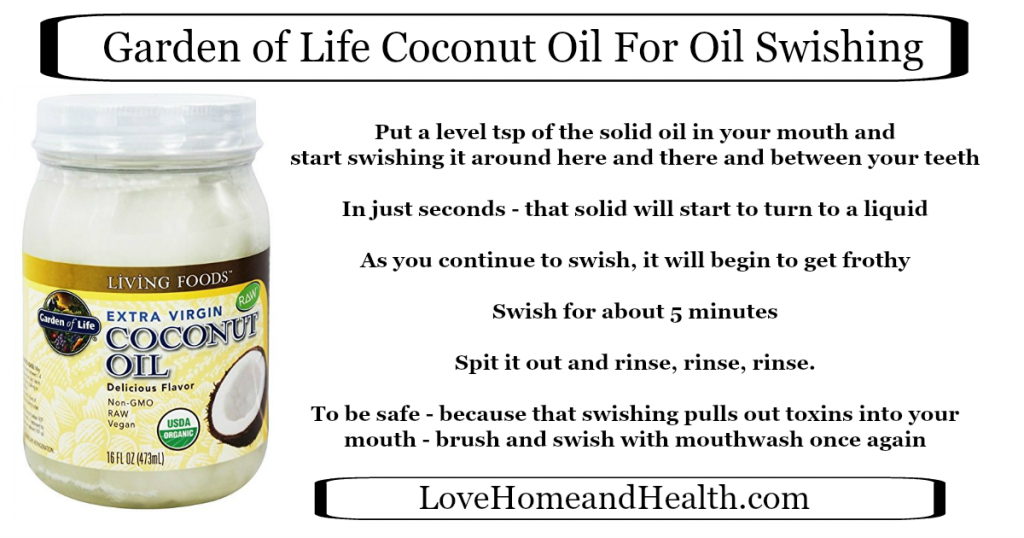 Get Garden of Life Coconut Oil on Amazon
and have it come right to your doorstep!
&
Garden of Life Extra Virgin Organic Coconut Oil — 16 fl oz

Garden of Life Coconut Oil For Oil Swishing
I love oil pulling and it's many benefits.  For one thing – for me – it helps keep my teeth as white as 70 year old natural teeth can be and it keeps the plaque gone and makes my gums so healthy.  You will not have bleeding gums if you do oil swishing regularly.  But Garden of Life Coconut Oil is what I use for my oil swishing and I chose that brand for my swishing because it just has a very mild but very delicious flavor.
You put a level tsp of the solid oil in your mouth and start swishing it around here and there and between your teeth – and my goodness – in just seconds – that solid has turned to a liquid.   As you swish it will begin to get frothy and the next thing you know – you've swished for 5 minutes and just worked wonders on your teeth and gums and now it's time to spit it out and rinse, rinse, rinse.  Then to be safe – because that swishing pulls out toxins into your mouth – I always brush and swish with mouthwash once again.  And WALLA – I'm done!   My teeth just feel silky smooth after I swish.  The same will happen for YOU.
---
Garden of Life Coconut Oil For Skin Care
Get Garden of Life Coconut Oil on Amazon
and have it come right to your doorstep!
&
Garden of Life Extra Virgin Organic Coconut Oil — 16 fl oz

YES!!!   There are so many things you can do with coconut oil for your face, hands or whole body.  It's amazing stuff and your body just slurps it right in and it just disappears into your body, moisturizing every inch – layer by layer.
I use Garden of Life Coconut Oil on my face daily.  And I LOVE that stuff.  I use it if I get a cut or bite – it's just amazing stuff for so many things.  I also mix it into many of the homemade facial products that I make myself right in my own kitchen.
Homemade Hand and Face Scrub – My Favorite Coconut Oil Skin Care Product
But I think my favorite homemade skin care product using coconut oil – is my 'scrub' and you can  use that scrub all over your body – or just on your hands.
I use it on my hands at least once a day and my goodness – it just makes them baby bottom soft in 2 minutes.
To make the scrub – just mix 2 tsp coconut oil and 1 tsp sugar – whether it's for your hands and/or face and that's plenty.
Just rub that around all over your face and your hands and around your cuticles.
After massaging around your fingernails for a minute or two – that old cuticle will just soften like nobody's business.
And rub it into your nails really good and they will just grow like weeds and just be hard as 'real nails'  🙂
---
More Coconut Oil Articles from Love Home and Health:
How To Look Ten Years Younger In 10 Minutes!
How to Drain Sinuses with Oil Pulling!
Oil Pulling – Remove Plaque Naturally, while you Make the Bed!
Learn more about Garden of Life and their mission here!
(Visited 538 times, 1 visits today)