Miracle in a Bowl – Cabbage Soup and Fat Flush – The Famous Soup Diets
Weight Loss Programs are a dime a dozen and I've tried a LOT of them!  If you're looking for a good jumpstart for your next diet, you just can't do better than Soup Diets!  Today we're talking about the Cabbage Soup Diet the Fat Flush Soup Diet!






Both are absolutely delicious and healthy and cleansing and will give you the boost you need to get moving with your diet.

The grand thing about these 2 soup diets is that either one will help you just flush that fat right out of your body and lose 7 to 10 pounds in just one week!

EVERYBODY has heard about Soup Diets!  Our favorites are the Cabbage Soup Diet and the Fat Flush Soup Diet!

There isn't anything magical about either of these soup diets – we all know that.
Lose Weight Fast With Fat Flush Soup Diet OR Cabbage Soup Diet!
But both soups are loaded with low carbohydrate, low fat, low calorie ingredients and that just makes them golden in the category of a good weight loss program.
During the week you're eating one of these soups to lose that 5 to 10 pounds you'll be leaving off your sugar, dairy, high carbohydrate foods, fat and salt.
OH WAIT! IS THERE ANYTHING LEFT?  There will be no quart of milk for breakfast, no cokes with lunch or supper, no bread for any reason with anything (including none with the soup).  So far – it isn't sounding like much fun, is it?
Do Soup Diets Work?
Just leaving off sugar, dairy, high carbohydrates, fat and salt will cause you to immediately lose that fluid retention that most of us have.
So the face gets a little thinner and the tummy goes down just a tad and we think "OH WOW … A MIRACLE in a SOUP Bowl"
But no, that was just fluid and you're going to have to get rid of about 8 to 10 pounds of fluid before you get into your blubber storage.
That's why these diets seem so miraculous, because they make you lose fluid fast – which is easy when you're leaving off these few food categories. However – both soups are absolutely delicious and do work for rapid weight loss.
Cabbage Soup Diet 2.0: The Ultimate Guide – Black/White
The New Fat Flush Plan
&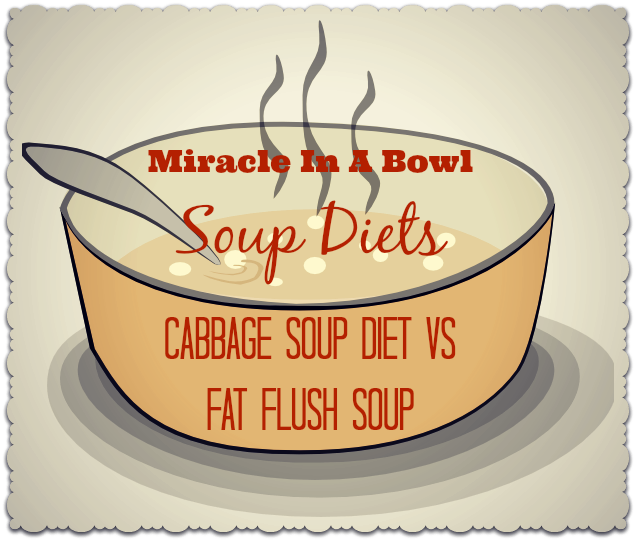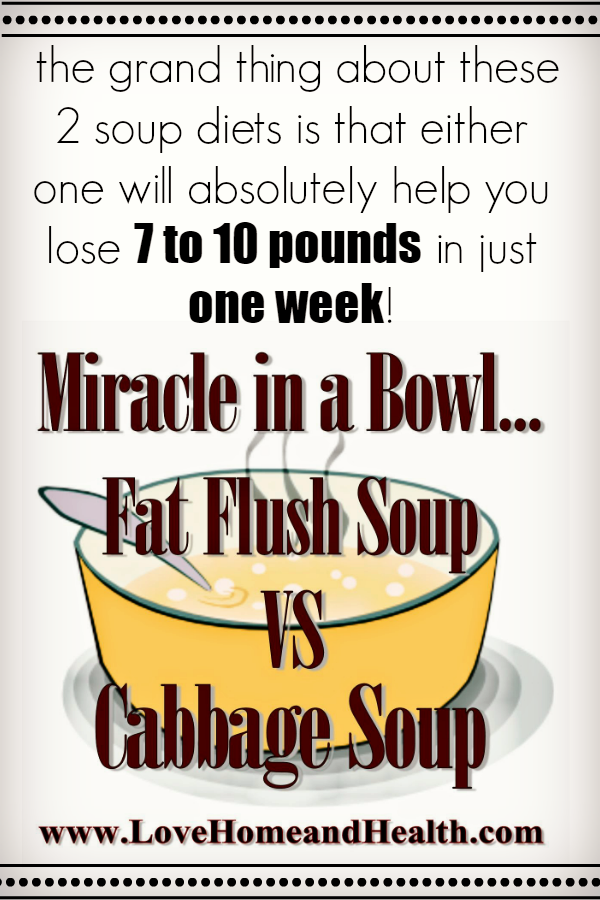 The soups are both VERY filling and packed with nutrition … and just absolutely good for you!
Some recipes you will find elsewhere will include onion soup mix.  That stuff – while very delicious, is poison in a box.
DO NOT add the onion soup mix because it's loaded with MSG and other excitotoxins, poisons and sodium out the wazoo.  
Soup Diet Plan Menu
A light but high protein breakfast – like boiled eggs or egg white, veggie omelet would be a super way to start your day.
Then soup for lunch and supper and you can literally have all you want.
A light and healthy snack mid morning, afternoon and evening – sliced apples
or cucumbers or CELERY
would be good to keep that blood sugar from plummeting.
Cabbage Soup Diet 2.0: The Ultimate Guide – Black/White
The New Fat Flush Plan
&
A few Fisher Walnut
 halves or Almonds
 are always good with 1/2 slice of cheese. You could even have a little soup for any of those snacks.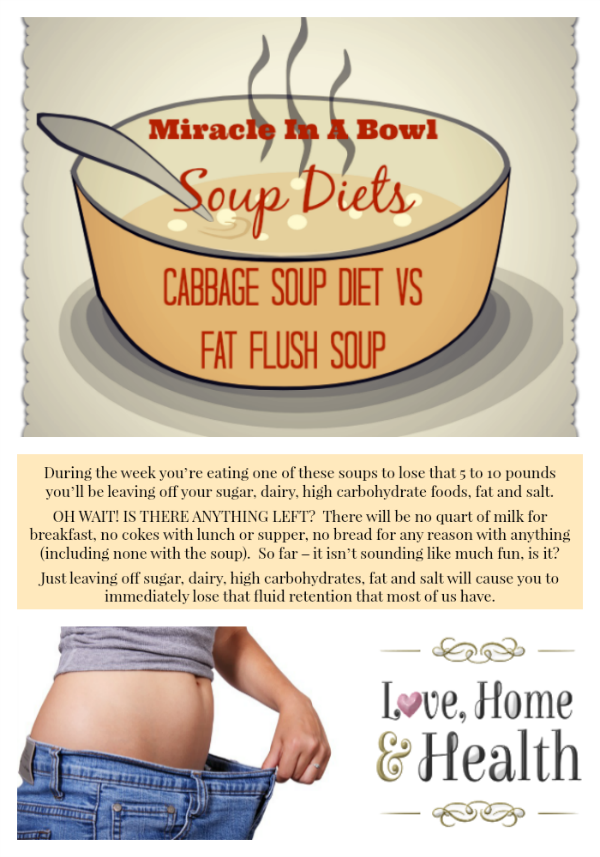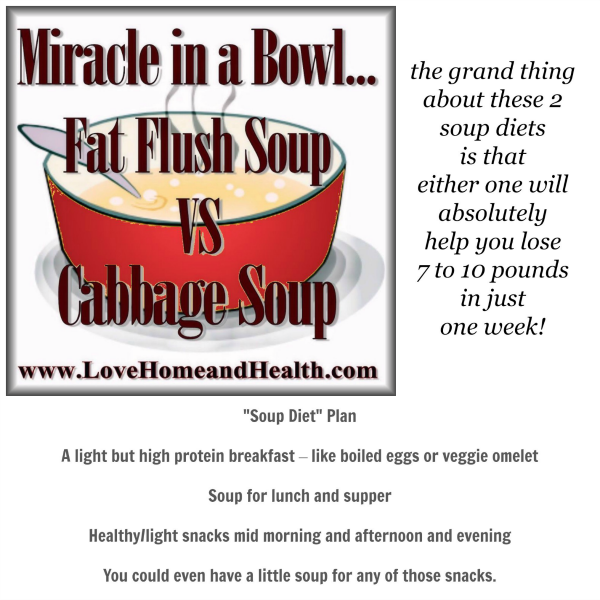 Soup Diets for Belly Fat
Fat Flush Soup Recipe
2 tsp. Olive Oil
1 1/4 lbs. of lean ground turkey
(or chicken)
1 medium Onion
(chopped)
1 Bell Pepper
(seeded and chopped)
4 cloves of Garlic
(chopped) 1 jalapeno (chopped)
1 (14oz) can of crushed tomatoes
1 (32oz) bottle of reduced sodium spicy tomato juice
1 Tbs. fresh lemon juice1 (14 oz) can rinsed and drained black beans (navy or pinto can also be used)
1 Tbs. Ground Cumin
1/2 tsp. cayenne pepper (or to taste)
1/2 cup fresh cilantro (chopped)
Directions
1.  Heat olive oil and brown ground turkey/poultry.  Drain and set aside.
2.  Saute onion, garlic and peppers until soft (about 5 minutes).
3.  Stir in all remaining ingredients (except cilantro) and cover and simmer for 20 minutes.
4.  Stir in cilantro and cover and simmer for 10 minutes longer.
Cabbage Soup Diet
Now here's one of the original cabbage soup diets … I say 'one of" because it has been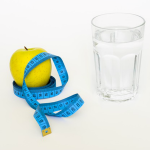 revised out the wazoo over the years.
Half a head of cabbage
6 large green onions
2 green peppers
3 CARROTS
1 container of mushrooms
1 bunch of CELERY
1 or 2 cans of tomatoes
1 48oz can of V8 juice (optional)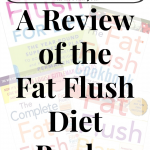 1 or 2 cubes of bouillon (optional) –
(Beef bouillon contains MSG and is not just unhealthy but very dangerous.
I USE NOTHING with MSG in it.  I sometimes add natural chicken broth to my soups.
But ONLY homemade or natural broths with NO MSG and not big words you can't pronounce  –
Season with salt, pepper, curry, garlic powder, parsley, or any seasoning that is preferred
Some recipes call for the addition of a pkt of dry onion soup mix.  ( I NEVER EVER use this for anything!)
Did you know that dry soup mix is LOADED with MSG?  And MSG is a subject for another day – but STEER CLEAR!
I hope you find this helpful and I always love to hear your feedback!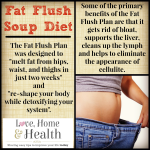 Until Next Time … You Are Loved …  The Katydid
Try Amazon Prime 30-Day Free Trial
&
(Visited 156,984 times, 29 visits today)