Grandma Says You Need a Good Diet and Exercise
There's nothing like grandma's cooking or grandma's old time home remedies.  But I'm telling you the truth – that old fashioned cooking can kill a person.  HOWEVER there is a test to see if your diet is a big part of your problem.
If you just feel sluggish and have very low energy on a daily or regular basis –
TRY THIS EXPERIMENT –
Tonight – have junk food for supper or any heavy old fashioned meal.  Top it off with cake and ice cream if you can and maybe a big tall Coca Cola.
Just this one meal will tell you all you need to know about how your diet is affecting the way you feel.  JUST THIS ONE MEAL!!!  THAT speaks VOLUME'S!!!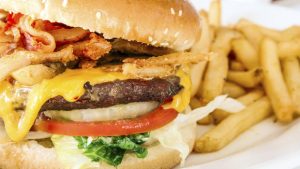 Log on a piece of paper how you feel when you get up the next morning.  How is your energy?  Do you feel like you've been run over by a pickup truck?
Is your mind clear and creative?  Are you full of vim and vigor and raring to go?  Or do you want to crawl back into bed and pull the covers over your head?
Well now, just think about it – just about 12 hours earlier – you dumped a garbage truck load of yuck into every cell in your body and then slept on it – how do you THINK you're going to feel the next morning?  It doesn't take a rocket scientist to know that answer.
NOW on day 2 – eat very light from start of day to bedtime.  Lemon water with Celtic Sea Salt first thing in the morning.  Leave off all sugar and bread and milk.  For breakfast if you must eat – have boiled eggs and a little slice of cheese and maybe 3-4 walnut halves.  For noon have a salad if you must eat.  For supper have more low carb veggies or a salad and a little good lean protein.  IF YOU MUST snack during the day – have 3-4 small 1/2″ cubes of cheese – and 4-5 walnut halves and that's it.   No TV snacking unless it's the allotted snack.

NOW on the 3rd morning – log on to your paper how you feel.  How is your brain fog?  Do you feel a little lighter?  Do you feel a little more positive – maybe even just a little happier?  Are you raring to take on your day?  
YOU WILL BE AMAZED what this little 2 day experiment will show you about your own diet and how it affects your body and the way you feel.
WE ARE KILLING ourselves with our FORKS!!!  And we know better!!!

Would you like to check out more of Grandma's cures? Check out the rest of Grandma's cliff notes for every day ills.
(Visited 78 times, 1 visits today)