Today I'm going to teach you how to speed clean your house fast – even in as little as one hour!

By staying focused, setting your timer and following my instructions below, you really can get a handle on your clutter and be ready for company – or just to relax – in a tidy space in just one hour!

I've said this a thousand times – and I'm saying it again "CLUTTER – CLUTTERS your MIND!"  And we can't expect our lives to be all they could be – if we go around with a cluttered home and mind.

SO – Let's speed clean your house FAST!
LAP FULL OF BLESSINGS
Let me tell you what happened to me a while back – when a big blessing just fell right in my lap.
I was commenting on websites that I follow and that follow our blog.  And the ladies were chatting on a homemaking website and talking about how out of control their homes were – clutter wise.
I commented about how fast they could make a big dent, even within one hour if they're just stop talking about it and do it.
And literally within minutes,  my inbox was getting emails from the North, South, East and West AND from someone not too awfully far from ME – however I didn't personally know her.
EACH wanted a simple personal plan so they COULD clean their homes in one hour and do it right then.  And they each asked if I would help .  I WAS THRILLED …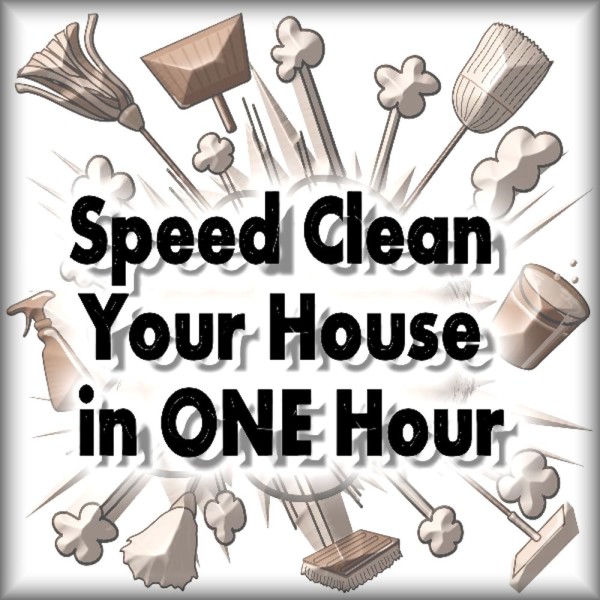 ---
This is one of our favorite Speed Cleaning books! Though I first started "reading about cleaning" with the Sidetracked Sisters, Jeff Campbell and the Clean Team are the ones who really helped me hone in on my speed cleaning powers!
&
---
SPEED CLEANING
I told each of these 4 ladies that we'd be doing what I called "Speed Cleaning" and we were going to start at the front door and go all the way through their homes and pick up every single piece of litter that was out of place and then for supper that night I asked if each of them would plan a cozy pallet picnic in front of the television for their kids and spouses and that it could be something as simple as bologna sandwiches or a full meal.
What we would be doing on that pallet picnic was … "Making a MEMORY!"  We were not feeding Paula Dean or Martha Stewart and hoping for a good review.   We were making a memory for their kids and spouses – on a pallet picnic – in a de-cluttered home.
They were GUNG HO!!!
I also told each of them that I had heard from 3 others and they were all going to be doing this together in real time, which made each of them even more excited.  I asked them each to send me a photo right then – of 'before' and told them we'd be taking a photo 'after' so I could see what they had really done.
This was SO much fun!  And I was at the computer anyway working on my blog.  SO I talked back and forth with them in real time through private messaging – giving them chores and a certain amount of time to do it in USING a simple dollar store kitchen timer.  One lady didn't have a timer so she used the timer on her microwave 🙂  HOW PRICELESS THAT IDEA WAS!!!
At the end of that hour (or just a little more) … 3 ladies, who just a little over an hour before – were living in a home in total disarray, were now just raving about how clean their homes were.  One lady said their home hadn't been that clean in years and they were all planning surprise suppers on pallets for their families.  One lady got sidetracked in spite of being excited and she didn't get quite done in the hour and it took her 2 hours.   But she said her home was just extra bad but it hadn't been as clean as it now was … in years.  She was shocked and excited beyond words.
How To Speed Clean Your House in ONE Hour
How to Speed Clean the Living Room
Start at the front door and go around the front room … picking up as you go.
Dishes go to the kitchen sink, shoes and clothes go where they need to go … trash and paper gets thrown away or put where it needs to be.  Try to finish this chore in 10 minutes.  When you're done there should be nothing out of place in the living room.
DO NOT DUST OR VAC NOW!  We are only speed/surface cleaning!
After that go to the next visible room from the living room door.  (For a couple it was the kitchen, another it was the bathroom and another was a bedroom.  I told the ones with the kitchen next in sight to skip the kitchen and leave that for last and I told them ALL to leave the worst room in their homes for last.  We wanted to make as much headway as we could … as fast as we could … using our timers to speed clean and then spend whatever time we had left on the worst room in the house.  For most it was the kitchen.)
Each of the 4 homemakers were checking in with me every 10 minutes or so and we just had a wonderful hour of cleaning and decluttering.  I was just overjoyed to be able to do this and help these ladies in this way.
How to Speed Clean the Bathroom
Quickly pick up all litter and wet towels and put that where ever it should go.
Then quickly clean and wipe down counter tops, commode, mirror, and wash out the sink and wipe it dry and then shine the faucets.
How to Speed Clean the Kitchen
Start at the kitchen door and do the counters first.  But go in the direction of the least mess, leaving dishes for last.
After dishes are washed and put away, clean the kitchen sink, dry it and shine your faucets.
A Quick Cleaning Tip!
Shine your bathroom and kitchen faucets every time you use them!
That takes 5 seconds folks and makes such a huge difference!
One mom said "I could cry … that's the first time I've seen the top of our kitchen table in months"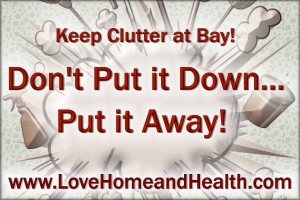 NONE of these homes took more than 2 hours.  Even the one that the mom thought it just couldn't be done.  She said "I CANNOT BELIEVE this house has looked this bad for this long and I cleaned it up this fast.
Now we did NOT dust, wax, vacuum, do laundry or dishes or any number of the dozens of things that get in a moms schedule day after day.  We just cleaned ALL the clutter … using a timer to make it fun.
This is one of our favorite Speed Cleaning books! Though I first started "reading about cleaning" with the Sidetracked Sisters, Jeff Campbell and the Clean Team are the ones who really helped me to hone in on my speed cleaning powers!
&

I absolutely LOVE cleaning with a timer.  It's like playing a game like "Beat the Clock" or something.  AND I LOVE sitting down at the end of a busy day to a neat home with dim lights and the fireplace going and a good TV show on.  The hardest part of THAT picture is finding something good on the television…
Peace and love from the canyon … I love you all gobs and thanks SO SO MUCH for stopping by.!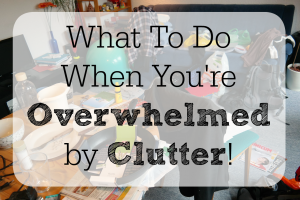 Read What to Do When You're Overwhelmed by Clutter
(Visited 16,206 times, 4 visits today)