I'm studying the health benefits and healing effects of turmeric – because I'm wanting to know for sure – is Turmeric really a rising cure for many of our dreaded diseases?
Seems like so many people these days are leaning towards the old time home remedies – and Grandma would have loved this particular old time home remedy – because it was right there in her kitchen – the very place she loved to go for just the right home remedy that healed everything!
Did you know that in some countries, cancer rates are really very low? That fact alone has made some scientists with open minds – want to set up and take notice of the dietary and other habits of people in those specific areas of lower cancer rates.
Turmeric – Peperine:  Healthy Regions That Use Both Daily
They found that the people in these specific healthy regions – consumed an average of 100-200 grams of turmeric a day.  Now one teaspoon of Turmeric will equal approximately  1-1.5 grams.
Turmeric contains a very strong cancer fighting compound known as curcumin – which has health benefits out the wazoo.
They also found that people in these regions leaned heavy on the black pepper shaker – and black pepper contains Piperine which is known to inhibit the growth of colon cancer cells by stopping the cancer cell cycle and causing the cell death of those cancer cells.
They also found that Piperine was able to distinguish between healthy and cancerous cells.
NOW THAT is breaking NEWS!!!
Because while chemo may kill out some cancer cells – it also destroys healthy cells – which is just like pouring water over a ducks back.
Two steps forward and 3 steps back is not going to get you ANYWHERE.  But now this TURMERIC and Black PEPPER???   It's sure worth a try and not a bad idea to just add it to your daily diet – like the folks in those health regions we spoke of above.
It was found that turmeric – mixed with 20 mg of black pepper – seemed to increase the power of the curcumin in that Turmeric by 2000%. 
Curcumin is also believed to stop the spread of cancer to other parts of the body while killing out active cancer cells.
A Cancer Study
In a cancer study – 25 patients with precancerous conditions in different organs – were given curcumin (Turmeric) and the study showed that the curcumin stopped the precancerous conditions from becoming full-blown cancer.   Now could we ask for any more than that from a simple spice?
Turmeric/Curcumin Health Benefits
The active ingredient in Turmeric  (curcumin) – is also very good for inflammation, depression, weight loss and so much more.
For those dealing with depression – it's said that Turmeric is as effective as Prozac and just adding 1/2 tsp turmeric with a few cracks of fresh black pepper to your salad – can give you a substantial mood boost.
It just makes good sense to me – to add Turmeric and cracked fresh black peppercorns to our daily diet.  I mean – we won't even notice it – and the health benefits of just that one small thing – are out of this world.
If you love reading about how to be healthier and the pros and cons of simple things like water, salt and sugar and so much more – the book above "God's Way To Ultimate Healing" is a must have for all homes.  I probably have well over 200 books and video's on healing the body naturally – and this is my all time – favorite book.  I've given about 10 or more of these books away.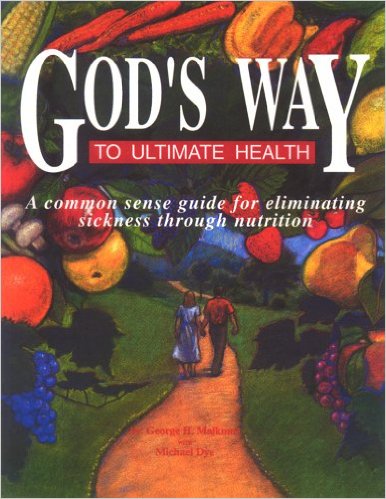 And NOW for the Disclaimer
Now we love sharing home remedies and things we know or that have worked for us or our family and even newer things that we are researching. But you must always remember – we are not doctors at Love, Home and Health – 
But we believe God gave us all bodies that will heal themselves if we give our body the nutrients it needs to do so.  And for both of us – our pharmacy is in our kitchens – and our following is growing in leaps and bounds as others realize that healing the body naturally – should be the first route you take – UNLESS – it's an urgent or critical situation requiring a medical doctor immediately.
Always check with your doctor or health professional and let them monitor you – even if you want to try a home remedy. 
Would you like to check out more of Grandma's cures? Check out the rest of Grandma's cliff notes for every day ills.
(Visited 254 times, 1 visits today)