Cravings!   Something all of us have experienced – but few understand.
If we could just understand why we crave certain foods – we could possibly win the war on weight loss.
If we understood cravings – maybe we could even follow a healthier diet – or stick closer to our ideal weight.
Why DO we crave chocolate, for example?
Why do we crave fried foods?
Why do we crave crushed ice and so many things that really don't seem to have any explanation at all?
Today's we're talking about – "Cravings – If you crave THIS – your body is lacking THIS"!
As a general rule – we crave certain foods because our body is lacking a nutrient or nutrients it needs.
If we could just figure out the mystery of what our body is lacking – we could remedy that situation and stop craving those high calorie foods – and remedy that deficiency in a healthier way.
Cravings are our body's way of letting us know we are lacking particular nutrients!   Once we supply those missing nutrients – our cravings for that particular food will stop.
Most all of us have a craving of one type or other and all of those cravings mean 'something' is missing from your body that you desperately need.
I hope you'll think about your own cravings and give this some thought too.
My Condition Was Serious
Yes – in about 2008, a medical condition that started out slow for me … started going to the serious side and our own doctor had no answer and we were frantically searching for answers outside of conventional medicine.
I was having a very serious colon problem and we couldn't find help.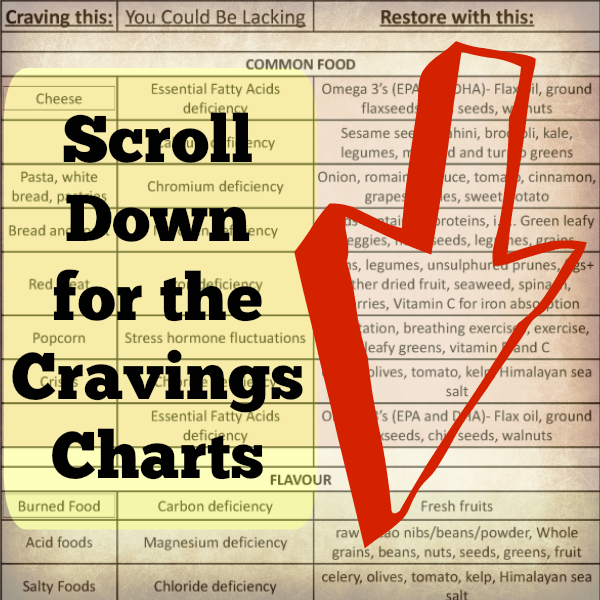 I knew there was an answer besides major surgery from a conventional doctor – but we couldn't seem to find anyone who could help me FIND that answer.   The 2 conventional doctors I went to – only wanted to treat my symptoms.
But I KNEW treating the symptoms was only putting a band aid on the problem.  I KNEW I was going to have to find someone who could help me get to the bottom of my symptoms – and treat the cause – eliminating my problem altogether.
So I got on the internet and researched naturopathic doctors in St Louis and Nashville because we're right smack dab in the middle between them – and just a couple hours from both.
That's when I found Dr Jackie in St Louis.
Dr Jackie was a little chubby black woman about 4'11" and she had the biggest smile and an even bigger poofy/short ponytail and a very friendly manner and a laugh that just pulled you right in.
I found the chart below while researching cravings – and I even found it by accident.
So I think it's meant for me AND for you to study it.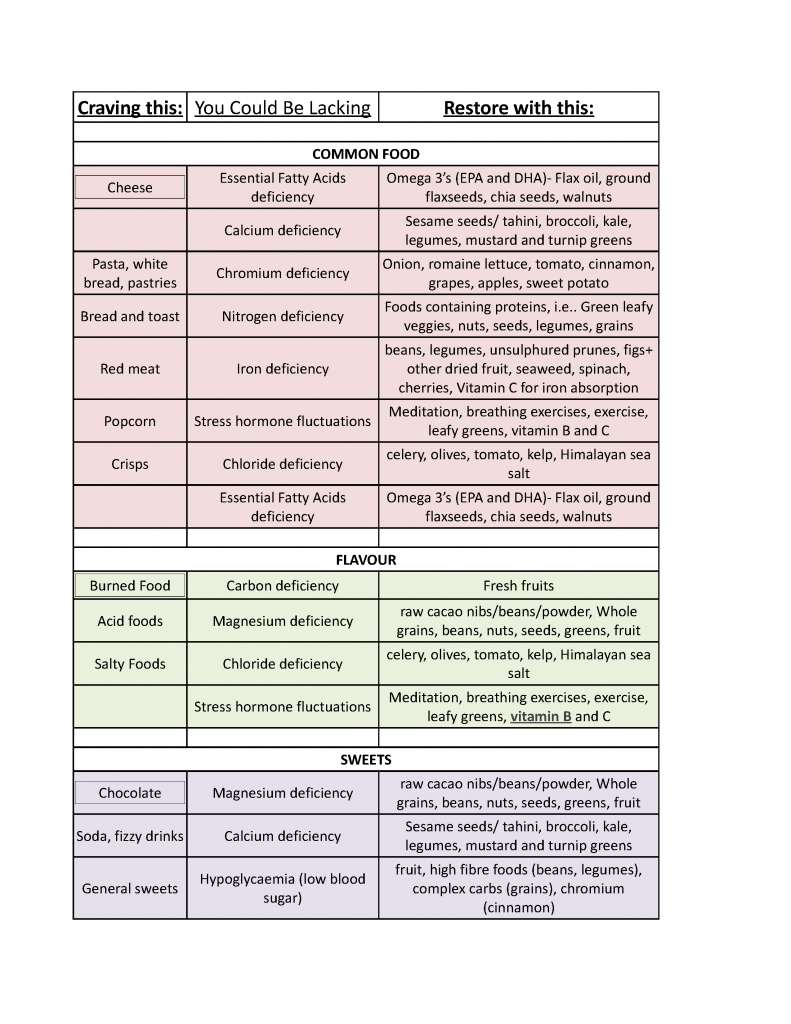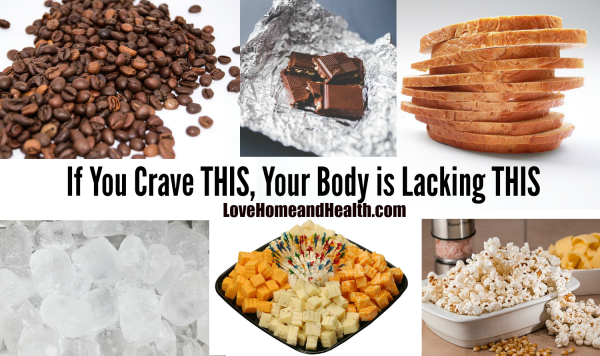 I don't know why it was … but in spite of having plenty of patients coming and going in her office – as WE would come and go – Dr Jackie seemed to take right to us.  And when she'd hear us talking in the waiting room as we arrived (the geezer is kind of loud and laughy) she'd come out of her examining room and away from her current patient and give us a big hug and tell us how glad she was to see us.  She'd often tell me that as she was coming and  going to and from work from a St Louis suburb – she'd think of me and the geezer and the connection we seemed to have and she said she SO loved seeing us and always looked forward to my appointments.

Geezer And The Donuts At The Naturopathic Dr's Office
There was a big bakery about 3 doors down from her Naturopathic Clinic and the geezer would always go down to that bakery and then he'd deliver donuts and other pastries to the staff and other patients coming and going in Dr Jackie's office.
Dr Jackie's receptionist was a vegan and she'd laugh and say the geezers donuts were the only time she veered from her diet each week.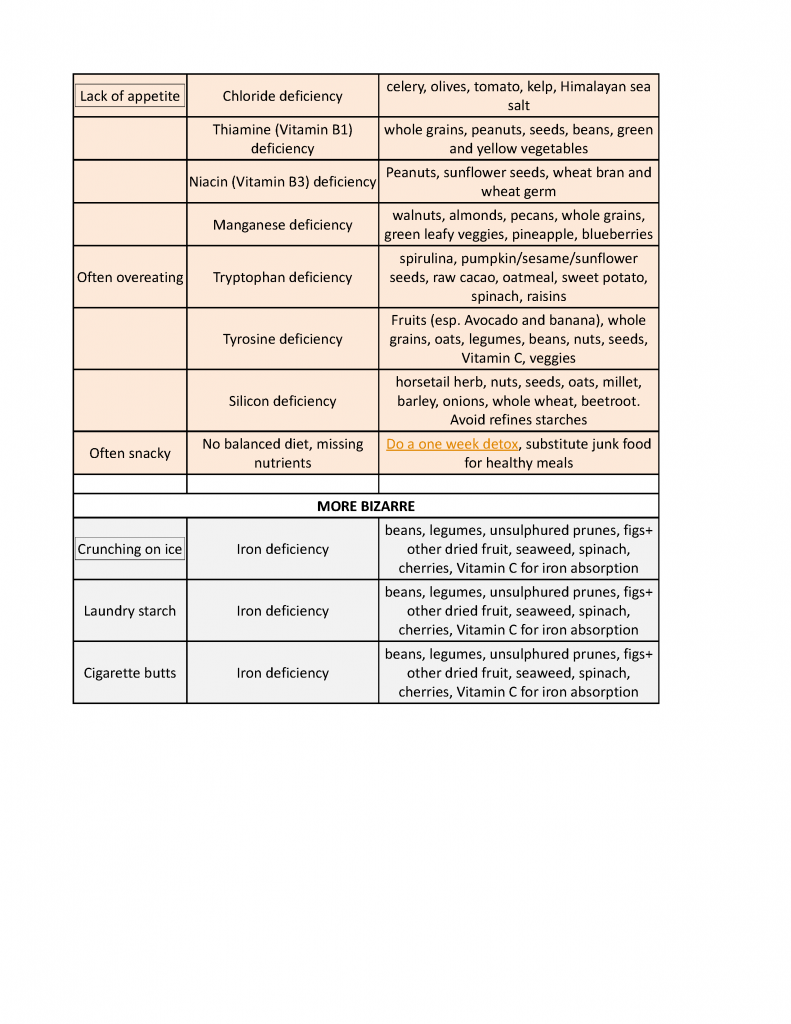 My Own Cravings –
But going around the block to get across the street again – because I've said all of THAT to tell you THIS. 
On my first visit to Dr Jackie – she took me into her office and we shook hands and she said "We're going to heal your body without surgery and there is no doubt about it.  So I just want to get that very clear right now.  But we're going to start off by me asking you a very important question and the answers you give me to those questions will set us on the path to your healing.  The first thing I need to know,"  Dr Jackie went on – "is "WHAT do you crave in the way of foods?"
I said "Well I crave anything fried"  She said "BINGO!!!  We're already over half way there.  Consider yourself almost healed already – that should have TOLD you – your body is lacking OIL – but it needs to be a healthy oil"
So 12 weekly visits later – we had our last visit with Dr Jackie and oh my goodness – I was almost saddened to not have to go back because the geezer and I just both – loved her to pieces and she was teaching me about my own body and I was learning volumes weekly.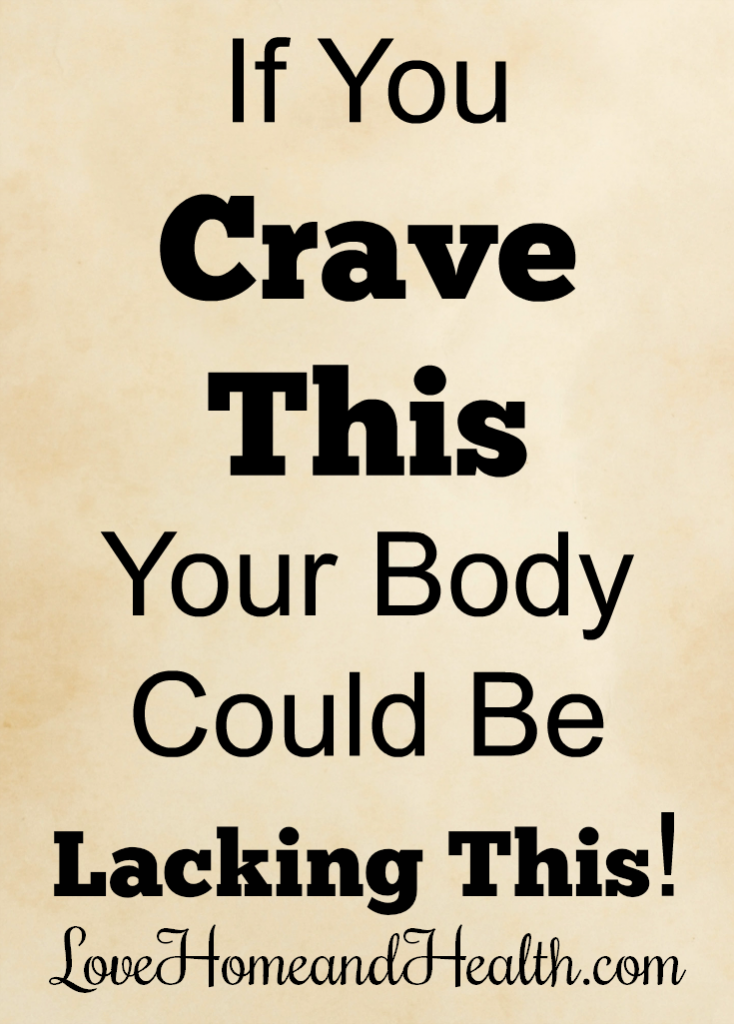 What We Learned About Our Own Body's Cravings
Dr Jackie knew instantly – just by knowing what foods I crave – what was wrong with my body.  And after several visits to 2 local conventional doctor's – I learned that within 5 minutes of entering her examining room and it turned out she was exactly right.
Towards the end of the 12 weeks, Dr Jackie talked to the geezer and me both about us moving to St Louis for just 6 to 8 weeks because she said my current knowledge of natural healing and the body and how it works and how fast I'm able to absorb her teachings – coupled with my personality and eagerness to help people – she wanted to train me to be a health coach and she said if we'd move to St Louis for just a couple months so I could train under her – she'd set up a satellite office in Metropolis and she'd have me making $70 an hour right off the bat.  The local office would simply be an evaluation office and folks in this area could make a short drive for a diagnosis – to see if they wanted to make the long – and often overnight trip to St Louis for treatment by a licensed professional.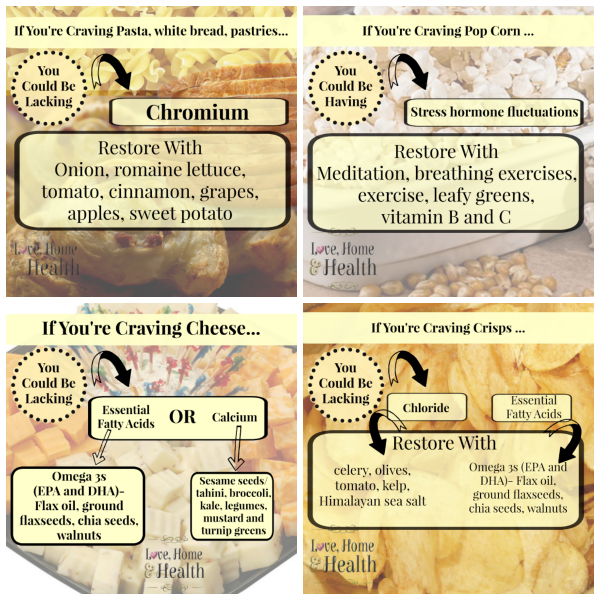 That was SO tempting and the geezer and I DID talk seriously about it.  But I couldn't imagine the geezer having 12 to 14 hours a day to kill in a big city when he hates cities and we were already retired and I just didn't really 'want' to move to St Louis for even 2 months. OR work outside our home.  This was even before the birth of the blog – and once the blog came to be – it evolved into me being able to help folks from right here in my home office just by sharing ways to diagnose ourselves and use home remedies – and I was so thrilled.

Cravings, Food Addictions – What They Mean and How To Cure Them
I learned volumes from Dr Jackie and probably the first and main thing I learned was that when we have symptoms of this and that and especially if you have specific cravings … it's most often because our bodies are lacking a crucial nutrient.  And just the simple act of supplying that nutrient back into our cells … will often remedy a situation that even looks rather grim to most folks.
FOOD CRAVINGS
Purified:
Your Complete
7 Day
Detox Programby Tanya Alekseeva

Most all of us have craving of one type or other and most of those cravings mean 'something' is missing from your body that you desperately need.
I hope you'll think about your own cravings and give this some thought too…
The chart was created by Tanya Alekseeva
, a Wellness Coach who specializes in Raw Food
Nutrition and Detoxification options.
Tanya works with a variety of clients ranging from corporate organizations through to individuals and schools, to educate and ensure they achieve their most desired well-being and ultimate health objectives.
She is the founder of Better Raw .
She travels nationally and internationally providing seminars, workshops, detox programs and one-on-one coaching.
If YOU have a health issue that you just can't seem to find the answer for – SOMETIMES it just a matter of calming down – taking a step back – and passing the symptoms – to get to the ROOT of that problem.
SO – what do YOU crave?  Do you crave crushed ice?  Are you always walking around with a glass of crushed ice in your hand?  If so – then your body is probably deficient in iron.  So why don't you try munching on prunes, figs and other dried fruits.  Try a cup or two of beans daily and a big spinach salad.  You can also supplement with iron – but I'd do that only under a doctor's care.  But just adding those few foods daily – should show you a little improvement in just a few days.
Do you crave chocolate?   That's a magnesium deficiency.  So – try adding just 3 brazil nuts daily.  That will give you your much needed selenium AND a good dose of magnesium.  If you're craving chocolate – your body is probably too low on magnesium and that's not a good thing because low magnesium can effect heart health.  It can also give you headaches and even migraines and those awful muscle spasms.  We definitely don't want to be low in magnesium – but chocolate isn't the best place to get it.  Eat more nuts, beans, greens … and see if you don't feel a difference in days.
There are just so many ways to correct our own problems.  But first we have to know our body and know what those cravings mean and then supply those much needed nutrients back into our body.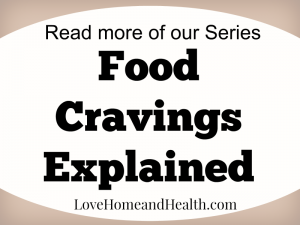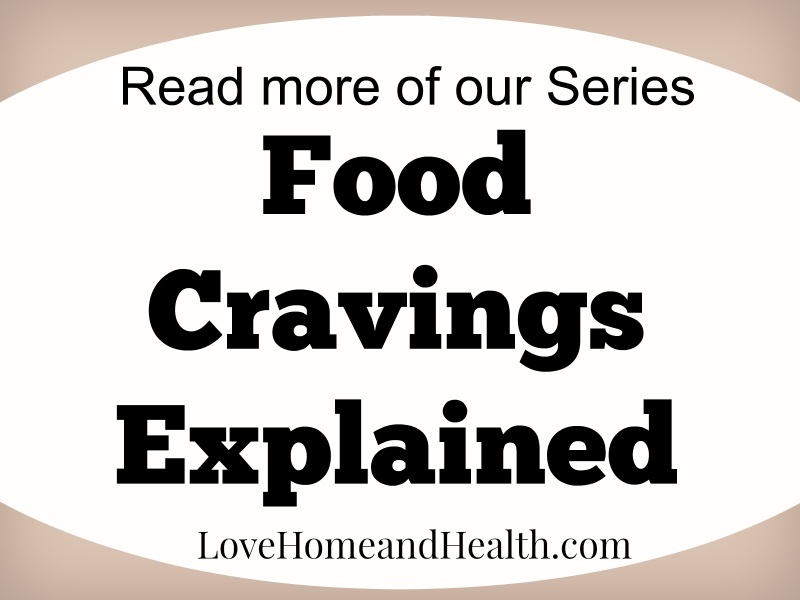 If you have a craving – do some research to see what that particular craving means.  And there are off the wall cravings too – like wood and dirt and other weird things.  THOSE cravings are called Pica – and they can be from an emotional issue OR it could be your body is lacking one or more nutrients it desperately needs … RESEARCH your own CRAVINGS!
Now we're sure not doctors here at Love, Home and Health – so if you have a particular issue – we strongly advise you to talk to your own doctor.  But if you seem to be spinning your wheels – just take a deep breath and walk yourself through some research – because more often than not – Nature DOES have a remedy!
It's a Wrap – But Let's Do This – To Stop Our Cravings
Besides just starting the day off on the right foot with a little balance of protein, fiber and good carb – let's do this – too.
If you will just start your day with the recommended healthy breakfast above – and add to that – a good milk Thistle (and we recommend Liver Smart)  and then also take Nature's Sunshine Probiotic – OH MY GOODNESS – you will feel an improvements in 2 days.  Now that's if you don't spend the day downing lots of sugar and junk food.  For 2 days – eat healthy – eat lighter than you usually do and take the Milk Thistle and Probiotic.  You can also take another Probiotic and Milk Thistle with a 2nd meal of the day.  Just start your day with a balanced and health breakfast – one Nature's Sunshine Probiotic and 1 Liver Smart Milk Thistle.   And yes there are other supplements on the market by other companies.  But at our house – we don't experiment – we use only tried and true and these are just unbeatable brands.
(Visited 140,723 times, 10 visits today)